Wikipedia articles
Photograph of the quantum machine developed by O'Connell. The mechanical resonator is located to the lower left of the coupling capacitor (small white square). The qubit is connected to upper right of the coupling capacitor.
Quantum machine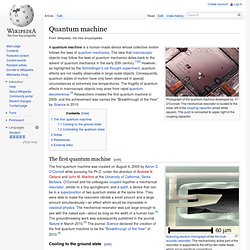 The Seven Works of Mercy (Caravaggio)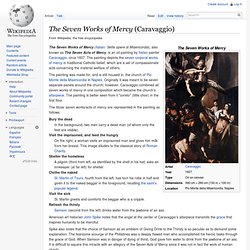 The Seven Works of Mercy (Italian: Sette opere di Misericordia), also known as The Seven Acts of Mercy, is an oil painting by Italian painter Caravaggio, circa 1607. The painting depicts the seven corporal works of mercy in traditional Catholic belief, which are a set of compassionate acts concerning the material welfare of others. The painting was made for, and is still housed in, the church of Pio Monte della Misericordia in Naples. Originally it was meant to be seven separate panels around the church; however, Caravaggio combined all seven works of mercy in one composition which became the church's altarpiece. The painting is better seen from il "coreto" (little choir) in the first floor.
Learned helplessness
Learned helplessness is the condition of a human or non-human animal that has learned to behave helplessly, failing to respond even though there are opportunities for it to help itself by avoiding unpleasant circumstances or by gaining positive rewards. Learned helplessness theory is the view that clinical depression and related mental illnesses may result from a perceived absence of control over the outcome of a situation.[1] Organisms that have been ineffective and less sensitive in determining the consequences of their behaviour are defined as having acquired Learned Helplessness.[2] Foundation of research and theory[edit]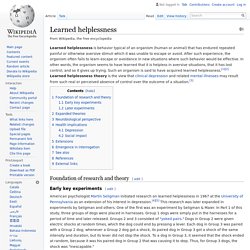 List of common misconceptions
This incomplete list is not intended to be exhaustive. This list pertains to current, widely held, erroneous ideas and beliefs about notable topics which have been reported by reliable sources. Each has been discussed in published literature, as has its topic area and the facts concerning it.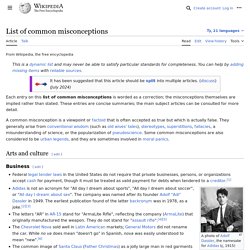 Lojong (Tib. བློ་སྦྱོང་,Wylie: blo sbyong) is a mind training practice in the Tibetan Buddhist tradition based on a set of aphorisms formulated in Tibet in the 12th century by Geshe Chekhawa. The practice involves refining and purifying one's motivations and attitudes. The fifty-nine or so slogans that form the root text of the mind training practice are designed as a set of antidotes to undesired mental habits that cause suffering.
Lojong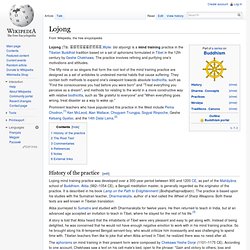 Love styles are modi operandi of how people love, originally developed by John Lee (1973,[1] 1988[2]). He identified six basic love styles—also known as "colours" of love—that people use in their interpersonal relationships: Clyde Hendrick and Susan Hendrick of Texas Tech University expanded on this theory in the mid-1980s with their extensive research on what they called "love styles". They have found that men tend to be more ludic, whereas women tend to be storgic and pragmatic. Mania is often the first love style teenagers display.
Love styles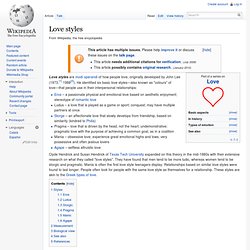 Cognitive biases are tendencies to think in certain ways. Cognitive biases can lead to systematic deviations from a standard of rationality or good judgment, and are often studied in psychology and behavioral economics. There are also controversies as to whether some of these biases count as truly irrational or whether they result in useful attitudes or behavior. For example, when getting to know others, people tend to ask leading questions which seem biased towards confirming their assumptions about the person.
List of cognitive biases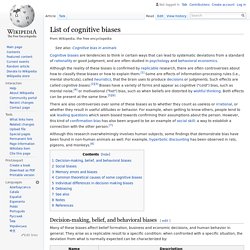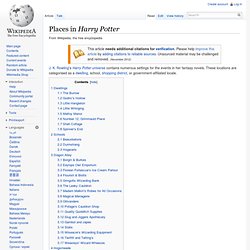 J. K. Rowling's Harry Potter universe contains numerous settings for the events in her fantasy novels. These locations are categorised as a dwelling, school, shopping district, or government-affiliated locale. Dwellings[edit]
Places in Harry Potter
List of murderers by number of victims
List of common misconceptions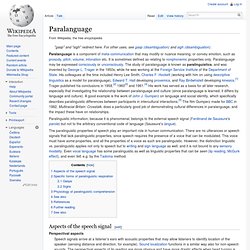 While the term 'paralanguage' is often used to refer to non-verbal elements of speech, it should not be confused with kinesics, or the study of body language. While kinesics is non-linguistic, it is not necessarily related to vocal or written language: paralanguage is. Paralinguistic information, because it is phenomenal, belongs to the external speech signal (Ferdinand de Saussure's parole) but not to the arbitrary conventional code of language (Saussure's langue). The paralinguistic properties of speech play an important role in human speech communication. There are no utterances or speech signals that lack paralinguistic properties, since speech requires the presence of a voice that can be modulated. This voice must have some properties, and all the properties of a voice as such are paralinguistic.
Paralanguage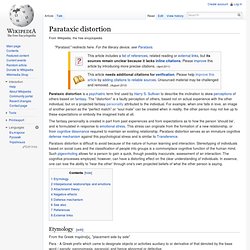 Parataxic distortion
Parataxic distortion is a psychiatric term first used by Harry S. Sullivan to describe the inclination to skew perceptions of others based on fantasy. The "distortion" is a faulty perception of others, based not on actual experience with the other individual, but on a projected fantasy personality attributed to the individual. For example, when one falls in love, an image of another person as the "perfect match" or "soul mate" can be created when in reality, the other person may not live up to these expectations or embody the imagined traits at all.
Berners Street Hoax
The Berners Street Hoax was perpetrated by Theodore Hook in the City of Westminster, London, in 1810. Hook had made a bet with his friend, Samuel Beazley, that he could transform any house in London into the most talked-about address in a week, which he achieved by sending out thousands of letters in the name of Mrs Tottenham, who lived at 54 Berners Street, requesting deliveries, visitors, and assistance. On 27 November, at five o'clock in the morning, a sweep arrived to sweep the chimneys of Mrs Tottenham's house.
The Thirty-Six Dramatic Situations is a descriptive list which was created by Georges Polti to categorize every dramatic situation that might occur in a story or performance. To do this Polti analyzed classical Greek texts, plus classical and contemporaneous French works. He also analyzed a handful of non-French authors. In his introduction, Polti claims to be continuing the work of Carlo Gozzi, who also identified 36 situations. Publication history[edit]
The Thirty-Six Dramatic Situations