Things that make me happy 2.0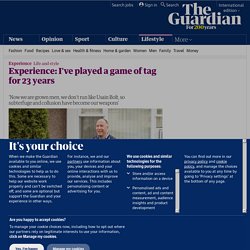 Joe Tombari: 'The best thing about the game is that it has kept us in touch over all these years.' Photograph: Patrick Kehoe for the Guardian As teenagers, a group of friends and I spent every spare moment at school playing tag. The game developed into more than just chasing each other round the playground; it involved strategy and cunning. But when I failed to tag someone in the last moments before school broke up for summer – he'd locked himself in his car to avoid it – I resigned myself to for ever being "it". We all went our separate ways, off to college or moving away for work, so the game fizzled out.
Experience: I've played a game of tag for 23 years | Life and style
all-natural.jpg (759×745)
Bridge
Debugger
Weekend
The world's best secret islands
Looking for a romantic spot that's (almost) all yours? Here's a list from our brand new Best in Travel 2011 guide to reignite your love affair with desert islands, with picks from across the globe. 1.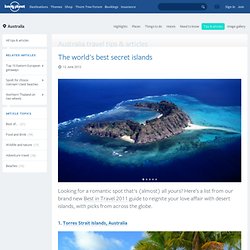 Get a regular-sized envelope. Address it to someone special. Then, stuff it with as many things as you can: a letter, photographs, ripped out magazine articles, photocopies of poems, a short story, or passages from a novel, recipes, clipped newspaper articles, art work, poems or stories you've written… Anything that can be folded up and put in the envelope. Make sure to stuff it so full that you need to use tape to keep it sealed. This envelope should have serious heft. Once it's sealed, get the proper postage put on it (definitely use stamps) and mail it off.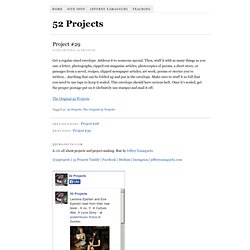 Project #29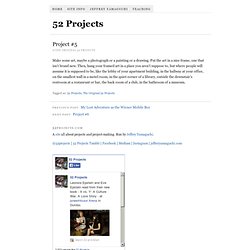 Project #5
Make some art, maybe a photograph or a painting or a drawing. Put the art in a nice frame, one that isn't brand new. Then, hang your framed art in a place you aren't suppose to, but where people will assume it is supposed to be, like the lobby of your apartment building, in the hallway at your office, on the smallest wall in a motel room, in the quiet corner of a library, outside the downstair's restroom at a restaurant or bar, the back room of a club, in the bathroom of a museum. Tagged as: 52 Projects, The Original 52 Projects
52 Projects – Resources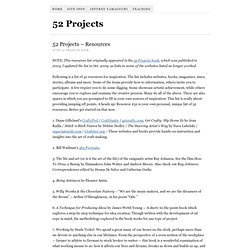 NOTE: This resources list originally appeared in the 52 Projects book, which was published in 2005. I updated the list in Oct. 2009, as links to some of the websites listed no longer worked. Following is a list of 52 resources for inspiration. The list includes websites, books, magazines, zines, stories, albums and more. Some of the items provide how-to information, others invite you to participate. A few require you to do some digging.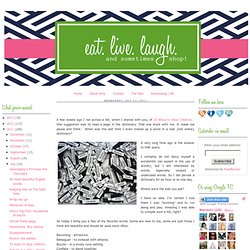 A few weeks ago I ran across a list, which I shared with you, of 33 Ways to Stay Creative. One suggestion was to read a page in the dictionary. That one stuck with me.
Eat. Live. Laugh. and sometimes shop!: 50 most beautiful English words.
Do You Think I'm Crazy? at Kontraband
How Daniel Radcliffe Deals With The Paparazzi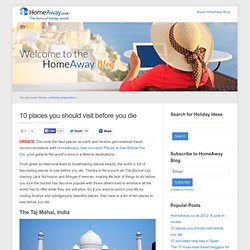 10 places you should visit before you die « Go! from HomeAway
UPDATE: Discover the best places on earth and receive personalised travel recommendations with HomeAway's new microsite Places to See Before You Die, your guide to the world's once in a lifetime destinations. From great architectural feats to breathtaking natural beauty, the world is full of fascinating places to see before you die. Thanks to films such as The Bucket List, starring Jack Nicholson and Morgan Freeman, making life lists of things to do before you kick the bucket has become popular with those determined to embrace all the world has to offer while they are still alive. So if you want to enrich your life by visiting diverse and outrageously beautiful places, then here is a list of ten places to see before you die. The Taj Mahal, India Located in Agra, India, the magnificent Taj Mahal is a UNESCO World Heritage site and probably the most recognizable monument in the world.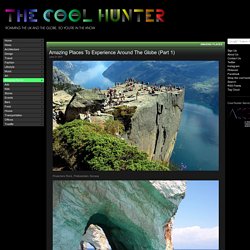 Preachers Rock, Preikestolen, Norway Blue Caves - Zakynthos Island, Greece Skaftafeli - Iceland Plitvice Lakes – Croatia
Amazing Places To Experience Around The Globe (Part 1)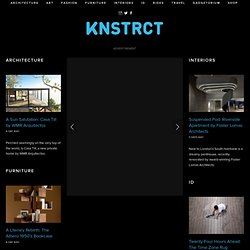 July 21st, 2011 – Perched on the hillside atop the waters of Pretty Beach, on the Bouddi Peninsula, just north of Sydney, is a surreal tree house called The Pretty House. The exclusive seven-acre property encompasses three one-bedroom pavilions that surround the main home. Each pavilion is rented out to guests who are lavished with an in-house chef, treetop views of the sparkling Brisbane waters, private decks for sunbathing, a wine cellar, heated pool, and a stunning 38 foot yacht to explore the waters (swoon!). The interiors are modern and saturated in warm, earthy color tones. It's as if an old world traveler left his 1930′s travel trunks, hand crafted tables, fine Belgium linens behind and trinkets that document his adventures.
Jet Off To Australia's Pretty Beach House |
Although designed and built for the prominent purpose of defense, today the castles seem like somewhat unrealistic constructions straight from the fairytale world. From solid strongholds to oriental fortresses and highly decorative palaces, the castles are our connection to the past, where legends mix with history and reality blends with a fairyland. This fairytale castle is the historical seat of the Prussian Kings and German Emperors. Its origin dates back to the Middle Ages - it was built in the 11th century, then completely destroyed in 1423 and reconstructed in 1461. The view from the castle that stands on top of Mount Hohenzollern (855 m) is as stunning as the complex itself.
15 Amazing Castles from Around the Globe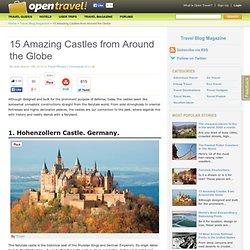 The luxury Dhigu Resort, Maldives Anantara Dhigu Resort & Spa is encircled by mystic lagoons and unspoilt crystal shores, the resort is a heavenly sanctuary on a secluded paradise island, offering barefoot elegance in one of the world's most celebrated tropical havens. Here the sparkling turquoise waters of the Indian Ocean offer an endless horizon of aquatic allure and the evocative location is matched by a tranquil island design style. Anantara Dhigu is a luxurious five-star resort hidden on tropical terrain on Dhigufinolhu Island in the Maldives' South Male Atoll, a mere 35 minute speedboat journey from the island nation's international airport, or a scenic five minutes by private chartered seaplane. Male-based architect Mohamed Shafeeq from Group X Design Associates and Thailand-based interior design company, Abacus, headed by John Lightbody, have styled the resort's distinctive environment as a creative complement to the natural beauty of the island.
The Luxury Dhigu Resort, Maldives
Luxury Resort Ayada, Maldives Ayada Maldives is a brand new awe-inspiring destination comprising an opulent 112 villa resort located on the 150,000 square meter paradise island of Maguhdhuvaa in the stunning Gaafu Dhaalu Atoll. From the moment you arrive on the luxury resort's delicate, powder white sands you will be immersed in a fantasy of luxury, quality and style unique only to Ayada Maldives. Delight in the impeccable service and superb amenities of the seven indulgent restaurants, bars and cafes offering world-class cuisine to tantalise taste buds, the extensive 3,500 square meter AySpa Spa & Health Club by ESPA will take you to a blissful level of relaxation.
Luxury Resort Ayada, Maldives
I Love You More Cartoon
Constant Companion
Your House Is Burning. What Do You Take? [20 pics]
Deformed puppy, rescued from trash, learns to walk - Good News
No wonder he looks confused: The mystery creature that nobody can identify
Seeing in the Dark
Tom Mabe Pranks A Telemarketer - Video
How Harry Potter Should Have Ended | at-you.net
Check out Our Lighter Side
Dominos Fires The Greatest Employee Theyve Ever Had. Big Mistake, Dominos. ...
Caleb Needs Some Dudes [PIC]
To the guy in my closet, you don't have AIDS
Anatomy Of An Icon
Deep Thoughts From Hot Guys With Baby Animals
Short Film of the Day: Porcelain Unicorn
things that make me happy (and dont really go anywhere else)