Things that make me happy 2.0
The world's best secret islands
Looking for a romantic spot that's (almost) all yours? Here's a list from our brand new Best in Travel 2011 guide to reignite your love affair with desert islands, with picks from across the globe. 1.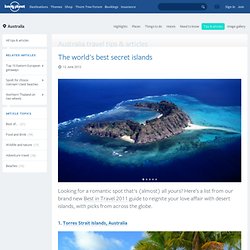 Get a regular-sized envelope. Address it to someone special.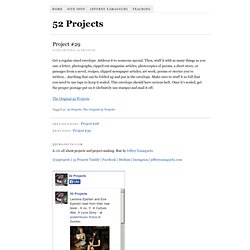 Project #29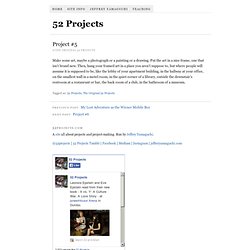 Project #5
Make some art, maybe a photograph or a painting or a drawing.
52 Projects – Resources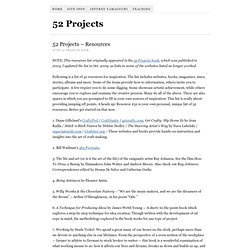 NOTE: This resources list originally appeared in the 52 Projects book, which was published in 2005. I updated the list in Oct. 2009, as links to some of the websites listed no longer worked.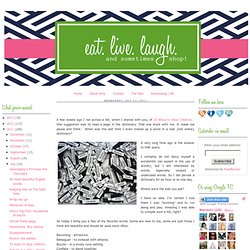 A few weeks ago I ran across a list, which I shared with you, of 33 Ways to Stay Creative. One suggestion was to read a page in the dictionary. That one stuck with me.
Eat. Live. Laugh. and sometimes shop!: 50 most beautiful English words.
Do You Think I'm Crazy? at Kontraband
How Daniel Radcliffe Deals With The Paparazzi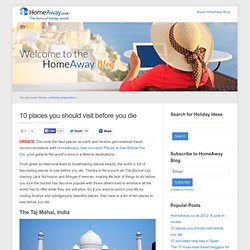 10 places you should visit before you die « Go! from HomeAway
UPDATE: Discover the best places on earth and receive personalised travel recommendations with HomeAway's new microsite Places to See Before You Die, your guide to the world's once in a lifetime destinations. From great architectural feats to breathtaking natural beauty, the world is full of fascinating places to see before you die.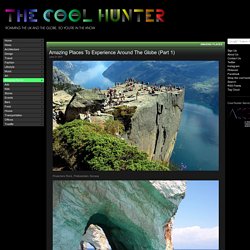 Preachers Rock, Preikestolen, Norway
Amazing Places To Experience Around The Globe (Part 1)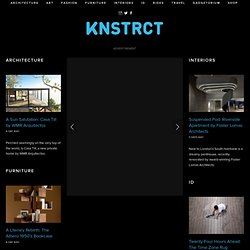 July 21st, 2011 – Perched on the hillside atop the waters of Pretty Beach, on the Bouddi Peninsula, just north of Sydney, is a surreal tree house called The Pretty House.
Jet Off To Australia's Pretty Beach House |
Although designed and built for the prominent purpose of defense, today the castles seem like somewhat unrealistic constructions straight from the fairytale world.
15 Amazing Castles from Around the Globe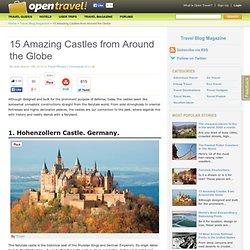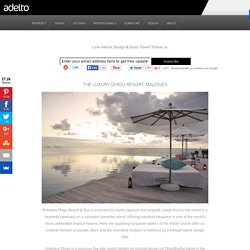 The luxury Dhigu Resort, Maldives Anantara Dhigu Resort & Spa is encircled by mystic lagoons and unspoilt crystal shores, the resort is a heavenly sanctuary on a secluded paradise island, offering barefoot elegance in one of the world's most celebrated tropical havens.
The Luxury Dhigu Resort, Maldives
Luxury Resort Ayada, Maldives
Luxury Resort Ayada, Maldives
I Love You More Cartoon
Constant Companion
Photograph by BRETT ROGOWSKI The Burning House is a brilliant project that seeks to answer a simple question: If your house was burning, what would you take with you?
Your House Is Burning. What Do You Take? [20 pics]
Deformed puppy, rescued from trash, learns to walk - Good News
By Mail Foreign Service UPDATED: 06:56 GMT, 22 September 2011 If this cute little chap looks a wee bit confused, it's no wonder. His big wide eyes stare out at the world around him - which in turn is staring back at him.
No wonder he looks confused: The mystery creature that nobody can identify
Credit: cliff1066tm. Patient TN was, by his own account, completely blind. Two consecutive strokes had destroyed the visual cortex of his brain, and consequently, his ability to see.
Seeing in the Dark
Tom Mabe Pranks A Telemarketer - Video
How Harry Potter Should Have Ended | at-you.net
Check out Our Lighter Side
Dominos Fires The Greatest Employee Theyve Ever Had. Big Mistake, Dominos. ...
Caleb Needs Some Dudes [PIC]
To the guy in my closet, you don't have AIDS
Anatomy Of An Icon
Deep Thoughts From Hot Guys With Baby Animals
Short Film of the Day: Porcelain Unicorn
things that make me happy (and dont really go anywhere else)