Recipes march 23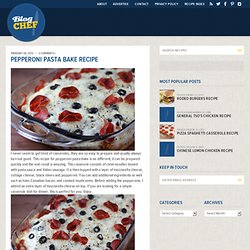 Pepperoni Pasta Bake Recipe
I never seem to get tired of casseroles, they are so easy to prepare and usually always turn out good.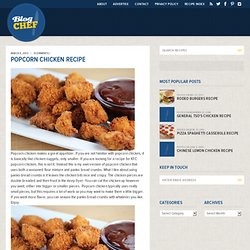 Popcorn chicken makes a great appetizer.
Popcorn Chicken Recipe
Pepperoni Stuffed Chicken Breast Recipe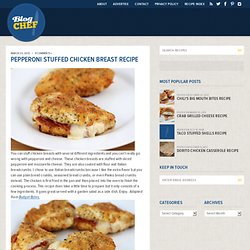 You can stuff chicken breasts with several different ingredients and you can't really go wrong with pepperoni and cheese.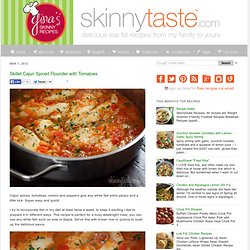 Cajun spices, tomatoes, onions and peppers give any white fish extra pizazz and a little kick.
Skillet Cajun Spiced Flounder with Tomatoes
St Patrick's day is a few days away, and I'm sure many of you will be enjoying this classic Irish-American dish!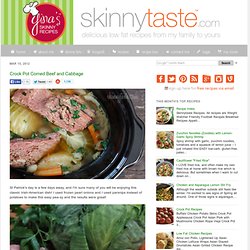 Crock Pot Corned Beef and Cabbage
Skinny Texas Cheese Fries
Guiltless cheesy seasoned fries topped with bacon, jalapeños and scallions served with a cool homemade low-fat buttermilk ranch on the side. Folks... this is sooooo good!! Pure comfort food!!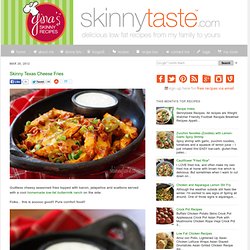 Roasted Prosciutto Wrapped Asparagus Bundles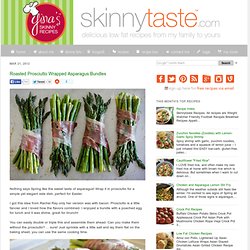 Nothing says Spring like the sweet taste of asparagus! Wrap it in prosciutto for a simple yet elegant side dish, perfect for Easter.
Hamburger Stroganoff (aka Homemade Hamburger Helper)
Hamburger Stroganoff (aka Homemade Hamburger Helper)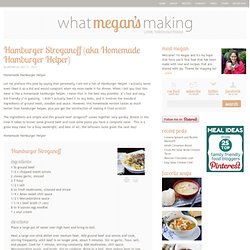 Skillet Baked Ziti with Sausage and Peppers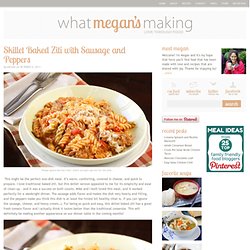 Skillet Baked Ziti with Sausage and Peppers Please ignore the fact that I didn't actually use ziti for this dish... This might be the perfect one-dish meal.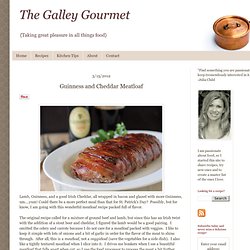 Lamb, Guinness, and a good Irish Cheddar, all wrapped in bacon and glazed with more Guinness, um....yum! Could there be a more perfect meal than that for St. Patrick's Day?
Guinness and Cheddar Meatloaf
Baked Pasta with Roasted Peppers and Zucchini & Giveaway
One of my raves about living in regional areas – especially a foodie haven like Orange - is the ease of getting cheap pub food.
I'm know I'm not alone that I look as forward to Thanksgiving Day leftovers as I do the big meal on that day; maybe even more so.
Mashed Potato Cakes with Scallions and Parmesan Cheese — Recipe - Creative Culinary
Yesterday while starring at a PowerPoint presentation about capital spending on college campuses, I started thinking about sweet potatoes. Because obviously there's a correlation between $/gross square foot spent on college buildings and my side dish for dinner. Duh.
Mashed sweet potatoes with goat cheese
I have to admit that I hit a rut lately.
Golden Potato Latkes |
Cooking Healthy For Me: Loaded Mashed Sweet Potatoes
Mint Truffles
Mint Truffles
Spinach and Cheese Strata
Tater Tot Casserole Recipe
Skinny Scalloped Potato Gratin
Stuffed Zucchini | Simply Love Food
Pizza Bites
Kielbasa Balls
Quick and Easy White Chicken Chili
Thin Mint Truffles
Superbowl Ideas
Pretzel Rolls
Chicken and White Bean Chili
Creamy Chicken Taquitos
Top 10 Recipes of 2011
Margarita Mac and Cheese
bagels…revisited « Inquiring Chef
Almond Crusted Tilapia
Placki z cukinii z mozzarellą i pomidorem | o ! kuchnia
Gateau de Crepes a la Florentine...Julia Child per l'MTC
Sweet Potato Cakes with Curried Tomato Sauce and Poached Egg
BUFFALO CHICKEN GYOZA
Skillet Lasagna
Fajita Stew
Creamy Chili con Queso
Herb Crusted Pork Chops
Pepper Lynn | Sausage Stuffed Mushrooms
Semolina Pizza Dough – Crispy & Chewy, best ever!!! | Ambika's Kitchen
Capuns | Island Vittles
mexican stuffed peppers with quinoa & black beans
Lasagna bolognese with béchamel « Snixy Kitchen
Tarta de patatas rellena de espinacas y setas
Individual Sweet Potato Breakfast Pizzas
Generation Y Foodie: Lemon Parmesan Crusted Tilapia
Sunday Dinner
Cheesy Chicken Enchiladas : The Back Burner
chicken hand pies. « dinnersforwinners
The Infamous Jacques Torres Chocolate Chip Cookies
Cheeseburger Soup
Chicken and Bacon Sausage Rolls | Penguin says Feed Me!
Gluten Free Spicy Citrus Black Bean Soup Recipe | Gluten Free Recipes
Spinach and Mushroom Lasagna Rolls
Sticky Citrus-Ginger Honey Ribs
Lighter Fettucine Alfredo
Crash Hot Potatoes
Pulled Pork Macaroni & Cheese
Stovetop Mac & Cheese with Stewed Tomato
Treat of the Week: Baklava with Nutella Glaze - Today's Nest
Crisp Grilled Cheese Sandwich
Sweet sandwich ganache
Bake at 350 goes savory: Mini Tamale Pies...and they're light, too!
Traditional Oeufs en Meurette from Burgundy
Mushroom-Crusted Chicken Burgers
Tennessee White Chili « Lea & Jay
Crockpot Chicken Adobo » Table for Two
Breakfast Quesadillas
Bacon Wrapped Scallops
Chicken Spaghetti Casserole
Steamed Chinese Dumplings
Coca-Cola Chicken Wings
Saltimbocca Grilled Cheese
Mac and Cheese Hand Pies
Mexican Chicken Pasta Bake - Budget Meal
Sausage Pretzel Bites
Fire Roasted Queso Dip for Chips
Piccata Chicken Recipe
The Perfect Poach
Crab and Cream Cheese Wontons
Hot Salsa Verde
Skinny Texas Cheese Fries
Madhur Jaffrey's Shrimp Biryani
Twice-Baked Potatoes with Irish Cheddar Recipe
New Year's Eve Recipes: Appetizers, Hors D'Oeuvres & Cocktails
Rice Noodle Salad with Endive, Shrimp & Soy-Ginger Dressing Recipe
Southwestern Eggs Benedict with Black Bean Spread, Avocado & Salsa Recipe
Asian Quesadilla with Chicken, Zucchini & Hoisin Sauce Recipe
Three Bean and Sausage Bake
Bacon and Cheese Wrapped Tater Tots with Tabasco
Angel Hair Pasta with Shrimp, Asparagus and Basil
Easy Beef Enchiladas Recipe
Easy Chocolate Rugelach
Tuna Noodle Casserole
Baked Honey-Mustard Corned Beef
Recipe: Cheesy Potato Breakfast Casserole with Cheddar & Tomatoes Recipes
Leisurely Lunch Recipe: Chicken Cordon Bleu-Croque Monsieur Recipes from The Kitchn