Recipes 2
Ham & Cheese Pretzel Bites
New categories for me. I'm filing this under 'kids' and 'breakfast'. Not because it's a specific food for children, but because my baby loves to eat this (will I ever stop calling him my baby? I somehow doubt it). This is by far his favorite breakfast -not to mention he loves to 'help' me cook it – which makes it a fun thing for the both of us.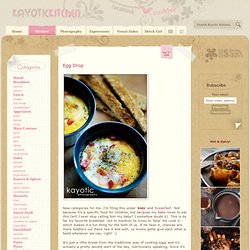 Egg Drop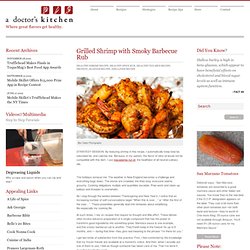 Healthy Shrimp recipe, Healthy Spice Rub, Healthy Tex-Mex recipe, Protein, Seafood recipe, Shellfish recipe STRATEGY SESSION: By featuring shrimp in this recipe, I automatically keep total fat, saturated fat, and calories low. Because, in my opinion, the flavor of olive oil would not be compatible with this dish, I use macadamia nut oil, the healthiest of all neutral culinary oils. The holidays exhaust me. The weather in New England becomes a challenge and everything bogs down. The stores are crowded, the lines long; everyone seems grouchy.
A Doctor's Kitchen by Deborah Chud, MD | Grilled Shrimp with Smoky Barbecue Rub
The Famous "Crack Dip"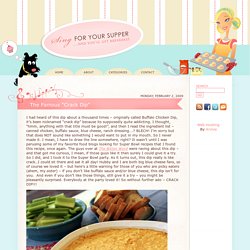 I had heard of this dip about a thousand times – originally called Buffalo Chicken Dip, it's been nicknamed "crack dip" because its supposedly quite addicting. I thought, "hmm, anything with that title must be good!", and then I read the ingredient list – canned chicken, buffalo sauce, blue cheese, ranch dressing….? BLECH!
I had an idea. Actually, it was more like my three hundred and forty-sixth idea for this month and I now have the hips to show for it. No biggie, I consider it a small sacrifice for eating food that tastes this good. So I asked myself: "Would it be a really crazy idea to wrap loads of bacon around chicken strips and brush them with a spruced up honey marinade?".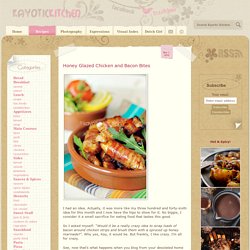 Honey Glazed Chicken and Bacon Bites
Chocolate Wasted Cake
Ever since my brother started using the phrase "I wanna get chocolate wasted" from the movie Grown Ups, I've been wanting to make this cake for his birthday. Being a chocoholic myself, I had no trouble coming up with ways to fill this cake with layer upon layer of chocolatey goodness. Just looking at this cake, I think you'll agree that it definitely deserves its name. Photo Credit: Ryan Rivera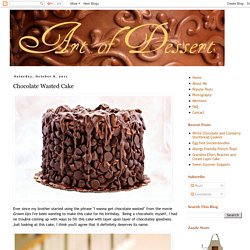 Shredded Chicken Enchiladas | a sweet pea chef
Facebook Pinterest BarraPunto BlinkList blogmarks connotea Current Delicious Digg Diigo DZone eKudos Fark FriendFeed Google GooglePlus Gwar HackerNews Haohao HealthRanker Hemidemi Hyves Kirtsy LaTafanera LinkArena LinkaGoGo LinkedIn Linkter Meneame MisterWong Mixx muti MyShare MySpace Netvibes NewsVine Netvouz NuJIJ Posterous PDF Print Ratimarks Reddit Scoopeo Segnalo Slashdot Sphinn StumbleUpon Technorati ThisNext Tumblr Twitter Upnews Vkontakte Wykop Xerpi Yigg Yahoo SheToldMe Diggita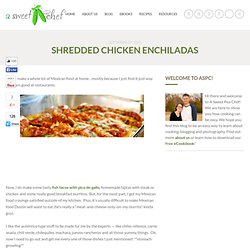 Creamy Caprese Pasta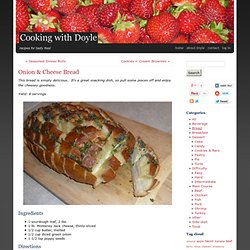 Onion & Cheese Bread
This bread is simply delicious. It's a great snacking dish, so pull some pieces off and enjoy the cheesey goodness. Yield: 8 servings Ingredients 1 sourdough loaf, 2 lbs.1 lb. Monterey Jack cheese, thinly sliced1/2 cup butter, melted1/2 cup diced green onion1 1/2 tsp poppy seeds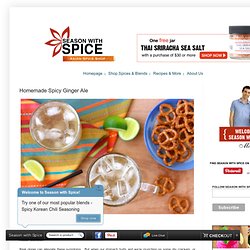 Season with Spice - Features: Homemade Spicy Ginger Ale
Is there real ginger in Ginger Ale? If Ginger Ale did not include real ginger – with all its innumerable health benefits – why would our parents ask us to drink it when we have an upset stomach? Why would the canned drink be so popular on airplanes where many of us are prone to motion sickness? Real ginger can alleviate these symptoms. But when our stomach hurts and we're munching on some dry crackers, or when the airline stewardess hands us that small bag of pretzels and asks us what we want to drink, we don't think why we crave a can of Ginger Ale, we just order one. Some traditions never change.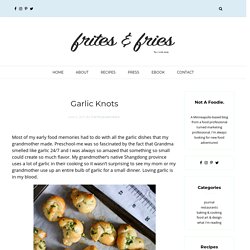 frites & fries - Garlic Knots
Garlic Knots Most of my early food memories had to do with all the garlic dishes that my grandmother made. Preschool-me was so fascinated by the fact that Grandma smelled like garlic 24/7 and I was always so amazed that something so small could create so much flavor. My grandmother's native Shangdong province uses a lot of garlic in their cooking so it wasn't surprising to see my mom or my grandmother use up an entire bulb of garlic for a small dinner.
I don't do a lot of deep-frying. But when I do, it's pretty magical. There's not much better in the world of food than perfectly crisp, crunchy, slightly flaky, fried goodness.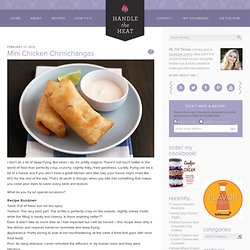 Mini Chicken Chimichangas | Handle the Heat
My favorite part of the Superbowl is the food. I won't even pretend that I'm a huge football fan. In fact, I think it's kind of unfair that there's no massive nation-wide event that appeals to women. I know that there are women who honestly enjoy football (not just because they want to impress a guy) but just a glimpse at the Superbowl commercials and you know which sex its geared to. Anyways. This dip is to die for.
Hot & Light Spinach-Artichoke Dip | Handle the Heat
Make this today. Sorry to be bossy. But this is important. I whipped up this casserole yesterday and loved it. I had a chicken in the fridge, a couple of boxes of mushrooms, and the sheer will to eat a big ol' plate of comfort food. It resembles a tetrazzini more than anything, but is a little more on the simple/pared down side.
Creamy Chicken Spaghetti Casserole
Why there is no need to purchase pre-made fries in the freezer aisle – in pictures and rhyme: One potato (find a potato) Two potato (cut the ends off) Three potato (cut slices) Four (cut fries from slices) Five potato (Toss in herbs and olive oil)
Homemade French Fries
There's nothing special about this dish, except that it's a total miracle. It's Chicken Fried Steak, is what it is. I made it for Marlboro Man last night because I like him, because he drove me all over Kingdom Come this weekend, because he stopped at a gas station each of the 4,322 times I asked him to because I kept drinking iced coffees (TMI?)
Chicken Fried Steak
Homemade Four Cheese Ravioli Recipe
African Chicken Peanut Stew Recipe
Like peanut butter? Chicken? Then this African chicken peanut stew by Hank is for you. Perfect for chilly weather. ~Elise
Bacon-wrapped Jalapeno Chicken Bites
Death By Oreo Cupcakes
Potatoes & Chorizo | Handle the Heat
Shrimp-Stuffed Shells | Handle the Heat
Ham & cheese pretzel bites
Bake Your Day » Crab Rangoon Dip
Blackened Sea Scallops, Green Onions, Roasted Tomatoes
Pizza Braid
Liquor Lollipops Recipe
Blood Orange Margarita
Skinny Chicken Pot Pie Recipe
Mountain Gnocchi (Maakroun)
Bhuna Khichuri – an Indian Risotto?
Andrew Carmellini's Chicken Pot Pie
lasagna bolognese
Homemade Tater Tots
Potato Casserole & a Virtual Holiday Brunch Potluck
Grilling: Hasselback Potatoes with Garlic and Parmesan
Spaghetti alla Carbonara, Pasta Carbonara Recipe
Goat Cheese and Strawberry Grilled Cheese Recipe < Southern Living Magazine Best Recipes 2011
THAI SOBA NOODLE BOWL » Sprouted Kitchen
Not Your Abuelita's Tortillas
Chocolate Pastry Cream
Suvir Saran's Juicy Turkey-Cheddar Burgers
Quick Shrimp Chowder Recipes < 100 Best Classic Comfort Food Recipes
Skinny Baked Mozzarella Sticks
Scallop with Apricot Sauce Recipe
Crisp Grilled Cheese Sandwich
scallion meatballs with soy-ginger glaze
Creamy Brussels Sprouts Gratin with Blue Cheese
Boreks
Creamy, Three-Cheese Artichoke Dip
Spanish pork chops with peppers recipe | Angela Hartnett | Life and style
Super Bowl Recipe: Beer & Cheddar Dip
Grands!® Grilled Cheese Sandwiches Recipe
Baked Mac n Cheese with Gruyere and Butternut Squash
Moussaka Recipe
Love Your Heart: Light Fettuccine Alfredo | Prevention RD
Better Than Takeout Orange Chicken
Israeli Chocolate Rugelach Cookies - Kosher Cookie Recipe - Jewish Cooking - Desserts Recipes
Potato and Cheese Sigara Burek
Farmer Cheese Pie
Mini Spring Rolls with Chicken Floss
Pasta with Roasted Red Pepper Tomato Sauce Recipe
Holiday Treat: Bacon Truffles
Mandu | Mandu Recipe
Easy Mac and Cheese
Chicken Meatballs with Artichokes & Carrots, Starring Bill Murray
The Best Homemade Hummus
Tennessee White Chili Recipe
French Onion Soup
Bite-sized Baked Brie
Lasagna Cupcakes Recipe
Bacon-Cheeseburger Pasta Bake
How to Make The Perfect Grilled Cheese Sandwich
Bacon Taquitos Recipe
Sippity Sup is Dark (Chocolate Truffle) Today
Tagliatelle with Basil and Egg Yolk
Crab Stuffed Mushrooms
Crispy Bánh Mì Spring Rolls With Creamy Chili Mayo
Golden Potstickers Recipe
Smoked Cheddar and Blue Cheese Brisket Macaroni and Cheese | Sarah's Cucina Bella
Taco Stuffed Shells
Salsa Verde Chicken Enchiladas Recipe
How to Make Ketchup
How to Make Whole-Grain Mustard
How to Make Crème Fraîche
Mushroom Grilled Cheese Sandwich (aka The Mushroom Melt)
Jalapeno Popper Grilled Cheese Sandwich
Basil Marinated Chicken Thighs
Bacon Wrapped Chicken Bites
Bacon-Wrapped Scallops with Chili Butter
Roasted Red Pepper, Sunflower and Walnut Pesto | Sarah's Cucina Bella