Food 2222
Oops! Google Chrome could not find www.ivillage.com. Oops! Google Chrome could not find www.ivillage.com. Try Kitchen View!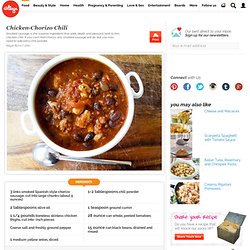 Take your computer to the kitchen and view this recipe full-screen, with step-by-step directions. Enter Kitchen View. Oops! Google Chrome could not find www.ivillage.com. Oops! Google Chrome could not find www.ivillage.com. 30-Minute Chili. Prep: 10 min Total: 30 min (Quick) Try Kitchen View!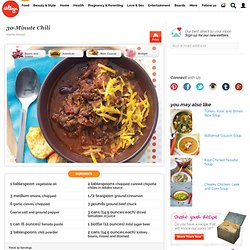 Take your computer to the kitchen and view this recipe full-screen, with step-by-step directions. Enter Kitchen View. One-Dish Chicken & Rice (Asopao de Pollo) -EW. Handle the Heat » Chicken Scallopine. Last week I posted a recipe for Bacon & Goat Cheese Stuffed Chicken which was freakin' delicious.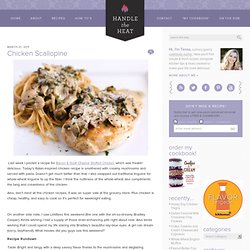 Today's Italian-inspired chicken recipe is smothered with creamy mushrooms and served with pasta. Doesn't get much better than that. I also swapped out traditional linguine for whole-wheat linguine to up the fiber. Chicken Sate with Spicy Peanut Dipping Sauce | Handle the Heat. Lightened Up Spaghetti Carbonara. I feel like for most of us the words "healthy" and "light" really mean "boring" or "tasteless".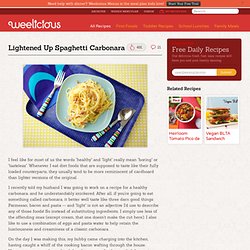 Whenever I eat diet foods that are supposed to taste like their fully loaded counterparts, they usually tend to be more reminiscent of cardboard than lighter versions of the original. I recently told my husband I was going to work on a recipe for a healthy carbonara, and he understandably snickered. After all, if you're going to eat something called carbonara, it better well taste like three darn good things: Parmesan, bacon and pasta -- and "light" is not an adjective I'd use to describe any of those foods! Baked Chili Cheese Fries. We're back in the mix, aren't we.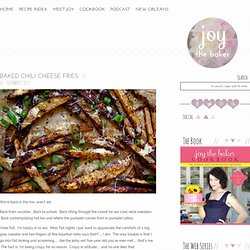 Back from vacation. Back to school. Back rifling through the closet for our cowl neck sweaters. Zucchini, ham and ricotta fritters. I am the last person on the internet to join the Cute Overload train; I mean, I get it, it's cute.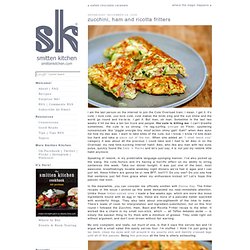 I love cute, you love cute, cute makes the birds sing and the sun shine and the world go round and tra-la-la. I get it. But man, oh man. Sometime in the last two weeks it hit me like a ten ton truck and people, the cute is killing me. Hot and smoky baked beans. Thursday, July 20, 2006 I think that the basic instinct that gets us in the kitchen "after all those messy sustenance issues have been attended to" is a deep-seated desire to make something taste a little better than the way we've come to accept it.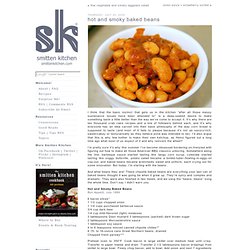 It's why there are ten thousand crab cake recipes and a line of followers behind each, and it's why everyone has an idea carved into their base philosophy of the way corn bread is supposed to taste (and most of it fails to please because it's not as savory/rich, sweet/cakey or textural/salty as they believe pone was intended to be). I'd also argue that this is why few bother to make their own ketchup, as Heinz figured out a long time ago what most of us expect of it and why reinvent the wheel? I'm pretty sure it's why this summer I've become obsessed bordering-on-frenzied with figuring out how to make all those American BBQ classics unboring. Roasted Poblanos in Cream Sauce (Rajas con Crema) Recipe.
Method 1 Char the whole poblano chile peppers on all sides.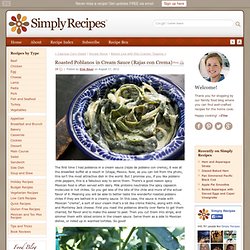 The best way to do this is over an open flame of a gas stove. Just place the raw whole chile peppers directly on the grate covering the flame and let the flame blacken the outside skin of the peppers. When one side has blackened, use tongs to turn the chile over a little so the flame can blacken another side. You can also use a broiler to blacken the chile peppers, but direct flame is the best way. Diners, Drive-Ins and Dives : Guy Fieri. Lady and Sons Chicken Pot Pie Recipe : Paula Deen. Directions Crust: Preheat oven to 350 degrees F.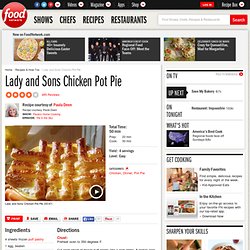 Cut each sheet of frozen puff pastry into 1-inch strips, 8 inches long. On a large cookie sheet, weave strips into a lattice large enough to cover each pot pie. Brush beaten egg onto each lattice square. Poblano Chicken Chowder Recipe : Paula Deen. Grilled Cheese and Short Rib Sandwiches with Pickled Caramelized Onions and Arugula. Sprinkle beef with salt and pepper.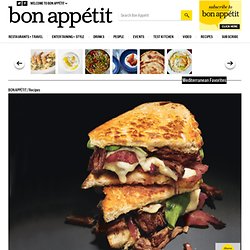 Melt butter in large wide pot over medium-high heat. Working in 2 batches, cook beef until browned, about 6 minutes per batch. Chocolate Chip Cookie Dough Peanut Butter Cups. Soooooo… you know that episode of Sex and the City where Miranda has to dump dish soap on top of chocolate cake just so she will stop eating it?? Uh. Yeeeeeah. These are like… of that caliber. Best Steak Marinade in Existence Recipe. Potato Rings with Homemade Buttermilk Ranch. If french fries and onion rings ever got married and had a baby, I think it would be something like this…a potato ring.
You have a light and crispy outer coating with a soft potato and caramelized onion center…why? Because we can I guess, who knows…but it's kind of fun, right?! My boyfriend and his friends have this thing where every super bowl they have a "Deep-Fry Fest" where, well they deep fry everything; so if you're anything like my boyfriend you now have another "Deep Fry Fest" recipe to use! Things to Grill in Foil : Recipes and Cooking.
Tequila-Soaked Watermelon Wedges. 7 Videogame Cocktail Recipes From The Drunken Moogle. See more videogame recipes at The Drunken Moogle. And submit your own drink recipe to the Dorkly Facebook page for consideration! Metroid (Metroid Cocktail) Ingredients:1/2 shot Bacardi Big Apple Rum1/2 shot Coconut Rum1/2 glass Kiwi Strawberry Minute Maid (or Kool-Aid)A little less than 1/2 a glass Sprite3 Strawberries Directions: Shake the two rums and Kiwi Strawberry Minute Maid and pour into a lowball glass. Add the Sprite for a bit of flavor and carbonation. Moist Chocolate Cake. There's something to be said for a cake that you can whip up at 9 o'clock on a Friday night, after a serious doozy of a week, when you need some baking therapy that requires little to no brain power.
By the time this past weekend hit, I think anything requiring technique or poise in the kitchen would have had induced some kind of cerebral short circuiting – I imagine there would have been sparks, probably some twitching and likely even drool. Okay fine, so there might have been drool anyway. Actually, when the cake emerged, there was probably drooling and clapping. I tell you that because I trust you won't judge me. This cocoa-based cake is deeply chocolaty and incredibly moist. Handle the Heat » Chicken Cordon Bleu. Handle the Heat » Jalapeno Popper Breadsticks. Stuffed Apple Crisp.
Mac and Cheese. Grilled S'more Brownie. Handle the Heat » Chickpea-Brown Rice Burgers. Zucchini Parmesan Crisps. Home-made chocolate walnut spread | Meals On Speed. Portabello Mushrooms with Creamy Spinach-Artichoke Filling. Mini Lasagna Cups. Chicken Noodle Casserole Recipe. Philly Cheese Steak Sloppy Joes Recipe. A life pursuit. Baked Chicken Burritos with Sour Cream-Poblano Sauce. Maple Bacon-Wrapped Salmon - In the Kitchen with Stefano Faita - Weekdays at 3:30 PM / 4:00 PM NL. Four cool things plus white bean stew. Pasta With a Mushroom and Bacon Cream Sauce - In the Kitchen with Stefano Faita - Weekdays at 3:30 PM / 4:00 PM NL.
Thai Spicy Peanut Sauce. 11 Awesome Hangover Cures | Hang Over Remedies | MANjr. Chicken Pesto Lasagna Roll-Ups. Homemade Crispy Potato Tots (Tater Tots) Hoisin-honey pork riblets. Fettucine with porcini. German pancakes. Boozy baked french toast. How to Make Ice Cream Without an Ice Cream Maker. Chicken skewers with dukkah crust. Marzipan. Spinach, Gouda, & Mushroom Pinwheels. Spinach Gruyere Puff Pastry Recipe : Paula Deen. Pickled Jalapeno Peppers Recipe. Bretzel rolls. Shake Up Your Hash Browns! No-knead bread. Jacked-up banana bread. The Best Fries Ever! Buffalo chicken lasagna skillet for one recipe. Skillet Gnocchi with Chard & White Beans -EW. Cinnamon Toast Rolls. Oops! Google Chrome could not find www.ivillage.com. Michael Chiarello's Fusilli Michelangelo with Roasted Chicken. Minestrone Soup -DK.
---