Types of fundemental force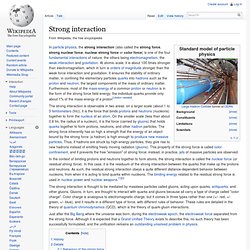 In particle physics , the strong interaction (also called the strong force , strong nuclear force , or color force ) is one of the four fundamental interactions of nature, the others being electromagnetism , the weak interaction and gravitation . At atomic scale, it is about 100 times stronger than electromagnetism, which in turn is orders of magnitude stronger than the weak force interaction and gravitation. The strong interaction is observable in two areas: on a larger scale (about 1 to 3 femtometers (fm)), it is the force that binds protons and neutrons (nucleons) together to form the nucleus of an atom . On the smaller scale (less than about 0.8 fm, the radius of a nucleon), it is the force (carried by gluons ) that holds quarks together to form protons, neutrons and other hadron particles. In the context of binding protons and neutrons together to form atoms, the strong interaction is called the nuclear force (or residual strong force ).
Strong interaction
Weak interaction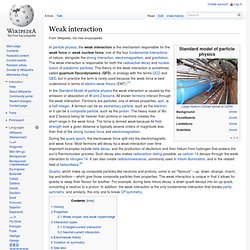 Weak interaction (often called the weak force or sometimes the weak nuclear force ) is one of the four fundamental forces of nature, alongside the strong nuclear force , electromagnetism , and gravitation . It is responsible for the radioactive decay of subatomic particles and initiates the process known as hydrogen fusion in stars. Weak interactions affect all known fermions ; that is, particles whose spin (a property of all particles) is a half-integer .
The word Electromagnetism is a compound from two Greek terms, ἢλεκτρον, ēlektron , " amber " (as electrostatic phenomena were first described as properties of amber by the philosopher Thales ), and μαγνήτης, magnētēs , "magnet" (the magnetic stones found in antiquity in the vicinity of the Greek city of Magnesia , in Lydia , Asia Minor ). The science of electromagnetic phenomena is defined in terms of the electromagnetic force, sometimes called the Lorentz force , which includes both electricity and magnetism as elements of one phenomenon. The electromagnetic force is one of the four fundamental interactions in nature , the other three being the strong interaction , the weak interaction and gravitation . This force is described by electromagnetic fields , and has innumerable physical instances including the interaction of electrically charged particles and the interaction of uncharged magnetic force fields with electrical conductors.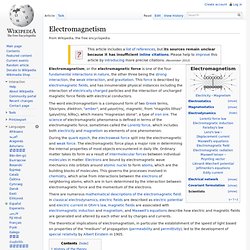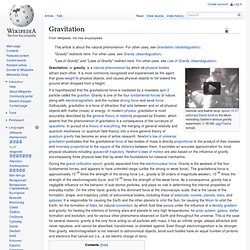 Gravitation , or gravity , is the natural phenomenon by which physical bodies appear to attract each other with a force proportional to their masses . It is most commonly experienced as the agent that gives weight to objects with mass and causes them to fall to the ground when dropped. The phenomenon of gravitation itself, however, is a byproduct of a more fundamental phenomenon described by general relativity , which suggests that spacetime is curved according to the energy and momentum of whatever matter and radiation are present.