GRAPHIC DESIGN
Design inspiration from around the world » Blog Archive » Designer headstones. Things to look at. High resolution photos and images. Home : Design Is History. TM Research Archive. Swissmiss. B Fonts Free Fonts Downloads Page 4 | FreeFontsDB.com. No Fonts Bagged Yet These are the fonts you have added to your bag.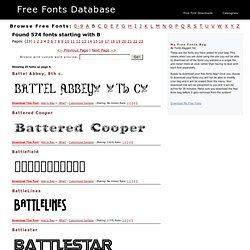 This means when you are done using the site you will be able to download all of the fonts you wanted in a single file and install them at once rather than having to deal with each font separately. Ready to download your free fonts bag? Once you choose to download your fonts you will not be able to modify your bag and it will be erased from the menu. Your download link will be presented to you and it will be active for 30 minutes. Creative comrades: Tom Lynham. London A short 15 word biography Ex-illustrator, ex-woodworker, ex-musician, ex-cartoonist, ex-designer, ex-film maker, ex-designer turned writer and communications consultant Three words to describe yourself?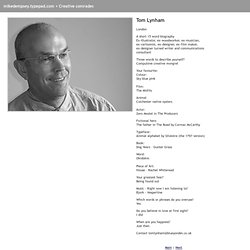 Compulsive creative mongrel Your favourite: Colour: Sky blue pink Film: The Misfits. 填鴨教室. Retro Pottery Net. The League of Moveable Type. Project Thirty-Three. Vintage Ephemera. Books, Design & Culture. From the desk of… Creative mornings. Home. Fontfabric™ AisleOne - Graphic Design, Typography and Grid Systems.
Creative Calendar Designs | Inspiration. Advertisement How many creative solutions for calendar design are out there?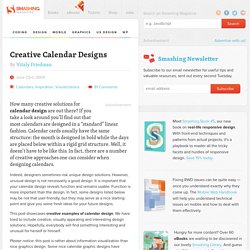 If you take a look around you'll find out that most calendars are designed in a "standard" linear fashion. Personal Report. Yugop. Speckyboy Design Magazine. A List Apart. ISO50 Blog – The Blog of Scott Hansen (Tycho / ISO50) » The blog of Scott Hansen (aka ISO50 / Tycho) GraphicHug™ - Everybody Needs a Hug. Monoscope. Graphic Designer | Simon C Page.
Creative comrades. Pink Maniacs. Discover how the world lives online Posted by LucaQ » Infographics , Inspiration , Social , Utility No Comments Wondrous projects (by Google labs)
Visuelle.co.uk. Designers Go To Heaven. Color Trends + Palettes. TypoJungle. The Nabokov Collection. The Eye by Vladimir Nabokov, designed by John Gall Every so often, a dream project lands on your desk.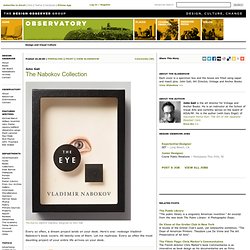 Here's one: redesign Vladimir Nabokov's book covers. All twenty-one of them. Let me rephrase. Every so often the most daunting project of your entire life arrives on your desk. Display | Modern Graphic Design Collection and Rare Graphic Design Books. Visual Bits. Chancellor Design Inc. + BLOG. Vectorish. The Ministry of Type.
Original Linkage. The artist and his model. Creative classics. Swissmiss. Project Dragonfly - Free Home Design Software. WellMedicated - Inspiration Overdose.
---