Self Improvment
Thursday 30th November, 2006 If someone granted you one wish, what do you imagine you would want out of life that you haven't gotten yet? For many people, it would be self-improvement and knowledge. New knowledge is the backbone of society's progress.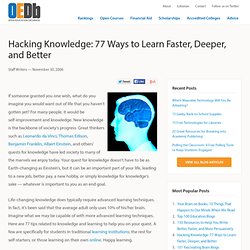 Nootropic
Nootropics ( pron.: / n oʊ . ə ˈ t r ɒ p ɨ k s / noh-ə- TROP -iks ), also referred to as smart drugs , memory enhancers , neuro enhancers , cognitive enhancers , and intelligence enhancers , are drugs , supplements , nutraceuticals , and functional foods that purportedly improve mental functions such as cognition , memory , intelligence , motivation , attention , and concentration. [ 1 ] [ 2 ] The word nootropic was coined in 1972 by the Romanian Dr. Corneliu E. Giurgea , [ 3 ] [ 4 ] derived from the Greek words νους nous , or "mind," and τρέπειν trepein meaning "to bend/turn".
Alpha BRAIN – A Complete Balanced Nootropic – Onnit Labs
Tested Safe for Competition and Employment Screens The Cologne List of the Olympic Centre in Rhineland Germany is one of the world's top anti-doping resources. This product is certified free of anabolic steroids and stimulants; substances banned by athletic competition.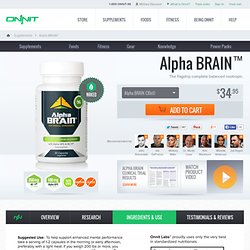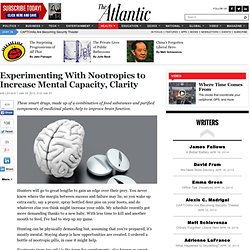 Experimenting With Nootropics to Increase Mental Capacity, Clarity - Ari LeVaux
These smart drugs, made up of a combination of food substances and purified components of medicinal plants, help to improve brain function. Hunters will go to great lengths to gain an edge over their prey. You never know where the margin between success and failure may lie, so you wake up extra early, say a prayer, spray bottled deer piss on your boots, and do whatever else you think might increase your odds. My schedule recently got more demanding thanks to a new baby. With less time to kill and another mouth to feed, I've had to step up my game.
Huperzia serrata
Source Naturals Huperzine A -- 100 mcg - 60 Tablets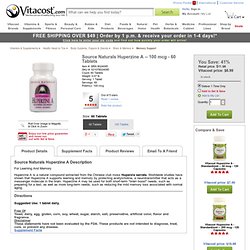 For Learning And Memory Huperzine A is a natural compound extracted from the Chinese club moss Huperzia serrata. Worldwide studies have shown that Huperzine A supports learning and memory by protecting acetylcholine, a neurotransmitter that acts as a messenger molecule in the brain. Huperzine A may be used for both short-term "brain boost" needs, such as preparing for a test, as well as more long-term needs, such as reducing the mild memory loss associated with normal aging.
Reading someone's mind Reading someone's mind through telepathy has a long and legendary history. But if you want to have this ability too, you may have to rethink what mind reading is. If you envision closing your eyes and having someone from across a stage project their thoughts into yours, so that you can "hear what they're thinking," you are out of luck. People claim to be able to do this but they don't teach their methods to anyone.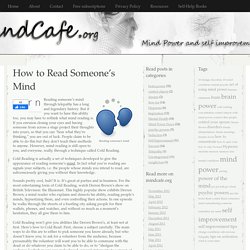 In the last twenty years, brain imaging studies have revealed that musical training has dramatic effects on the brain. Increases in gray matter (size and number of nerve cells) are seen, for example, in the auditory, motor, and visual spatial areas of the cerebral cortex of musicians. As Dr. Oliver Sacks writes in his book , "Anatomists would be hard put to identify the brain of a visual artist, a writer, or a mathematician - but they could recognize the brain of a professional musician without a moment's hesitation."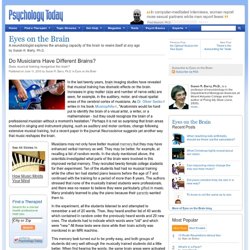 Do musicians have different brains?
Do you really need more time?
The single biggest "push back" I get from people when I share about how building practices into their life can unleash new ideas and help them be more productive goes something like this: "Yeah, that's great, but I really just don't have the time." After collecting myself, I reply… Did you at any point in the last week: Watch TV? Read for pleasure? Check Facebook/Twitter?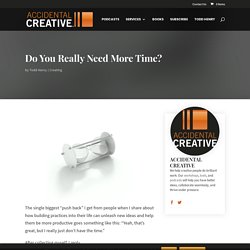 Previous iterations of the "25 Things" series: 25 Things Every Writer Should Know 25 Things You Should Know About Storytelling And now…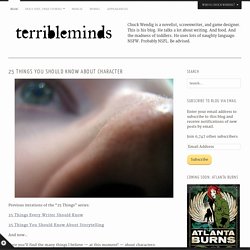 I'm tired of being a little girl when it comes to meeting new people. To rid myself and others of this pathetic habit, I've put together a step-by-step guide on overcoming social anxiety taking from other articles, books and my own experimentation. So what is a 'social badass,' you ask? A social badass is an individual who dominates social situations without anxiety or trepidation of any kind. The Basics Before we get to any intimate social interactions, we need to master the basics with some 2-second strangers.
Most people only think that there is one way to sleep: Go to sleep at night for 6-8 hours, wake up in the morning, stay awake for 16-18 hours and then repeat. Actually, that is called a monophasic sleep cycle , which is only 1 of 5 major sleep cycles that have been used successfully throughout history. The other 4 are considered polyphasic sleep cycles due to the multiple number of naps they require each day.
Lucid dreaming can be a very powerful experience for the dreamer. "You can be the absolute master of your dream world," says MortalMist.com, a website and forum dedicated to lucid dreaming. "The very laws of nature can be bent and broken. No experience is beyond your reach, no feat too difficult or risky. If you can imagine it, you can make it happen." Many people report wonderful experiences in the dream worlds they've created.
By lucid dreaming, you can gain complete control over the one place that no one will ever care about: your imagination. Just The Facts Lucid dreaming is a scientifically proven phenomenon. While some get into lucid dreaming in order to treat chronic nightmares, or to experience all facets of the human experience, approximately 99.8% of people use it as a tool for cheap and interactive 3D porn. A lucid dream is a dream in which the dreamer is aware that he or she is dreaming, and he or she can even choose to control and manipulate his or her dream. Dream, dream, dream.
If you see a student dozing in the library or a co-worker catching 40 winks in her cubicle, don't roll your eyes. New research from the University of California, Berkeley, shows that an hour's nap can dramatically boost and restore your brain power. Indeed, the findings suggest that a biphasic sleep schedule not only refreshes the mind, but can make you smarter. Students who napped (green column) did markedly better in memorizing tests than their no-nap counterparts.
Psychological research over three decades demonstrates the power of Stimulus Control Therapy. Can't get a good night's sleep? You're not alone. In surveys of what would improve people's lives, a good night's sleep frequently comes near the top of the list.