Claycasey4
WoodWing.com | Cross Media Publishing Solutions for Smart Publishers. Twubs. Netvibes. Idea Management - Innovation Management - Crowdsourcing - Sugges. Threadsy - pull yourself together.
FreeMind. FreeMind n'est pas un éditeur de texte à proprement parler, et n'est pas forcément adapté pour gérer des textes très longs et "monoblocs" comme un article, un mémoire ou un rapport.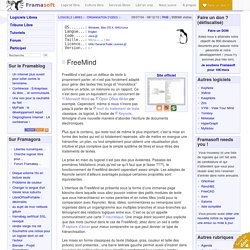 Ce n'est donc pas un équivalent ou un concurrent de Microsoft Word ou Open Office Writer par exemple. Cependant, même si nous n'irions pas jusqu'à parler de la mort du traitement de texte classique, ce logiciel, à l'instar de Keynote, témoigne d'une nouvelle manière d'aborder l'écriture de documents électroniques. Social Page Evaluator. IdeaStorm | Stribe Community Network - Instant social network for website to boost traffic. Social Media Management | Facebook for Business. Hearsay Labs. Blippy / Purchases by people I follow. Innovation management, Idea management, Social Networking Software, Crowdsourcing.
What Is a Curator in Chief? Neil Sanderson is the Chief Curator at Eqentia--a software platform service that enables professional users and organizations to easily aggregate, curate and republish the news that's important to them.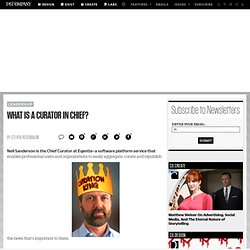 Eqentia's sites are both public and private--with some of the more public ones including Visability Marketing (visabilitymarketing.com) and Slices of Boulder (slicesofboulder.com) which is a local news website for Boulder, Colorado. More than 50 of the portals can be found at portal.eqentia.com/channels. I asked Neil what a 'Chief Curator' does. "It's much like being an Editor, except that I do not commission original reporting or writing.
" Curation - The Next Web Revolution. Spotted... August 9, 2010 Washington, D.C.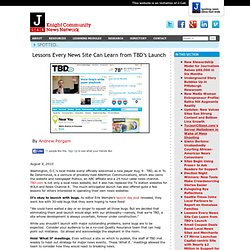 's local media scene officially welcomed a new player Aug. 9. Friendbinder - Login. Foodspotting. Steve Rosenbaum: Google: At a Critical Crossroads. There's no doubt that companies in hyper growth mode find that they can only do so many things well at one time.
And for many of us, our interactions with Google exist as a series of 'siloed' experiences. - We need directions; we use Google maps -- an extraordinary product. Newsmap. The Content Wrangler » Blog Archive » Content Curation: Streamlining The Process Of Populating Your Social Networks With Relevant, Interesting and Engaging Content. | Locle. Real-time feed parsing in the cloud for web-developers. Superfeedr provides a realtime API to any application who wants to produce (publishers) or consume (subscribers) data feeds without wasting resources and maintaining an expensive and changing infrastructure.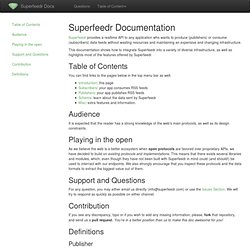 This documentation shows how to integrate Superfeedr into a variety of diverse infrastructure, as well as highlights most of the features offered by Superfeedr. Table of Contents. XMind - Social Brainstorming and Mind Mapping. Did Google Just Declare War on Demand Media?: Tech News and Analysis « Over the past few months, there has been a growing chorus of criticism — much of it anecdotal, but coming from a number of respected technology observers — about Google's increasingly useless search results.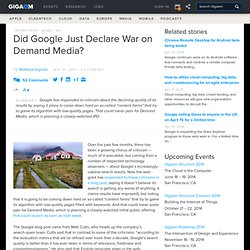 Now the web giant has responded to these criticisms in a blog post, saying it doesn't believe its search is getting any worse (if anything, it claims results have improved), but noting that it is going to be coming down hard on so-called "content farms" that try to game its algorithm with low-quality pages filled with keywords. And that could mean some pain for Demand Media, which is planning a closely-watched initial public offering that could launch as soon as next week.
The Google blog post came from Matt Cutts, who heads up the company's search-spam team. UserVoice - Customer Feedback 2.0 - Harness the ideas of your cu. Small Businesses Change Social Media Expectations. After climbing steeply, according to research from Network Solutions and the Center for Excellence in Service at the University of Maryland's Robert H.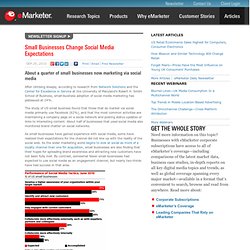 Smith School of Business, small-business adoption of social media marketing has plateaued at 24%. The study of US small business found that those that do market via social media primarily use Facebook (82%), and that the most common activities are maintaining a company page on a social network and posting status updates or links to interesting content. About half of businesses that used social media also monitored brand chatter on social networks. As small businesses have gained experience with social media, some have realized their expectations for the channel did not line up with the reality of the social web. Food First/Institute for Food and Development Policy | Institute for Food and Development Policy.
6 Essential Steps for Executing Your Social Media Strategy. The Social Media Marketing Series is supported by Webtrends Facebook Analytics, which provides comprehensive tracking and measurement solutions to help you maximize your ROI.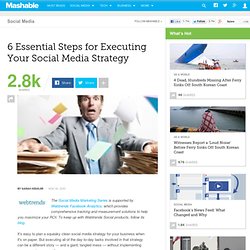 To keep up with Webtrends Social products, follow its blog. It's easy to plan a squeaky clean social media strategy for your business when it's on paper. But executing all of the day-to-day tasks involved in that strategy can be a different story — and a giant, tangled mess — without implementing processes to manage it. Timeline Maker Software | Create Professional Timeline Charts -
---