Invention
Schlemmer - Homepage - The Unexpected Gifts
Originally designed as a helimat to stop helicopters from kicking up debris during landing, the Sandless Beach Mat ensures no unwanted particles will ever reach your personal belongings. Unlike other beach towels, this beach mat designed by CGear Sandfree Limited will always stay clean, even if you drop sand directly on the surface. Layers of patented woven polyurethane act as a one-way filter, instantly distilling the sand and preventing it from reemerging through the bottom of the mat. The mat, available in three sizes depending on the size of your beach party, also eliminates dirt, dust, and water from the surface, ensuring a good clean time at the beach.Cost: $59.99 for a medium. Say there's an amazing game or movie on TV, but you don't want to go inside and miss out on the beautiful summer weather. Now there's no need to miss either, thanks to the new outdoor inflatable theatre from Sima Technologies, a consumer electronics manufacturer based in Oakmont, Pennsylvania.
9 Innovations for the Great Outdoors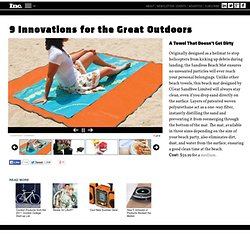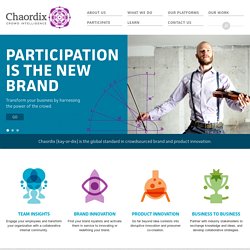 Careers at Chaordix HR Director Jodi Bagyinka is one of the longest serving members of the Chaordix family. A veteran of Chaordix predecessor Cambrian House, Jodi has seen the company evolve from the most experimental of crowdsourcing laboratories to the rapidly-expanding global organization it is today. She's done all this with enormous energy and her sense of humor intact, both of which she also deploys as a writer of stand-up comedy for comedians all across North America. Want to hear one of Jodi's one-liners? Come join our team.
Settings | Profile: Email, Services and Devices
Community - Crowdsourcing.org
English not your preferred language? Read this Trend Briefing in: Français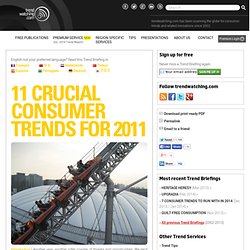 ideaken - collaborate to innovate
quirky | social product development
napkin labs | social innovation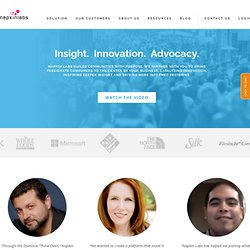 "Through the Dominos "Think Oven," Napkin Labs has proven that social is no longer just a place for brands to get "likes" but it can also be a powerful platform for a business to leverage external feedback to the benefit of both the business and customers alike."David Armano, Edelman DigitalView Case Study "We wanted to create a platform that made it easy for customers to share their passion and ideas."Natanya Anderson, Whole Foods "Napkin Labs has helped me portray what I want to get out of social. We can use it to do R&D research, help the franchise development team…and it has helped us gather information we would not have had otherwise. We are creating new concepts based on that data."Derek Hernandez, Godfather's Pizza "Napkin Labs turns IDEO's innovation process into web-apps for all." "Napkin Labs is working to turn valued customers into a creative army."
One Billion Minds | The World's First Human Innovation Platform - Solve | Win | Change the World
A Professionals Network of Angel Investors, Venture Capitalists and Business Professionals Alike
Online Brainstorming and Idea Management Software - Brainstorming Rooms
Your own space to create brainstorms online! A Brainstorming Room is an online space that allows you to choose people who can view and contribute to brainstorms you create! You choose who can read and contribute ideas! Each Brainstorming Room includes an invitation tool that allows you to easily invite anyone to join your room. Only people you invite can view your room, keeping your brainstorms and ideas confidential and secure! Track the performance of people in your room!