Invention
Humans Invent | Innovation, Craftsmanship & Design. Schlemmer - Homepage - The Unexpected Gifts. 9 Innovations for the Great Outdoors. Originally designed as a helimat to stop helicopters from kicking up debris during landing, the Sandless Beach Mat ensures no unwanted particles will ever reach your personal belongings.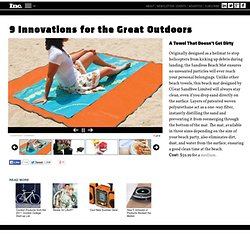 Unlike other beach towels, this beach mat designed by CGear Sandfree Limited will always stay clean, even if you drop sand directly on the surface. Layers of patented woven polyurethane act as a one-way filter, instantly distilling the sand and preventing it from reemerging through the bottom of the mat. The mat, available in three sizes depending on the size of your beach party, also eliminates dirt, dust, and water from the surface, ensuring a good clean time at the beach.Cost: $59.99 for a medium. Say there's an amazing game or movie on TV, but you don't want to go inside and miss out on the beautiful summer weather.
Now there's no need to miss either, thanks to the new outdoor inflatable theatre from Sima Technologies, a consumer electronics manufacturer based in Oakmont, Pennsylvania. Chaordix Crowdsourcing for Innovation, Market Research and Idea Management. Manufacturers, Suppliers, Exporters & Importers from the world's largest online B2B marketplace-Alibaba. Personal Factory (tm) - design, make & build your own custom products. Online Writing Resource for Writers to Sell Their Work – WritersMarket.com. Home | Quantcast. Evly.com Home Page.
Settings | Profile: Email, Services and Devices. Community. S current Trend Briefing covering 11 CRUCIAL CONSUMER TRENDS FOR 2011. English not your preferred language?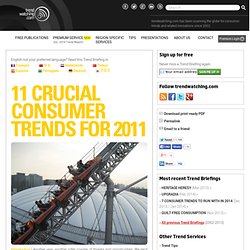 Read this Trend Briefing in: Français. Ideaken - collaborate to innovate. Quirky | social product development. Napkin labs | social innovation. Trendwatching.com: Consumer trends and insights from around the world. Springwise | New business ideas, trends and innovation. One Billion Minds | The World's First Human Innovation Platform - Solve | Win | Change the World. A Professionals Network of Angel Investors, Venture Capitalists and Business Professionals Alike. Online Brainstorming and Idea Management Software - Brainstorming Rooms. Your own space to create brainstorms online!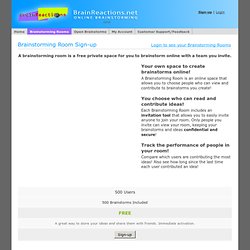 A Brainstorming Room is an online space that allows you to choose people who can view and contribute to brainstorms you create! You choose who can read and contribute ideas! Each Brainstorming Room includes an invitation tool that allows you to easily invite anyone to join your room. Only people you invite can view your room, keeping your brainstorms and ideas confidential and secure! Track the performance of people in your room! Personal Loans and Online Investing - Peer to Peer Lending.
---