Invention
Humans Invent | Innovation, Craftsmanship & Design
Schlemmer - Homepage - The Unexpected Gifts
Originally designed as a helimat to stop helicopters from kicking up debris during landing, the Sandless Beach Mat ensures no unwanted particles will ever reach your personal belongings. Unlike other beach towels, this beach mat designed by CGear Sandfree Limited will always stay clean, even if you drop sand directly on the surface. Layers of patented woven polyurethane act as a one-way filter, instantly distilling the sand and preventing it from reemerging through the bottom of the mat. The mat, available in three sizes depending on the size of your beach party, also eliminates dirt, dust, and water from the surface, ensuring a good clean time at the beach. Cost: $59.99 for a medium . Say there's an amazing game or movie on TV, but you don't want to go inside and miss out on the beautiful summer weather.
9 Innovations for the Great Outdoors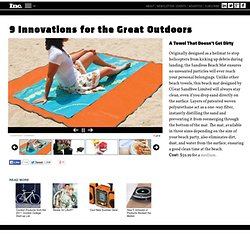 evly.com Home Page
Settings | Profile: Email, Services and Devices
Community - Crowdsourcing.org
Introduction | Another year, another roller coaster of threats and opportunities. We tend to focus on the latter as, amidst currency wars and defaulting nations, there are more opportunities than ever for creative brands and entrepreneurs to deliver on changing consumer needs. From Brazil to Belgium. No rest for the wicked!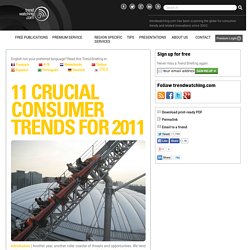 ideaken - collaborate to innovate
napkin labs | social innovation
One Billion Minds | The World's First Human Innovation Platform - Solve | Win | Change the World
Online Brainstorming and Idea Management Software - Brainstorming Rooms
Your own space to create brainstorms online! A Brainstorming Room is an online space that allows you to choose people who can view and contribute to brainstorms you create! You choose who can read and contribute ideas! Each Brainstorming Room includes an invitation tool that allows you to easily invite anyone to join your room. Only people you invite can view your room, keeping your brainstorms and ideas confidential and secure ! Track the performance of people in your room!