Podcast Selection
Get flash to fully experience Pearltrees
Technology :: Feature Articles :: November 22, 2010 :: :: Email :: Print See Inside The Web is critical not merely to the digital revolution but to our continued prosperity—and even our liberty. Like democracy itself, it needs defending
I did check by monitoring activity before mentioning. I did notice a big difference before and after using Flash. Have you monitored yourself? I was told Flash would slow down, I hadn't notice that but the laptop battery and increased noise, yes. by clarinette02 Dec 6
ok, gr8 good news to hear. one more request: I often get my browser - Firefox - frozen and battery usage due to Flash I have been told. Am I the only one and could anything be done to remedy? by clarinette02 Dec 6
I love pearltrees but it's only Beta mode. I am hoping not to loose all these compilations. Also, I wish there could be lexique of all links. would make it easier to find them. by clarinette02 Dec 5
October 15, 2010 This week, Radio Berkman rolls out the second episode in a new, special series of conversations between Professor Lessig and Professor Zittrain . The first conversation in the series addressed technology competition , and, this week, the topic is especially thorny and contentious: network neutrality. From the MediaBerkman blog:
Cameran Ashraf presents how social and digital media play a crucial role in helping mass social movements coordinate and communicate effectively. With Iran as a case study, this presentation explores the role new communication technologies are playing in the post-election unrest, how people outside of Iran are helping through digital media, and the Iranian government's efforts at maintaining its information border. Click Above for Video…or download the OGG video format!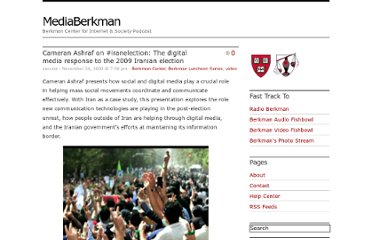 Hp1950 you can and copy and paste on Google translate what ever you need translated. by clarinette02 Feb 15
As far as I remember, I've pearled the TED talk since some time. How come I see this comment treath only today? by clarinette02 Dec 29
Dear clarinette02 - wires crossed somehow - I was actually replying to skupik who lives in Canada. This week the Canadian Govt recognised indigenous rights. by pauljacobson Nov 16
Hi Paul, just checking if your comment was addressed to me personnally. Unfortunately, I have not really followed the Indigenous rights so far busy by anti counterfeiting measures/body scanners and Data protection. by clarinette02 Nov 15
Description Peek inside the Berkman Center's Audio Fishbowl: Conversations with leading cyber-scholars, entrepreneurs, activists, and policymakers as they explore the bleeding edge of the internet and technology, democracy, law, and society. (Also available as video) From the Berkman Center for Internet and Society at Harvard University.