App genome project
App Genome Project Finds Android Apps Outpacing iOS - PCWorld Business Center. In the battle between mobile platforms, one of the most critical factors is the success of the respective app library.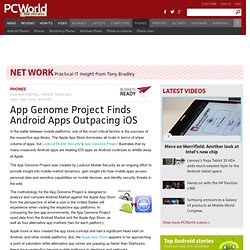 The Apple App Store dominates all rivals in terms of sheer volume of apps, but Lookout Mobile Security's App Genome Project illustrates that by many measures Android apps are beating iOS apps as Android continues to whittle away at Apple. The App Genome Project was created by Lookout Mobile Security as an ongoing effort to provide insight into mobile market dynamics, gain insight into how mobile apps access personal data and sensitive capabilities on mobile devices, and identify security threats in the wild. The methodology for the App Genome Project is designed to analyze and compare Android Market against the Apple App Store from the perspective of what a user in the United States will experience when visiting the respective app platforms.
Introducing the App Genome Project. July 27, 2010 Click to enlarge infographic The App Genome Project.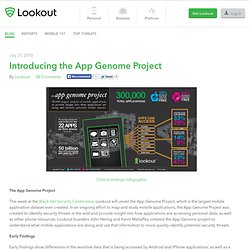 Free Mobile Security for Smartphones – Lookout. App Genome Project Lists Which Android and iPhone Apps Tap Your Personal Data. A new project is gathering information to find out who is gathering information about you.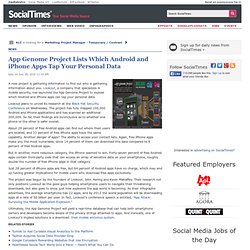 Lookout, a company that specializes in mobile security, has launched the App Genome Project to expose which Android and iPhone apps can tap your personal data. Lookout plans to unveil its research at the Black Hat Security Conference on Wednesday. The project has fully mapped 100,000 Android and iPhone applications and has scanned an additional 200,000.
So far, their findings are inconclusive as to whether one phone or the other is safer overall. About 29 percent of free Android apps can find out where their users are located, and 33 percent of free iPhone apps have the same capability. App Genome Project eyes iPhone, Android security | InSecurity Complex. Mobile security firm Lookout has studied 300,000 Android and iPhone apps and fully analyzed nearly 100,000 that are free as part of a new App Genome project that's designed to help keep mobile users safe.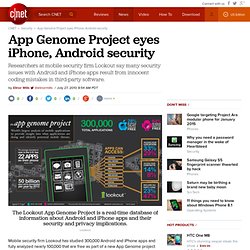 The real-time database can help Lookout detect problems before they hit a large number of Android and iPhone users and help educate developers to problems posed by platform issues or poor coding processes. The announcement comes on the cusp of the Black Hat security conference in Las Vegas. Lookout's researchers have uncovered a number of issues with the software that millions of people rely on either in the operating systems used in the phones or in apps found on the Android and iPhone marketplaces. For instance, the company said it found a new vulnerability called Mobile Data Leakage that occurs when developers inadvertently expose sensitive data in application logs in a way that makes that data accessible by other apps, said Lookout Chief Executive John Hering.
---