Fun
Nerd Boyfriend. Paris vs New York, a tally of two cities. YTMND - Arnold shares his deepest feelings. EPIC FAIL: Your Source for Epic Fail and Fail Pictures, Fail Videos, and Fail Stories. Fashion Police Files - Awful Wedding Dresses !! AWFUL WEDDING DRESSES...( and other wedding fun !!)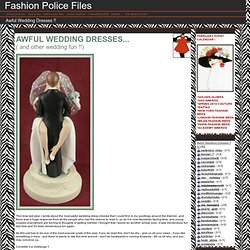 This time last year, I wrote about the most awful wedding dress choices that I could find in my pootlings around the Internet...and there was a huge response from all the people who had the chance to read it...so as it is now decidedly Spring-time, and young couples everywhere are turning to thoughts of getting hitched, I thought that I would do another similar post...it was tremendous fun last time and it's been tremendous fun again... As this just has to be one of the most popular posts of the year, if you do read this, don't be shy - give us all your views - if you like something in here - and there is plenty to like this time around - don't be backwards in coming forwards - tell us all why, and you may convince us... I am neurotic. 6 Reasons Bacon is Better Than True Love.
My New Favorite Way to Procrastinate. How to fuck up your day, videos, pictures, words | Sabotage. Send Anonymous Email. 50 Viral Images The Web Shared In 2010. As a perpetual observer/analyzer of what people share and why, it's fascinating to me to study content that spreads.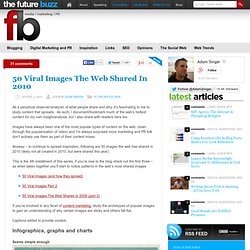 As such, I document/bookmark much of the web's hottest content for my own insight/analysis, but I also share with readers here too. Images have always been one of the most popular types of content on the web, (even through the popularization of video) and I'm always surprised more marketing and PR folk don't actively use them as part of their content mixes. Anyway – to continue to spread inspiration, following are 50 images the web has shared in 2010 (likely not all created in 2010, but were shared this year). This is the 4th installment of this series, if you're new to the blog check out the first three – as when taken together you'll start to notice patterns in the web's most shared images. Waiting. I love you more than you can imagine.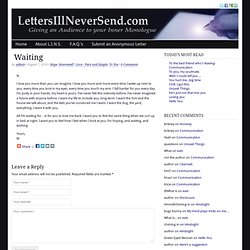 I love you more and more every time I wake up next to you, every time you look in my eyes, every time you touch my arm. I fall harder for you every day. I'm putty in your hands, my heart is yours. I've never felt this intensity before. Zombie, Frankenstein, Dracula or Jesus Christ? Diagram, NSFC (not safe for christians) Autocomplete Me - FAIL Blog: Epic Fail Funny Pictures and Funny Videos of Owned, Pwned and Fail Moments. La PhotoCabine. WHAT'S YOUR ADDICTION? by Matt Houghton - Artist: Jacob Reed. Eight ways to kill an idea : FLIRTing with the Crowds.
Funny (if not necessarily "passive-aggressive") notes from pissed-off people - Part 3. Thank heaven for little girls March 3rd, 2014 · 28 comments Writes our submitter, Amy: "In going through my late great-grandmother's memorabilia trunk, I saw that she apparently kept a 'thank you' letter I wrote her when I was eight years old."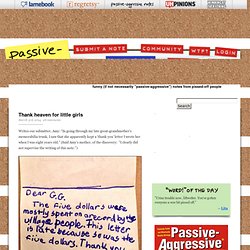 (Said Amy's mother, of the discovery: "I clearly did not supervise the writing of this note.") related: Grandma saves granddaughter the trouble; writes thank you note to herself. The web's biggest collection of break-up lines. When You Are High (10 pics) Drama Button. Peanut Butter: Proof Evolution Doesn't Exist. 10 Reasons it Would Rule to Date a Unicorn. Recovering Lazyholic l Photography & Stuff by Erin Hanson. Drop Spots. I Thought My Boss Would Never Know. Pale Is The New Tan. EmailFuture.com - The best way to send emails to yourself in the future.
Not Always Right | Funny & Stupid Customer Quotes.
---