Productivity / Organization / Inspiration
Household Cleaning Tips from WomansDay.com - How to Clean House. A few years ago, I found out that I've been cleaning all wrong.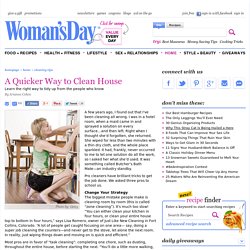 I was in a hotel room, when a maid came in and sprayed a solution on every surface…and then left. Right when I thought she'd forgotten, she returned. She wiped for less than two minutes with a thin dry cloth, and the whole place sparkled. Site Temporarily Unavailable - StumbleUpon. 4 Key Success Factors That Can Enable a Higher Return on Innovation. In a slow or no-growth environment, we know successful innovation is absolutely essential for companies to establish and maintain a competitive advantage.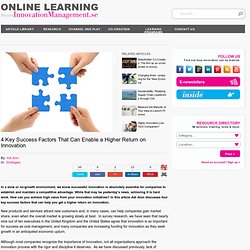 While that may be yesterday's news, achieving it is hard work. How can you achieve high value from your innovation initiatives? In this article Adi Alon discusses four key success factors that can help you get a higher return on innovation. New products and services attract new customers and, in many cases, can help companies gain market share, even when the overall market is growing slowly at best. How to Organize Your Files : Decorating : Home & Garden Television - StumbleUpon. 50 Ways to Make Your Home More Organized, More Attractive, and More Efficient - Stepcase Lifehack - StumbleUpon. The modern home is far bigger than the home of just 30 years ago – and far more cluttered!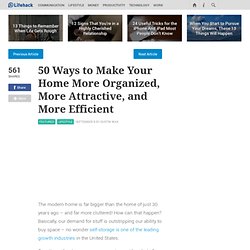 How can that happen? Basically, our demand for stuff is outstripping our ability to buy space – no wonder self-storage is one of the leading growth industries in the United States. Questions about runaway consumerism aside, what all this excess stuff means for most of us is more time spent maintaining our living spaces to keep some semblance of order in our lives. All The Best Organizing Solutions In The Organizers Toolbox -- OnlineOrganizing.com - StumbleUpon. Why We Procrastinate&An Infographic Guide - Video - The Atlantic - StumbleUpon. 80 Ways to Steal Valuable Minutes for Your Work Day : Lifestyle. Release Mind Clutter - Blog - The Other Side of Organized by Linda Samuels.
Photo by Linda SamuelsDo you ever have so many thoughts twirling around your brain that it feels as cluttered as a room full of stuff?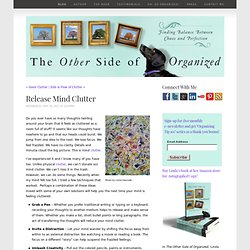 It seems like our thoughts have nowhere to go and that our heads could burst. We jump from one idea to the next. Traciebelt. Organize your mind to organize your life. The brain was not designed to focus on more than one thing at a time.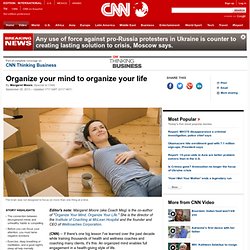 The connection between disorganized minds and unhealthy habits is compellingBefore you can focus your attention, you must tame negative emotionsExercise, deep breathing or meditation, and a good night's sleep all help mentally Editor's note: Margaret Moore (aka Coach Meg) is the co-author of "Organize Your Mind, Organize Your Life.
" She is the director of the Institute of Coaching at McLean Hospital and the founder and CEO of Wellcoaches Corporation. Kick the Excuses and Get Organized. Have you ever noticed the messier your house is the less you get done?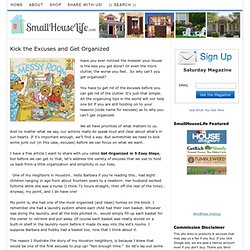 Or even the more clutter, the worse you feel… So why can't you get organized? You have to get rid of the excuses before you can get rid of the clutter. It's just that simple. All the organizing tips in the world will not help one bit if you are still holding on to your reasons (code name for excuses) as to why you can't get organized. We all have priorities of what matters to us. Does Social Media Matter For Self-Storage? This is a guest post by Brian Barwig, Marketing Executive at Self Storage Finders.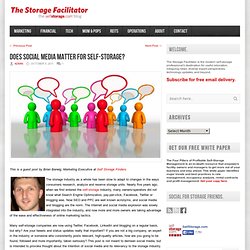 The storage industry as a whole has been slow to adapt to changes in the ways consumers research, analyze and reserve storage units. Nearly five years ago, when we first entered the self-storage industry, many owners/operators did not know what Search Engine Optimization, pay-per-click, Facebook, Twitter or blogging was. Now SEO and PPC are well known acronyms, and social media and blogging are the norm. The Internet and social media explosion was slowly integrated into the industry, and now more and more owners are taking advantage of the ease and effectiveness of online marketing tactics. Stop 'stuffocating' . . . tips for getting rid of clutter: Regina Brett. View full sizeSammy Dallal / Associated PressClutter can pile up quickly if you're not careful, but it's worth the effort to sort through it and get organized, experts say.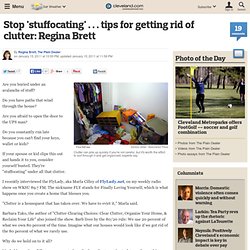 Are you buried under an avalanche of stuff? Do you have paths that wind through the house? Are you afraid to open the door to the UPS man? Do you constantly run late because you can't find your keys, wallet or kids? Personal Excellence Forums. Create a DIY Storage System with Storage Boxes and Binder Clips. How to View Stored Password Information on a Mac. Block Your Time – Effective Time Blocking Techniques To Boost Your Productivity. Quite recently I video blogged about time blocking and how to do it the right way.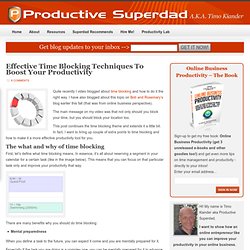 I have also blogged about this topic on Bob and Rosemary's blog earlier this fall (that was from online business perspective). The main message on my video was that not only should you block your time, but you should block your location too. This post continues the time blocking theme and extends it a little bit. In fact, I want to bring up couple of extra points to time blocking and how to make it a more effective productivity tool for you. 2 – Confirmation Successful! « timemanagementhabits.com. Word 2007: Mail Merge: Creating Merged Mailing Labels, UWEC. Mail Merge allows you to set up mailing labels that use the same format with information from a variety of records.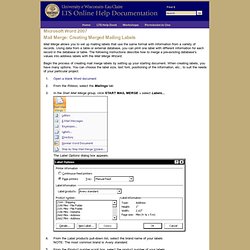 Using data from a table or external database, you can print one label with different information for each record in the database or table. The following instructions describe how to merge a pre-existing database's values into address labels with the Mail Merge Wizard. Begin the process of creating mail merge labels by setting up your starting document. 70 Ways to Increase Your Brain Power. 28. Creatine.
This is a compound found in meat, used by athletes to help build muscle. Now the evidence is here to show that it helps your brain as well. 101 Inspiring Desktop Wallpapers To Lift Your Mood. Desktop Wallpaper can be handy, many of us underrate the power of visual image. Visual image produces inspiration and impulse, provides a relaxed and calm perspective from boring work flow, even challenges our imagination. There are many options of wallpapers to decorate your desktop, with funny cartoons, movies, favorite logos, abstract, art, photography, technology. The 8 Habits of Highly Productive People. By Celes on Dec 2, 2010 | ShareThis Email This Post What do you define as a "productive" person? Is it the ability to robotically churn out work, hour after hour? Keep Your End Objective In Mind. By Celes on Feb 20, 2009 | ShareThis Email This Post To keep your end objective in mind is crucial for conscious living.
It can be divided into two phases: 1) Identify your end objective 2) Evaluate everything against your objective. 1) Identify Your End Objective. 201 Ways to Arouse Your Creativity. Arouse your creativity A guest post by Katie Tallo of Momentum Gathering. Electric flesh-arrows … traversing the body. A rainbow of color strikes the eyelids. A foam of music falls over the ears. Cultivate Life Transforming Habits in 21 Days. Best Quotes of All Time.
---