Give Your Surfers a Paddle
QR codes with i-nigma
You can encode either a link to a website, a message to a friend, or your contact details. Then turn the information into a mobile barcode, one that can be printed on stationery, advertising or packaging, a t-shirt, or even built into a website or a Facebook page - and read by an i-nigma enabled mobile device. Creating a mobile barcode is easy.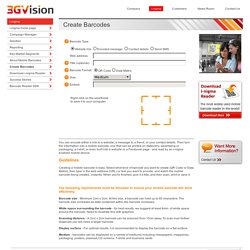 QR Codes Help You Dispose of Garbage Properly When it comes to the environment, we all have to pitch in. While it is best to minimize the amount of waste we produce, there is still garbage that we have to take care of. One of the best ways to dispose garbage is to segregate it. You can always sell recyclable materials such as […]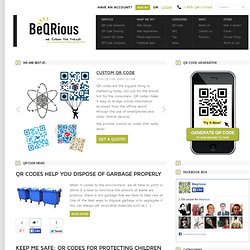 BeQRious - trends
ZXing (pronounced "zebra crossing") is an open-source, multi-format 1D/2D barcode image processing library implemented in Java, with ports to other languages. Our focus is on using the built-in camera on mobile phones to scan and decode barcodes on the device, without communicating with a server. However the project can be used to encode and decode barcodes on desktops and servers as well. We currently support these formats: UPC-A and UPC-E
Zebra Crossing - open source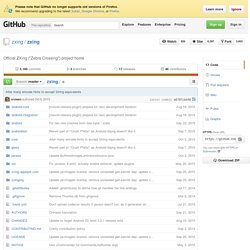 Decoder Online
Google URL Shortener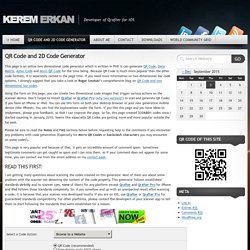 Kerem Erkan QR Generator
This page is an online two dimensional code generator which is written in PHP. It can generate QR Code, Data Matrix, Aztec Code and Micro QR Code for the time being. Because QR Code is much more popular than the other code formats, it is separately named in the page title. If you need more information on two dimensional bar code systems, I strongly suggest that you take a look at Roger Smolski's comprehensive blog on QR Code and two dimensional bar codes. Also you should check out John Hopkins's extensive iPhone QR Code reader roundup.
widget embeds QR
Create Colorful QR Codes
KAYWA reader
Who can set up a Scanvenger Hunt? Everyone can set up a Scanvenger Hunt, its easy and fast. You can even test your own hunt, reedit questions, checkpoints and much more, if you'd like to.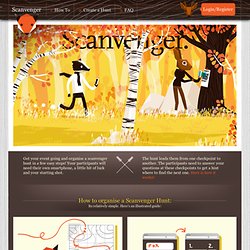 Scanvenger game
QR Stuff - reader for PCs?
QR Code Smartphone Apps And Phone Software For your phone to be able to read QR Codes you will need to have a QR Code scanning app or QR Code scanning software installed on it. For those without an iPhone or Andriod, some of the following sites offer the option of downloading via PC and then transferring and installing the software to your phone, or visiting with the website with your smartphone via its browser for direct download and installation.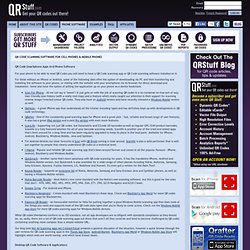 [Windows Only] If you are reading this, it's likely that you already have some idea what a QR Code (or tag) is. If not, you can find out more about QR Codes on Wikipedia. Here's my QR tag – what does it say? Below, you can find out how to decode it. People with smart phones and an internet connection, can take a snapshot of the code and find out what it says.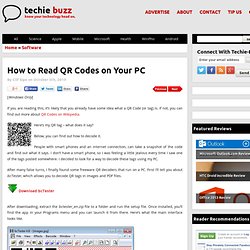 QR Codes on Your PC
QR Code Nederland - software for PCs
iCandy for PCs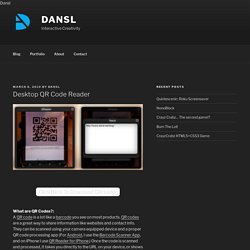 What are QR Codes?: A QR code is a lot like a barcode you see on most products. QR codes are a great way to share information like websites and contact info. They can be scanned using your camera equipped device and a proper QR code processing app (For Android, I use the Barcode Scanner App, and on iPhone I use QR Reader for iPhone.) Once the code is scanned and processed, it takes you directly to the URL on your device, or shows you whatever else was encoded in the QR code. I love the ease ability of QR codes, just a quick scan, and the content is on your device.
dansl Desktop Reader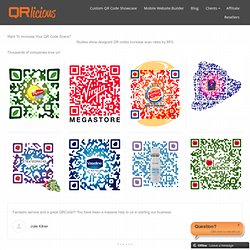 QRlicious - buy custom QRs
Q: I get an error after clicking "Let's Do This" on the order form.A: Make sure you are using a modern browser like Chrome, Safari, or Firefox. Internet Explorer has issues with the amount of data we send through our form. Q: How much does it cost to get a custom QR code?A: Custom QR codes start at $75 and are $99 at the most. You can check out the order form to see exact pricing. Q: What makes you different from the other custom QR code providers?
QKies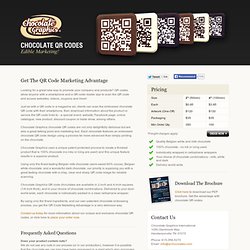 QR Chocolates
Get The QR Code Marketing Advantage Looking for a great new way to promote your company and products? QR codes allow anyone with a smartphone and a QR code reader app to scan the QR code and access websites, videos, coupons and more! Just as with a QR code in a magazine ad, clients can scan the embossed chocolate QR code with their smartphone, then download information about the product or service the QR code links to - a special event, website, Facebook page, online catalogue, new product, discount coupon or trade show, among others. Chocolate Graphics chocolate QR codes are not only delightfully delicious but are also a great talking point and marketing tool.
QR T-shirts
QR code temporary tattoos
Britain's female beach volleyball champions have turned their bottoms into their bottom line with their cheeky new kit design.That's because the skimpy outfits will now feature advertising on the bikini bottoms and actively encourage fans to take photos of the athletic arses. As shown off by Zara Dampney, 24, and Shauna Mullin, 26 - Britain's female beach volleyball champions and currently ranked No 32 in the world - the kit has a Quick Response (QR) code printed on the rear. Spectators have to point their camera-phone at this matrix barcode and will then be taken to the website of the advertiser Betfair… remember that in case you are caught taking a photo of and athlete's bottom by your wife. The kit reveal was held ahead of this week's test London 2012 beach volleyball tournament at Horse Guards Parade in London where the unique marketing technique will be tested.
Bum-vertising: fundraising
Download NeoReader® direct from your mobile device! Two ways to get NeoReader: Search for NeoReader in your phone's app store.
NeoReader
Delivr QR tracking
Delivr® makes it simple to run campaigns that connect your print, social and broadcast media to mobile content, experiences and offers. Extend your reach and understanding across online, offline and social channels. Create and manage campaigns, then track and measure audience engagement of ads, direct mail, packaging, product tags, retail displays and signage usingShort URLs, QR Codes®, NFC Tags and Beacons.
NeoSphere QR tracking
QuickMark - many phones
INVX - QR Generator only
QR Codes Could Be Big
QR Code infographic
ICE 2012 App
AniseSmith QR codes
Voice of Dictators
Planned Parenthood QR
GIS.com |
Chicago Walking Tour
Your Campus Guide
Historic Preservation in Falmouth Jamaica
Conferences and Orientations
Introducing Teachers
Engaging Kids in the Classroom One QR Code at a Time | QReateBUZZ
QR Code on resume
QR Codes in Every Classroom
QRs in Education - ISTE
QR ideas in education
QRs in K-12 Education
ClassTools.net
QR Treasure Hunt
QR Pictures Behind Art
ThePhysicalEducator
QR Skill Posters
Best Practices for QR Codes
Check your QR code for readability
Free QR Code Tracker
Static Uses for QR Codes
linkblots - 5 free Mobile Webpages