Odds and Sods
10 Photos Of A Retro Classic Arcade Before Video Games. Rewind back to the late 1960's, before the arrival of video games with their flashing screenings and wide range of monotone bleeps & blips and you'll find that arcade halls were an entirely different proposition.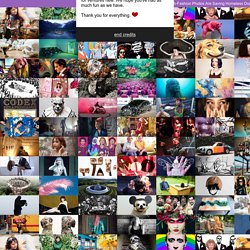 Not a Pac-Man in sight, just literally dozens pinball machines, pop gun stands, photobooths, recording devices, games of skill and even mini bowling alleys. Most impressive of all, occasionally there was even fortune teller on hand if you were lucky! All that and more is on display in these wonderful photos from the Kansas City Wonderland Arcade , shot back in 1968. Makes you wish you could just swing by now for a couple of games doesn't it? Source. The Star Wars Saga: Suggested Viewing Order » Absolutely No Machete Juggling. Brace your­selves, what follows is an amaz­ingly long blog post about Star Wars.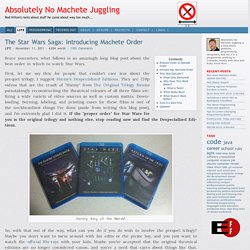 I'm not a huge fan of the various mod­i­fi­ca­tions made to the orig­i­nal Star Wars trilogy, so it's rea­son­able to assume I'm not a big fan of the prequel trilogy either. There are many people who dislike the prequel trilogy so much that they don't even con­sider watch­ing them. Heritage USA. Heritage USA Fort Mill, SC (1978-1989) Heritage USA is located in Fort Mill, SC.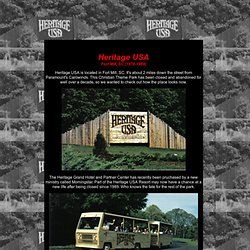 It's about 2 miles down the street from Paramount's Carowinds. This Christian Theme Park has been closed and abandoned for well over a decade, so we wanted to check out how the place looks now. The Heritage Grand Hotel and Partner Center has recently been pruchased by a new ministry called Morningstar. Part of the Heritage USA Resort may now have a chance at a new life after being closed since 1989. 48 Pictures That Perfectly Capture The '90s. Urine color chart. Log in or Become a Member Job Opening Research and Data Visualization Associate - National Journal for Atlantic Media See more openings on the FlowingData Job Board Data Underload Urine color chart.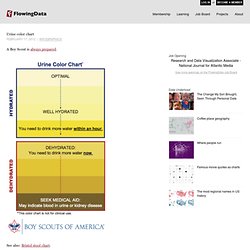 The Ultimate Oral History of Wet Hot American Summer: Movies + TV. WhenWet Hot American Summer hit theaters a decade ago, the film—a sketch-based comedy set in 1981, on the last day of the fictional Camp Firewood—came and went faster than a hormonal teenage boy.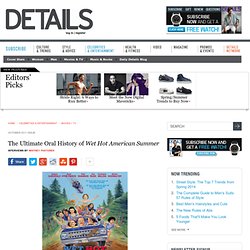 But then something amazing happened: Thanks to the movie's ahead-of-its-time absurdist humor, a cast stocked with relative unknowns who blossomed into marquee names, and the magical word-of-mouth power of DVDs and Netflix, Wet Hot became a cult classic. For this complete-ish oral history in celebration of Wet Hot's 10th anniversary, we asked director and writer David Wain, his cowriter and creative partner, Michael Showalter, and stars including Janeane Garofalo, Paul Rudd, David Hyde Pierce, Elizabeth Banks, and Amy Poehler to reminisce about the shoot, the living conditions, the kids, the notoriously horrendous weather, and the hilarity (and debauchery) that took place off-camera.
Creating Remarkable Poetry Through Subtraction. TIME magazine recently revealed its 30 Must-See Tumblr Blogs which includes the highly creative, user-generated Newspaper Blackout.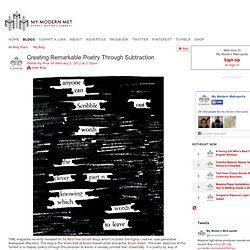 This blog is the brainchild of Austin-based artist and writer Austin Kleon. The main objective of the Tumblr is to display poetry through the omission of words in already printed text. Essentially, it is poetry by way of censorship, executed with the aid of a black sharpie. Taking published works in the form of newspaper articles, novels, and even horoscopes, this style of "blackout poetry" reveals only carefully selected words to create a new, shorter composition of expression. Often, the poems produced offer a sense of hope and inspiration. Handmade Houses to Blow Your Modern Mind. We're up to our ears in modern, accessible design.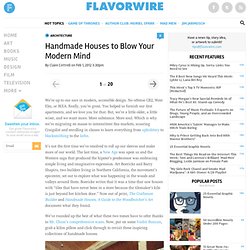 No offense CB2, West Elm, or IKEA. Really, you're great. You helped us furnish our first apartments, and we love you for that. But, we're a little older, a little wiser, and we want more. More substance. Is vintage clothing passé? Vintage clothing pop-up market, London.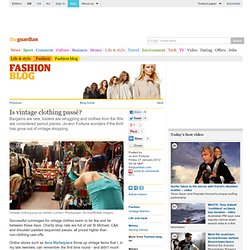 Photograph: Oli Scarff/Getty Images Successful rummages for vintage clothes seem to be few and far between these days. 7 Amazing Stories of Lost and Re-Found Wedding Rings. If you're married, you've almost certainly misplaced your wedding ring at one place or another and even if you've never actually lost it, you probably know someone else who has.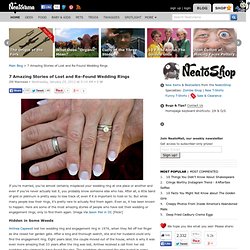 After all, a little band of gold or platinum is pretty easy to lose track of, even if it is important to hold on to. But while many people lose their rings, it's pretty rare to actually find them again. Even so, it has been known to happen. The Power of Introverts: A Manifesto for Quiet Brilliance. Do you enjoy having time to yourself, but always feel a little guilty about it?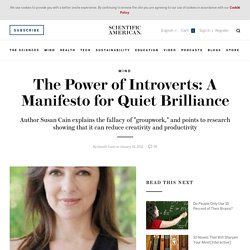 Then Susan Cain's "Quiet : The Power of Introverts" is for you. It's part book, part manifesto. We live in a nation that values its extroverts – the outgoing, the lovers of crowds – but not the quiet types who change the world. Brilliant Ideas Inspired by Mundane Tasks. If you haven't had your big breakthrough yet, try one of these simple strategies: Toolmaker Ermal Fraze was on a picnic in 1959 when he realized he had no way to open his beverage. At the time, drinking from a can required a triangular tool called a "church key" to punch two holes in the top. Because no one had thought to bring one, Fraze tried to use a car bumper to pierce the container. The World's Worst (and Ugliest) Cars. "QUANTUM SHOT" #749Link - article by Daniel Butler & Avi Abrams "What we really need is a car that can be shot when it breaks down. " (Russell Baker).
Here at Dark Roasted Blend we normally celebrate weird and beautiful... except when we equally celebrate weird and ugly. Both "beautiful" and "ugly" sides of things are worth mentioning when they are brought to extremes. We already covered the ugliest architecture, the worst roads, and even the ugliest facial expressions. Social Media Marriage Proposals: 10 Clever Ways to Pop the Question. The 20 best job-quitting scenes of all time (with video) These characters are mad as hell, and they're not going to take it anymore. Quitting one's job can make for some great drama (and comedy) in the movies. Here are some of the best moments of deciding to embrace a life of unemployment — or rather, in most cases, a life of freedom from The Man. Every Presentation Ever. The Beginner's Guide to the Paleo Diet. Get the Paleo eBook free!
The Paleo Diet is an effort to eat like we used to back in the day…WAY back in the day. If a caveman couldn't eat it, neither can you. This means anything we could hunt or find – meats, fish, nuts, leafy greens, regional veggies, and seeds. Sorry, the pasta, cereal, and candy will have to go! Instead, you'll be making things like chicken stir fry and paleo spaghetti. Mechanical Iris Greeting Card. Missed Connections Illustrated: Visual Paeans to Modern Love. 5 ways to make your naps blissful and awesome. Creepily Realistic Beavis and Butthead Sculptures. Cozy Podhouses to Pass the Winter Months In.
---