Funny
Leeroy Jenkins: Reimagined as a Short Film. Parallel Parking. The Best Of Sheldon Cooper (20 Pics) Funny Quotes and One-Liners. As powerful as inspirational quotes can be, sometimes we just need a bit of humor to lighten up our day.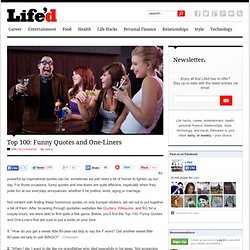 For those occasions, funny quotes and one-liners are quite effective, especially when they poke fun at our everyday annoyances, whether it be politics, work, aging or marriage. Not content with finding these humorous quotes on only bumper stickers, we set out to put together a list of them. Lots of Jokes - Anger Management. When you occasionally have a really bad day, and you just need to take it out on someone, don't take it out on someone you know, take it out on someone you don't know, but you know deserves it...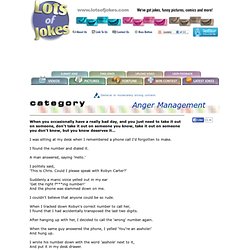 I was sitting at my desk when I remembered a phone call I'd forgotten to make. I found the number and dialed it.
---