Try This
Drawing Board. 640x360 pixels) 29 ways to stay creative. Draw an Eye. 4fef75ba9d899.jpg (JPEG Image, 521x960 pixels) - Scaled (67%) I Tolerate You. Crazy paper thing. The Bureau of Communication - Fill-in-the-blank Correspondence.
Pranks
5 Ways To Hack Your Brain Into Awesomeness. Much of the brain is still mysterious to modern science, possibly because modern science itself is using brains to analyze it.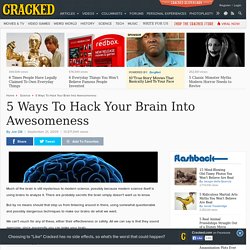 There are probably secrets the brain simply doesn't want us to know. But by no means should that stop us from tinkering around in there, using somewhat questionable and possibly dangerous techniques to make our brains do what we want. Appology Form. 20 Awesome Do It Yourself Projects. Thursday, June 14, 2012 4:30 am, Posted by Chris Groves | Internet 20 Awesome Do It Yourself Projects Topics: At Home Project Ideas , Creative DIY Home Projects , Do It Yourself Projects for 2012 , Fun How To Projects , What to Do with Extra Stuff Are you bored and have a bunch of extra little items hanging around here and there?
Well we were in the same boat so we decided to round up 20 different awesome at home projects you can do. Anything from soda pop cap lids to spoons and more. Privacy Monitor. Don't Throw That Old Pallet Away. Stab Bound Journal. Make a hand bound journal with elaborate side stitching for yourself or as a gift.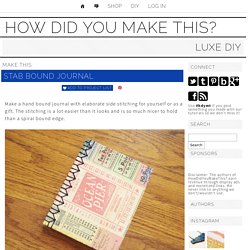 The stitching is a lot easier than it looks and is so much nicer to hold than a spiral bound edge. Supplies and Equipment - sharp utility knife and cutting surface BE VERY CAREFUL WITH THE SHARP BLADE - rulers - drill with 1/16th inch bit OR a small paper punch BE VERY CAREFUL WITH POWER TOOLS - fancy cover paper – I used Cavallini Vintage Tickets Wrapping Paper – 20″ x 28″ - 1 sheet of 8.5×11 for endpapers (this can be fancy or the same paper as your pages) - 10 sheets of 8.5×11 paper for pages - 3 yards of embroidery floss - mat board – I used Crescent No. 33 White & Cream Smooth Mat Board - Yes Stikflat Glue or other archival glue that leaves paper flat - heavy object to use as a weight - waxed paper - cutting/hole punch template – click here to download - thin cotton or linen fabric (optional) - needle with an eye large enough to fit embroidery floss - brush for glue.
DIY Macrame Bracelet. Growing up by the beach in Southern California, the ability to knot a macrame bracelet was practically a right of passage.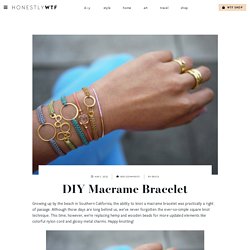 Although those days are long behind us, we've never forgotten the ever-so-simple square knot technique. This time, however, we're replacing hemp and wooden beads for more updated elements like colorful nylon cord and glossy metal charms.
---