Twitter
28 Creative Ideas for Teaching with Twitter. Digital Tools Flickr:Steve Garfield Enterprising educators are using Twitter in creative ways, to engage students inside and outside of class, to stay on top of education news, and keep in touch with peers and students.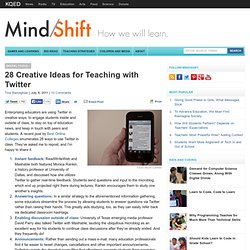 A recent post by Best Online Colleges enumerates 28 ways to use Twitter in class. Twitter - my virtual staffroom. I don't go into my "real" staffroom very often at school.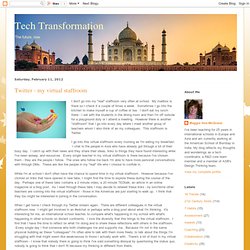 My mailbox is there so I check it a couple of times a week. Sometimes I go into the kitchen to make myself a cup of coffee or tea. I don't eat my lunch there - I eat with the students in the dining room and then I'm off outside for a playground duty or I attend a meeting. 20 Twitter Hashtags Every Teacher Should Know About. Twitter chats are such a great way to stay connected and informed in your professional circle , and education is no exception.
Through education chats, you can find out about new methods for teaching, tech resources, even jobs for teachers. Most chats are held weekly, and offer an opportunity to have a regularly scheduled conversation with like-minded educators. Check out our collection to find a wealth of Twitter chats that are great for all kinds of educators. General. Over 100 ideas for using Twitter in the Classroom. This handful of resources provide about 100 different ideas for, and examples of, using Twitter in the classroom.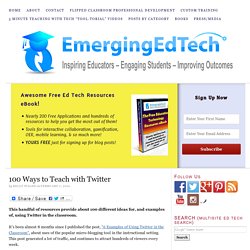 It's been almost 8 months since I published the post, "6 Examples of Using Twitter in the Classroom", about uses of the popular micro-blogging tool in the instructional setting. This post generated a lot of traffic, and continues to attract hundreds of viewers every week. Since that brief posting, I've come across a lot of articles containing examples and suggestions for using Twitter in instructional applications. I've combed through many of these and tried to boil down the redundancies to create a rich set of idea-laden resources. Why Twitter? What's Happening?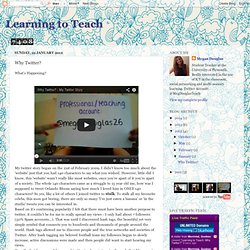 My twitter story began on the 21st of February 2009. I didn't know too much about the 'website' just that you had 140 characters to say what you wished. However, little did I know, this 'website' wasn't really like most websites, once you're apart of it you're apart of a society. The whole 140 characters came as a struggle to 15 year old me, how was I supposed to tweet Orlando Bloom saying how much I loved him in ONLY 140 characters? So yes, like a lot of others I joined twitter to stalk. Twitter for Educators.pdf.
Twitter for Teachers – a professional development tool | learningblog.org. It's All About The Hashtag. If you remember, in my 3 part series on Twitter, I wrote about how I completely changed the way I do professional development on Twitter.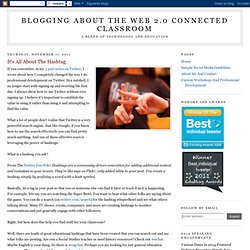 In a nutshell, I no longer start with signing up and tweeting the first day. I always show how to use Twitter without ever signing up. I believe it's important to establish the value in using it rather than using it and attempting to find the value. What a lot of people don't realize that Twitter is a very powerful search engine. 4 Great Twitter Applications for Teachers Using Twitter In The Classroom. These tools offer free functionality that extend and enhance the possibilities for instructional uses of Twitter.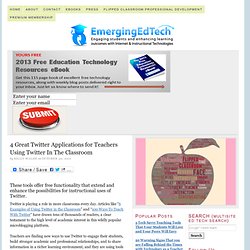 Twitter is playing a role in more classrooms every day. Articles like "6 Examples of Using Twitter in the Classroom" and "100 Ways To Teach With Twitter" have drawn tens of thousands of readers, a clear testament to the high level of academic interest in this wildly popular microblogging platform. Teachers are finding new ways to use Twitter to engage their students, build stronger academic and professional relationships, and to share information in a richer learning environment, and they are using tools like these to bring more fun and functionality to the process.
The Ultimate Guide To Using Twitter In Education. Twitter seems to be here to stay.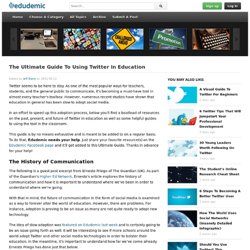 As one of the most popular ways for teachers, students, and the general public to communicate, it's becoming a must-have tool in almost every teacher's toolbox. However, numerous recent studies have shown that education in general has been slow to adopt social media. In an effort to speed up this adoption process, below you'll find a boatload of resources on the past, present, and future of Twitter in education as well as some helpful guides to using the tool in the classroom. All About Twitter Hashtags. After writing my Teacher Challenge guest post on using Twitter to build your PLN, I was asked by a number of people about hashtags.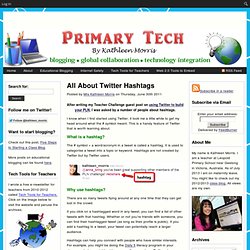 I know when I first started using Twitter, it took me a little while to get my head around what the # symbol meant. This is a handy feature of Twitter that is worth learning about. Twitter Series-A New Kind Of Twitter PD. This week I am going to do a series of posts on Twitter.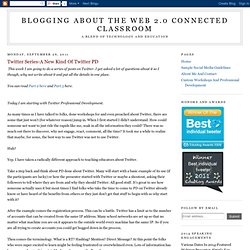 I get asked a lot of questions about it so I though, why not write about it and put all the details in one place. You can read Part 2 here and Part 3 here. Twitter Series-What I Wish I Knew Before I Started Twitter. This is the second in a series I am doing all about Twitter. You can read the first post here, where I discuss the need to change the way we teach about Twitter. Today, lets go back to the beginning and look at what we wish we had known... If you have read any of my leadership pieces before, you know I am big on reflection. As educators, looking back on our practice is one of the most important things we can do. The A-Z Dictionary of Educational Twitter Hashtags. Whether you're a new or seasoned Twitter user, you likely come across confusing hashtags that probably look like a bunch of nonsense.
First, What's A Hashtag? The # symbol, called a hashtag, is used to mark keyword or topic in a Tweet. Any Twitter user can categorize or follow topics with hashtags.Those hashtags (usually) mean something and are a great way to get a tweet to appear in search results or discussion monitoring.
---