Curiosidades
The Thirty-Six Dramatic Situations/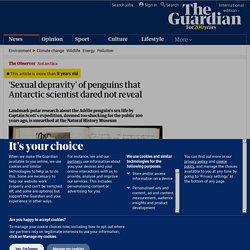 'Sexual depravity' of penguins that Antarctic scientist dared not reveal | World news | The Observer
Dr George Murray Levick's observations of Adélie penguins were recorded in his notebook. Photograph: R Kossow/NHM It was the sight of a young male Adélie penguin attempting to have sex with a dead female that particularly unnerved George Murray Levick, a scientist with the 1910-13 Scott Antarctic Expedition. No such observation had ever been recorded before, as far as he knew, and Levick, a typical Edwardian Englishman, was horrified.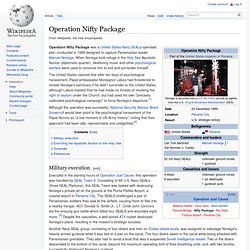 Operation Nifty Package was a United States Navy SEALs -operated plan conducted in 1989 designed to capture Panamanian leader Manuel Noriega . When Noriega took refuge in the Vatican embassy, deafening music and other psychological warfare were used to convince him to exit and surrender himself. The United States claimed that after ten days of psychological harassment, Papal ambassador Monsignor Laboa had threatened to revoke Noriega's sanctuary if he didn't surrender to the United States, although Laboa insisted that he had made no threats of revoking the right of asylum under the Church, but had used his own "precisely calibrated psychological campaign" to force Noriega's departure. [ 1 ] Although the operation was successful, National Security Advisor Brent Scowcroft would later point to the psychological harassment of the Papal Nuncio as "a low moment in US Army history", noting that their approach had been silly, reproachable and undignified. [ 2 ] [ edit ] Military execution
Operation Nifty Package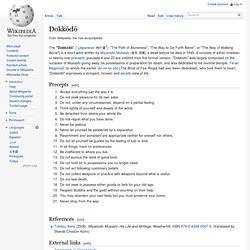 The Dokkodo (独行道 Dokkōdō ; "The Path of Aloneness" or "The Way to Go Forth Alone" or "The Way of Walking Alone") was a work written by Miyamoto Musashi (宮本 武蔵) a week before he died in 1645. It is a short work, consisting of either nineteen or twenty-one precepts ; precepts 4 and 20 are omitted from the former version. It was largely composed on the occasion of Musashi giving away his possessions in preparation for death, and was dedicated to his favorite disciple, Terao Magonojo (to whom the earlier Go rin no sho had also been dedicated), who took them to heart. It expresses a stringent, honest, and ascetic view of life. [ edit ] The precepts
Millennium Prize Problems
The Millennium Prize Problems are seven problems in mathematics that were stated by the Clay Mathematics Institute in 2000. As of March 2013, six of the problems remain unsolved . A correct solution to any of the problems results in a US$1,000,000 prize (sometimes called a Millennium Prize ) being awarded by the institute. The Poincaré conjecture , the only Millennium Prize Problem to be solved so far, was solved by Grigori Perelman , but he declined the award in 2010. [ edit ] P versus NP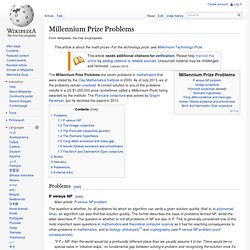 Divine (actor)
In Roman Catholic theology , transubstantiation (in Latin , transsubstantiatio , in Greek μετουσίωσις metousiosis ) is the doctrine that, in the Eucharist , the substance of the bread and the wine used in the sacrament is changed into the substance of the Body and the Blood of Jesus , [ 1 ] while all that is accessible to the senses (the appearances, or "accidents" - species in Latin ) remains as before. [ 2 ] [ 3 ] [ 4 ] The Eastern Orthodox Church , Oriental Orthodox Church , and Church of the East have sometimes used the term "transubstantiation" ( metousiosis ); however, terms such as "divine mystery", "trans-elementation" (μεταστοιχείωσις metastoicheiosis ), "re-ordination" (μεταρρύθμισις metarrhythmisis ), or simply "change" (μεταβολή) are more common among them and they consider the change from bread and wine to flesh and blood a "Mystery". [ edit ] History
Transubstantiation
Leonardo da Vinci is regarded as a "Renaissance man" and is one of the most recognizable polymaths A polymath ( Greek : πολυμαθής , polymathēs , "having learned much"), [ 1 ] sometimes (if male) referred to as a Renaissance man , is a person whose expertise spans a significant number of different subject areas. In less formal terms, a polymath (or polymathic person) may simply be someone who is very knowledgeable. Most ancient scientists were polymaths by today's standards. [ 2 ] The term was first used in the seventeenth century but the related term, polyhistor , is an ancient term with similar meaning.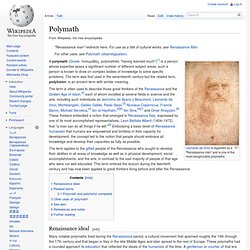 Tyche ( English pron.: / ˈ t aɪ k i / ; from Greek : Τύχη , meaning "luck"; Roman equivalent: Fortuna ) was the presiding tutelary deity that governed the fortune and prosperity of a city, its destiny . She is the daughter of Zeus,Hermes and Aphrodite. Increasingly during the Hellenistic period, cities venerated their own specific iconic version of Tyche, wearing a mural crown (a crown like the walls of the city).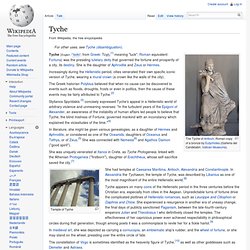 Tyche
Mickey Finn (drugs)
In slang, a Mickey Finn (or simply Mickey ) is a drink laced with a drug (especially chloral hydrate ) given to someone without their knowledge in order to incapacitate them. Serving someone a Mickey is most commonly referred to as slipping one a mickey , sometimes spelled "slipping one a mickie". [ 1 ] [ edit ] History of term [ edit ] Michael "Mickey" Finn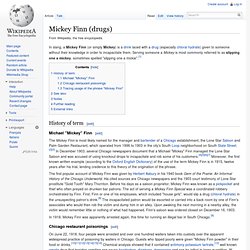 Quorum sensing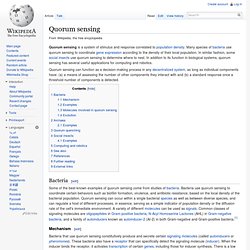 Quorum sensing is a system of stimulus and response correlated to population density. Many species of bacteria use quorum sensing to coordinate gene expression according to the density of their local population. In similar fashion, some social insects use quorum sensing to determine where to nest. In addition to its function in biological systems, quorum sensing has several useful applications for computing and robotics.
Etruscan shrew
The Etruscan shrew ( Suncus etruscus ), also known as the Etruscan pygmy shrew or the white-toothed pygmy shrew is the smallest known mammal by mass, weighing only about 1.8 grams (0.063 oz) on average [ 3 ] [ 4 ] [ 5 ] [ 6 ] [ 7 ] (The bumblebee bat is regarded as the smallest mammal by skull size). [ 3 ] [ 8 ] The Etruscan shrew has a body length of about 4 centimetres (1.6 in) excluding the tail. It is characterized by very rapid movements and a fast metabolism , eating about 1.5–2 times its own body weight per day. It feeds on various small vertebrates and invertebrates, mostly insects, and can hunt individuals of the same size as itself. These shrews prefer warm and damp climates and are widely distributed in the belt between 10° and 30°N latitude stretching from Europe and North Africa up to Malaysia .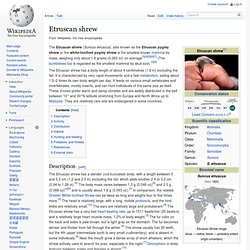 Etruscan shrew
Die Steppenraute ( Peganum harmala ) ist eines der ältesten Halluzinogene, aber auch traditionelles Heilmittel der Menschheit; es kommt vor allem in Wüsten, Halbwüsten und Steppen von Westasien bis Nordindien vor, gelegentlich aber auch im Mittelmeerraum. Synonyme sind unter anderem Harmalkraut, Harmelraute, Syrische Steppenraute, Wilde Raute. Es gehört zur Familie der Nitrariaceae. Die Samen wie auch das Kraut enthalten die Carboline Harmalin , Harmin und verwandte Basen wie Harmalol und Harmidin. Eigenschaften [ Bearbeiten ] Die Steppenraute ist eine buschige Pflanze, die bis zu einem Meter hoch wächst, mit unregelmäßigen, fiederspaltigen Blättern; von April bis Mai trägt sie grüne bis weiße Blüten, woraus kegelförmige Früchte entstehen, die braune, eckige Samen enthalten.
Steppenraute
Nihilism ( pron.: / ˈ n aɪ . ɨ l ɪ z əm / or / ˈ n iː . ɨ l ɪ z əm / ; from the Latin nihil , nothing) is the philosophical doctrine suggesting the negation of one or more putatively meaningful aspects of life . Most commonly, nihilism is presented in the form of existential nihilism , which argues that life is without objective meaning, purpose, or intrinsic value . [ 1 ] Moral nihilists assert that morality does not inherently exist, and that any established moral values are abstractly contrived. Nihilism can also take epistemological or metaphysical / ontological forms, meaning respectively that, in some aspect, knowledge is not possible, or that reality does not actually exist.
List of World Health Organization Essential Medicines
The List of World Health Organization Essential Medicines is a model list of essential medicines created by the World Health Organization . This list is based on the 17th edition from March 2011. [ 1 ] The list was first published in 1977 and is updated every two years. [ 2 ] The 16th edition for adults and the second edition for children were released in March 2009. [ 3 ] [ 4 ] The 17th edition for adults and the third edition for children were released in March 2011. [ 5 ] [ 6 ] [ edit ] Anaesthetics [ edit ] General anaesthetics and oxygen [ edit ] Inhalational medicines
No New York
No New York is a compilation album released in 1978 by Antilles Records under the curation of producer Brian Eno . Although it only contained songs by four different artists, it is considered by many to be the definitive single album documenting New York City's late-1970s No Wave movement. [ edit ] Background and production Early in 1978, New York 's Artists' Space hosted an underground rock festival with several local bands. [ 1 ] The final two days of the show featured DNA and the Contortions on Friday, followed by Mars and Teenage Jesus and the Jerks on Saturday. [ 1 ] English musician/producer Brian Eno , who'd originally came to New York to master the Talking Heads second album More Songs About Buildings and Food , was in the audience. [ 1 ] Impressed by what he saw and heard, Eno was convinced that this movement should be documented and proposed the idea of a No Wave compilation album with himself as a producer. [ 2 ]
Die Ochrana ( russisch охрана oder auch in der Verkleinerungsform Ochranka ) war der inoffizielle Oberbegriff für die verschiedenen Geheimdienste und die Geheimpolizei im zaristischen Russland . Die offizielle Bezeichnung dafür lautete Ochrannoje otdelenie ( Охранное отделение , deutsch: "Sicherheitsabteilung"). Sie wurde 1881 von Zar Alexander III. gegründet und unterstand dem Innenministerium. Sie ging aus der Dritten Abteilung der eigenen Kanzlei seiner Kaiserlichen Majestät hervor, die 1826 von Zar Nikolaus I. nach dem Dekabristenaufstand eingerichtet worden war. Diese Abteilung nahm bereits die Aufgaben einer politischen Geheimpolizei wahr. Auch Oberst Redl arbeitete mit der Ochrana zusammen, verriet wichtige Einsatzpläne des österreich-ungarischen Militärs an Russland, wodurch Österreich im Ersten Weltkrieg anfangs schwere Niederlagen erlitt.
Ochrana
Erinyes
Deus ex machina
Asymmetric warfare