Weird
The new "dirty dozen" list of produce on Shine. By Sarah B.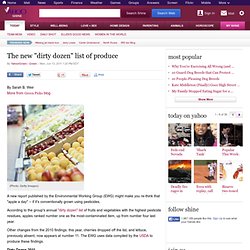 Weir More from Green Picks blog (Photo: Getty Images)A new report published by the Environmental Working Group (EWG) might make you re-think that "apple a day" -- if it's conventionally grown using pesticides. According to the group's annual "dirty dozen" list of fruits and vegetables with the highest pesticide residues, apples ranked number one as the most-contaminated item, up from number four last year.
Other changes from the 2010 findings: this year, cherries dropped off the list, and lettuce, previously absent, now appears at number 11. What can 28,000 rubber duckies lost at sea teach us about our oceans? In 1992, a shipping crate containing 28,000 plastic bath toys was lost at sea when it fell overboard on its way from Hong Kong to the United States.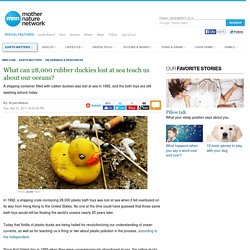 No one at the time could have guessed that those same bath toys would still be floating the world's oceans nearly 20 years later. Today that flotilla of plastic ducks are being hailed for revolutionizing our understanding of ocean currents, as well as for teaching us a thing or two about plastic pollution in the process, according to the Independent. 34 Cleverly Designed Inventions. 34 Cleverly Designed Inventions.
Rosenhan experiment. Rosenhan's study was done in two parts.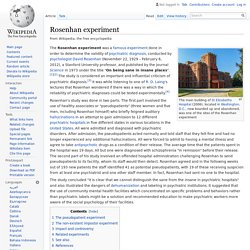 The first part involved the use of healthy associates or "pseudopatients" (three women and five men) who briefly feigned auditory hallucinations in an attempt to gain admission to 12 different psychiatric hospitals in five different States in various locations in the United States. All were admitted and diagnosed with psychiatric disorders. After admission, the pseudopatients acted normally and told staff that they felt fine and had not experienced any more hallucinations. NIEHS Kids Page -- Optical Illusions. Gotcha!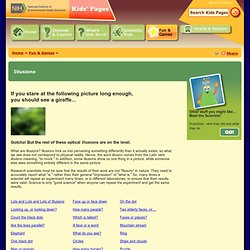 But the rest of these optical illusions are on the level. What are illusions? Illusions trick us into perceiving something differently than it actually exists, so what we see does not correspond to physical reality. Hence, the word illusion comes from the Latin verb illudere meaning, "to mock. " Saudade. Saudade (European Portuguese: [sɐwˈðaðɨ], Brazilian Portuguese: [sawˈdadi] or [sawˈdadʒi], Galician: [sawˈðaðe]; plural saudades)[1] is a Portuguese and Galician word that has no direct translation in English.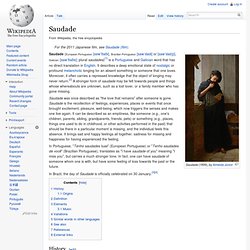 It describes a deep emotional state of nostalgic or profound melancholic longing for an absent something or someone that one loves. Moreover, it often carries a repressed knowledge that the object of longing may never return.[2] A stronger form of saudade may be felt towards people and things whose whereabouts are unknown, such as a lost lover, or a family member who has gone missing. Saudade was once described as "the love that remains" after someone is gone. Saudade is the recollection of feelings, experiences, places or events that once brought excitement, pleasure, well-being, which now triggers the senses and makes one live again. 10 Ways Our Minds Warp Time. How time perception is warped by life-threatening situations, eye movements, tiredness, hypnosis, age, the emotions and more… The mind does funny things to our experience of time.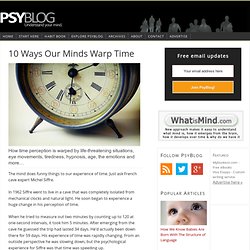 Just ask French cave expert Michel Siffre. In 1962 Siffre went to live in a cave that was completely isolated from mechanical clocks and natural light. He soon began to experience a huge change in his perception of time.
---