Everything Edible
Beer Can Chicken Recipe
11 Healthier Cupcake Recipes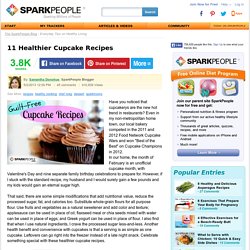 Have you noticed that cupcakerys are the new hot trend in restaurants?
Hummus | partial-ingredients
Hummus is one of those foods that is easy to pick up at a grocery store and not really give it a second thought.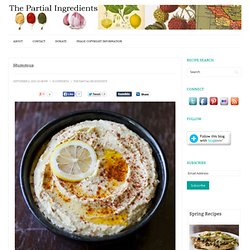 The World in My Kitchen: Thai Coconut Curry Soup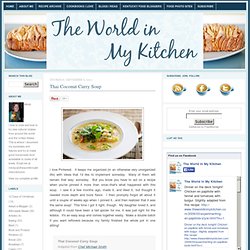 I love Pinterest.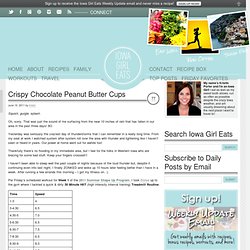 Squish, gurgle, splash .
Crispy Chocolate Peanut Butter Cups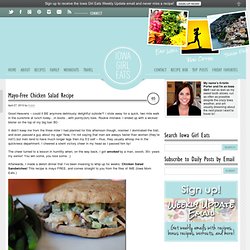 Good Heavens – could it BE anymore deliriously delightful outside?! I stole away for a quick, two mile walk in the sunshine at lunch today…in boots…with pointy(ish) toes. Rookie mistake.
Chicken Salad with Greek Yogurt
My gosh, is this ever good. All the goodness of a juicy cheeseburger in salad form. It's similar to a taco salad, in that it has a bunch of meat, cheese, and tomato on top of lettuce. But this is…different. It's crazy, crazy good. You'll want to eat the meat mixture alone right out of the skillet.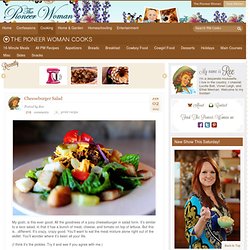 Cheeseburger Salad
Superfood Salad with Lemon Vinaigrette combines ultra-healthy and flavorful ingredients like quinoa, pomegranate, citrus, avocado and beans, in a light-yet-filling meal, that's bursting with satisfying flavors and textures. Eat by itself, or topped with shrimp or grilled chicken. Superfood Salad with Lemon Vinaigrette Print this recipe!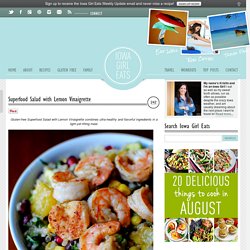 Superfood Salad with Lemon Vinaigrette
Cheesy Enchilada Stack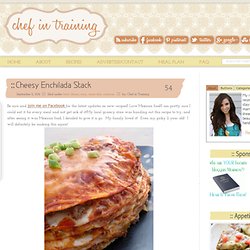 I receive a lot of questions about me and my blog.
Red velvet cake is so pretty and perfect for the holiday season. We all know my heart belongs to cookies, not cake, so I decided it was time for me to create a red velvet cookie…and not just any red velvet cookie, but a Red Velvet Cheesecake Cookie. This cookie is the cookie of all cookies. If you think your holiday baking list is set, think again. You have to make these cookies!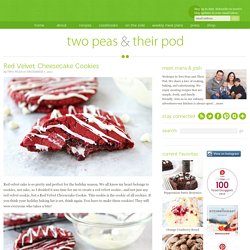 Hi guys!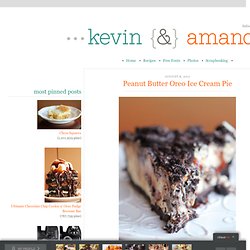 Peanut Butter Oreo Ice Cream Pie
We've got tons of Thanksgiving traditions in my family that I look forward to every year: Sipping mimosas while watching the Macy's Thanksgiving Day Parade. Someone throwing a fit ab out losing at Scrabble, fueled by the aforementioned mimosas. The food . Pumpkin pie eaten while watching movies by the fire at night. Cinnamon rolls to start the day off right.
Better-For-You Game Day Dips
Happy Saturday! I'm working all day today, but wanted to share a couple of better-for-you dip recipes perfect for digging into on game day, that I wrote about in my latest Q Magazine Article !
Peanut Butter Brownie Bars Recipe
There was a lot to get used to when Ben and I found ourselves newly married and moving into a house together three years ago.
Thai Peanut Noodles
Apple with Salty Medjool Caramel. » V.K.Rees Photography
Tuesday, October 11, 2011 It's October and all I want to do is drink cider, carve pumpkins, and eat caramel apples. Alas caramel is messy to cook, easy to screw up, and well, let's face it, full of sugar and butter.
Sausage and Bean Soup with Pasta
Baby, it's cold outside - the high for today is supposed to be 16 degrees! Here is a hearty soup to get you through the winter. This soup, along with a green salad and some nice bread, is a great dinner for a chilly night.
Roast Chicken
Pita Bread