Everything Edible
Beer Can Chicken Recipe.
Summer Food
Beverages. 11 Healthier Cupcake Recipes. Have you noticed that cupcakerys are the new hot trend in restaurants?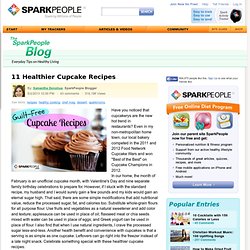 Even in my non-metropolitan home town, our local bakery competed in the 2011 and 2012 Food Network Cupcake Wars and won "Best of the Best" on Cupcake Champions in 2012.In our home, the month of February is an unofficial cupcake month, with Valentine's Day and nine separate family birthday celebrations to prepare for.
However, if I stuck with the standard recipe, my husband and I would surely gain a few pounds and my kids would gain an eternal sugar high. Hummus | partial-ingredients. Hummus is one of those foods that is easy to pick up at a grocery store and not really give it a second thought.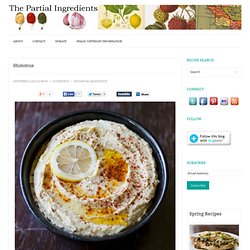 That's what I did for a long time until I decided to explore Lebanese food a little more. Years ago, my family would get take-out from a local Lebanese deli and since then I have loved that food. Since I had been craving Lebanese food I decided to make my own version of the deli's menu. The World in My Kitchen: Thai Coconut Curry Soup. I love Pinterest.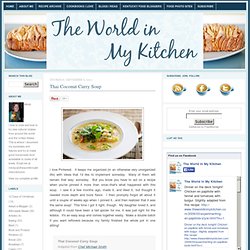 It keeps me organized (in an otherwise very unorganized life) with ideas that I'd like to implement someday. Many of them will remain that way: someday. But you know you have to act on a recipe when you've pinned it more than once--that's what happened with this soup. I saw it a few months ago, made it, and liked it, but thought it needed more depth and more flavor. Crispy Chocolate Peanut Butter Cups. Squish, gurgle, splash.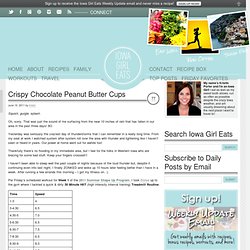 Oh, sorry. That was just the sound of me surfacing from the near 10 inches of rain that has fallen in our area in the past three days! 8O. Chicken Salad with Greek Yogurt. Good Heavens – could it BE anymore deliriously delightful outside?!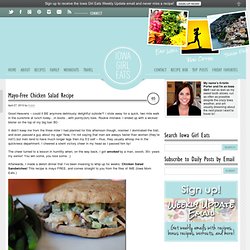 I stole away for a quick, two mile walk in the sunshine at lunch today…in boots…with pointy(ish) toes. Rookie mistake. Cheeseburger Salad. My gosh, is this ever good.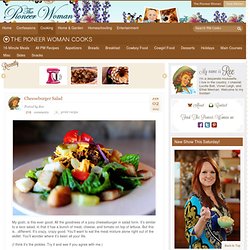 All the goodness of a juicy cheeseburger in salad form. It's similar to a taco salad, in that it has a bunch of meat, cheese, and tomato on top of lettuce. But this is…different. It's crazy, crazy good. You'll want to eat the meat mixture alone right out of the skillet. Superfood Salad with Lemon Vinaigrette. Superfood Salad with Lemon Vinaigrette combines ultra-healthy and flavorful ingredients in a light-yet-filling meal.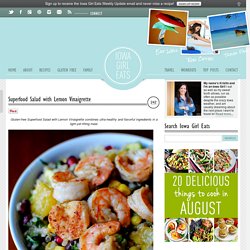 Superfood Salad with Lemon Vinaigrette combines ultra-healthy and flavorful ingredients like quinoa, pomegranate, citrus, avocado and beans, in a light-yet-filling meal, that's bursting with satisfying flavors and textures. Eat by itself, or topped with shrimp or grilled chicken. Superfood Salad with Lemon Vinaigrette. Recipes. Cheesy Enchilada Stack. Be sure and join me on Facebook for the latest updates on new recipes!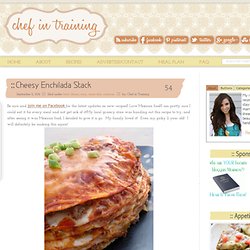 I Love Mexican food! I am pretty sure I could eat it for every meal and not get sick of it! My local grocery store was handing out this recipe to try, and after seeing it was Mexican food, I decided to give it a go. My family loved it! Red Velvet Cheesecake Cookies Recipe | Red Velvet Cookies. Red Velvet Cheesecake Cookies Red velvet cake is so pretty and perfect for the holiday season.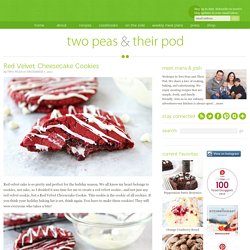 We all know my heart belongs to cookies, not cake, so I decided it was time for me to create a red velvet cookie…and not just any red velvet cookie, but a Red Velvet Cheesecake Cookie. This cookie is the cookie of all cookies. If you think your holiday baking list is set, think again. Peanut Butter Oreo Ice Cream Pie. Hi guys!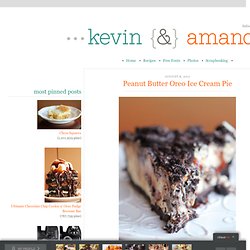 Right now I'm in southern California running around Orange County with the beautiful Jenny from Picky Palate. Jenny is showing me the time of my life in her town — we are hitting all her favorite spots and eating ourselves silly! I will definitely be hitting the gym next week back in Alabama, say a prayer for me!! Mini Cinnamon Rolls. Mini Cinnamon Rolls are ready in under 10 minutes. Sweet and poppable, they disappear in minutes! We've got tons of Thanksgiving traditions in my family that I look forward to every year: Sipping mimosas while watching the Macy's Thanksgiving Day Parade. Someone throwing a fit about losing at Scrabble, fueled by the aforementioned mimosas. The food. Better-For-You Game Day Dips. Happy Saturday! :D I'm working all day today, but wanted to share a couple of better-for-you dip recipes perfect for digging into on game day, that I wrote about in my latest Q Magazine Article!
I am THIS EXCITED about my first dip – Salscamole. Guacamole is my #1 favorite dip in the world, but it's very calorie dense. By mixing 2 mashed avocados with a 15oz jar of salsa (I recommend Tostitos Restaurant Style) you basically get to eat double the amount of delicious dip for the same number of cals. Peanut Butter Brownie Bars Recipe. Thai Peanut Noodles. There was a lot to get used to when Ben and I found ourselves newly married and moving into a house together three years ago.
We lived separately until the day we said 'I do' and really had no idea what we were getting ourselves into. I quickly found out that Ben has a fondness for throwing t-shirts on the bathroom floor, while I prefer to put them in the hamper. I hang my robe and belts on hooks on the back of our bedroom door, but he…well you know what, I still don't know where he keeps that stuff, but he hates a cluttered doorway!
Our solution?
Fall Food. Sausage and Bean Soup with Pasta. Baby, it's cold outside - the high for today is supposed to be 16 degrees! Here is a hearty soup to get you through the winter. This soup, along with a green salad and some nice bread, is a great dinner for a chilly night. 50 Tips for Baking Better Cakes. Happy American Thanksgiving! I was sitting here planning a bunch of upcoming baking posts, when I realized that we've never really chatted about some of the basic steps that make for consistent baking and caking.
I thought that it may be helpful to post these tips now, before we get too hot and heavy into more cake recipes. This collection of tips and tricks is made up of suggestions that happen to work for me, that I have either learned from the pros, read in books, or figured out along the way (and am still learning). Roast Chicken. A brownie by any other name… Beer-Battered Fried Pickles. Pita Bread. How To Cook Like Your Grandmother. The Cook Abides. The Cook Abides. Fried Mozzarella. Jennifer Wang.
---