Freelancing 1
This is a beautiful Personal portfolio template made for every artist showcase.
Freelance Designer - Personal Portfolio Template - PSD Templates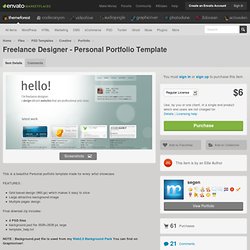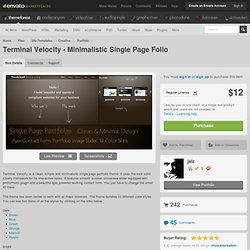 Terminal Velocity is a clean, simple and minimalistic single page portfolio theme.
Terminal Velocity - Minimalistic Single Page Folio - Site Templa
The Get-Started-Now Guide to Becoming Self-Employed
Post written by Leo Babauta . Follow me on Twitter . One of the best things I ever did was quit my day job and become self-employed. I'm so happy with it that I'm recommending it to everyone: my kids, my friends, my sisters. One sister has already started her own fitness business and I'm strongly urging the other to go out on her own as well.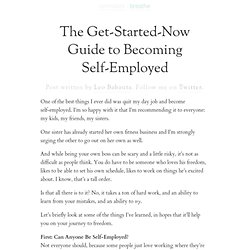 The Brads - Alignment in Design
The Brads – Learning About Contrast in Design - Vectortuts+
Explore – FreelanceSwitch
Home - Lionite Internet Ventures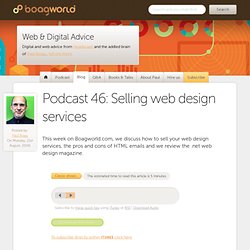 Podcast 46: Selling web design services « Boagworld
Classic shows : The estimated time to read this article is 5 minutes Podcast: Play in new window | Download Download this show. To subscribe directly within itunes click here
Digital Strategy : The estimated time to read this article is 12 minutes Paul has asked me to write this outline of the talk I gave. I hope you find it useful. The reason I did the talk was because I was concerned that a lot of young people in this industry are jumping into freelancing or setting up their own (illegitimate) companies without thinking much about the consequences.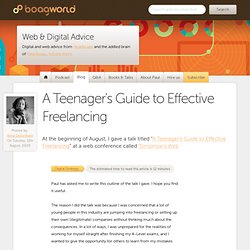 A Teenager's Guide to Effective Freelancing « Boagworld
Nate Kadlac Design
Shannon Moeller's Site
Freelance Advice and Resources - Freelancer Magazine
David Krüger :: Web Design & Development
Strategic Website Design & Front-end Development - Justin De
Astuteo™ — Web Design & Development | Madison, Wisconsin
Hacker News | Keep losing freelance work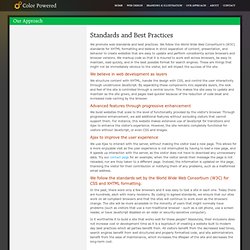 We promote web standards and best practices. We follow the World Wide Web Consortium's (W3C) standards for XHTML formatting and believe in strict separation of content, presentation, and behavior to create websites that are easy to update and perform consistently across browsers and browser versions.
Color Powered - Our Approach
The Roadmap To Becoming A Professional Freelance Web Designer |
Becoming a freelance web designer is a common dream among many designers, although it takes quite a bit of talent, business savvy, committment, and time.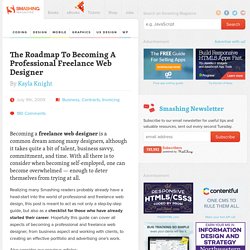 Cincinnati Freelance Web Design and Development | Joe Cole Desig
Showcasing your work is an art (pardon the pun) and in this article I am showcasing 50 of the most stunning portfolio websites out there.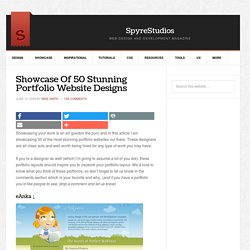 In this Photoshop web design tutorial, you'll learn, step-by-step, how to create a stunning and clean web layout.
In portfolio web pages, especially in the field of design, one of the first things that you will notice is an introductory text consisting of a few words about the company or the designer behind the site.
50 Inspirational Website Introductions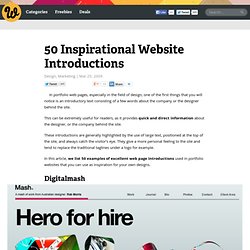 You may have a personal portfolio website for a number of reasons. If you're a freelancer, then you'd need one to showcase your work and allow people to contact you .
xoqA7foxqo73ayg6sPDSXTzvo1_1280.jpg (JPEG Image, 490×1200 pixels
In this tutorial, we'll put together a high-end Web design using a crisp, thin font, gorgeous background images, and clever use of space and layout. You can easily use the technique to create your own unique designs. Then when you're finished reading this tutorial, you can cross over to our sister site NETTUTS and follow along as we build the design into clean and simple HTML. OK let's rock'n'roll! The End Design
» thomas marban | web maverick : hub page
orange jam | standards-savvy web development
Ludwig Wendzich - Portfolio
Web Designer New Zealand | Website design services by DESIGN WEB
Web Designer/Developer & Graphic Design | Sam Walsh | Walsh
Auckland Freelance Website Design
PHP Web Development Auckland | Content Management CMS Website De
C2 Marketing Online & TXT Competition Engine - Blink Interac
Website, CMS & Application Developers - beweb web developmen
Jetris: A game developed the GameJS Game Framework
Kris Kennedy - Athletic Nutrition Specialist & Fitness Coach
Portfolio of Tim Potter, Freelance Web Designer | Home Page
About - A little info and fun facts about web designer Jeffrey S
Sergio Noviello | Portfolio
designthis - The digital playground of kevin bryan +44 (0)7780 5
Jack Herbert, Front End Web Designer & Developer
Sarah Longnecker ~ Awesome Video Editor in Knoxville, TN
frisk design » Home
Freelance Projects - All freelance projects at One Location