Photoshop tutorial
Get flash to fully experience Pearltrees
Photoshop CS5′s new Puppet Warp feature can be extremely useful if you need to make minor adjustments to your photos. In today's quick tip tutorial we will demonstrate how to correct a Photo with this new tool in minutes. Let's get started! Step 1 First, let's load our image.
No doubt you'll have heard of the term Cinemagraph since it exploded onto the Internets. Originally coined by Photographers Kevin Burg and Jamie Beck, a cinemagraph is a clever revival of the classic animated GIF. It combines features of video and photography to create a the illusion of a still image but with cool motion effects. Let's take a look at how to create your own animated GIF cinemagraph by playing around with Photoshop's animation tools. Some of the best cinemagraph examples can be found on the creators' own website .
An Out of Bounds entry, referred to as OOB throughout this tutorial, refers to an entry which makes use of the image borders to add to the 3D feel of the image. This is how "I" do it, mostly. Though I only use Photoshop, I'm sure all the same ideas can be applied to whatever program you are using. The single most important element in any OOB entry is the source picture. I'm a purist, so I tend to only use ONE source pic, so I will be showing you how to go from i th s.. to this (which is not exactly like my original entry, but I chose to do this over for the tutorial)
Yo Stumbler follow me on twitter @designshard – Yeehaw! lets ride this design wave.
In this tutorial I will show you how I created "A Life Of Aquatic Sounds". We will realize it using a variety of blending mode tricks, photo filters and other useful Photoshop techniques. At the end of this process we will have a beautiful photo manipulation, realized in a short time and a very easily way.
There are a lot of new and spectacular text effects tutorials created every now and then. Many people found text effects as one of the most interesting thing to do in Photoshop. We have decided to collect those best tutorials that could help and inspire you to create your own text effects techniques. For those who like text effects, this collection is a great guide to create your own and learn some tips.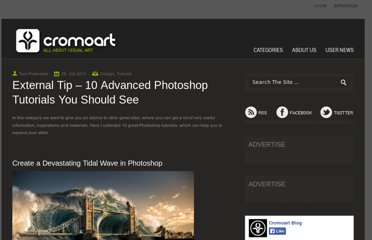 In this category we want to give you an advice to other great sites, where you can get a lot of very useful information, inspirations and materials. Here I collected 10 great Photoshop tutorials, which can help you to expand your skills. Create a Devastating Tidal Wave in Photoshop Create Quick Particle Effect on Photo via Custom Brush Options in Photoshop Create a Surreal Upside Down Mountain Painting in Photoshop Business Man – Awesome Black & White Tutorial
I have been playing a lot with the Displace filter in Photoshop and I still get impressed with how powerful it is. Even though I have written some tutorials using it, I decided to try to recreate a different effect that I saw in one of the images submitted for the Daily Inspiration. It was a brick wall deformed like it was made of cloth.
Photoshop actions are great. If you're not familiar with actions, they are simply prerecorded adjustments made to a Photoshop file that can be saved and applied to other projects. The concept is simple, but the process to create some actions can be very complicated.
Published in Design , Photoshop Tutorials Photoshop allows designers to create amazing posters that can be used for a variety or purposes like movie promos, product promos, event promos, as well as just for fun and practice. There are a lot of quality tutorials out there that teach the process of designing a poster in Photoshop.
Published in Design , Photoshop Tutorials Photoshop allows designers with unlimited possibilities when it comes to creative effects, including lighting effects. There are plenty of different ways to create lighting effects in Photoshop, and there are equally as many different possible uses for them. If you're interested in learning more about how to create awesome lighting effects in your own work, here are 25 tutorials that can help. Create a Glowing Superhero Show Me the Light – Digital Art Tutorial
Published on Wed, Sep-22-2010 by Ricardo In this Photoshop tutorial we will show you how to create nice unique photo effect from sketch and your photo. We will use many tools in Photoshop and also you will need some skills in drawing as to create this effect you will need to draw sketch. Also in this tutorial you will be able to learn the Photoshop technique how to use sketch and combine it with a real picture, as a result you will get a very unique and fantastic effect. So lets start to learn.