Inspiration
Wonderful 'WEIRD BEAUTY' Portraits by ALEXANDER KHOKHLOV ~ The Artistic Art. Intricately Patterned Animal Illustrations. It would be hard to tell from these strikingly detailed animals but artist Iain Macarthur got his start drawing cartoon characters.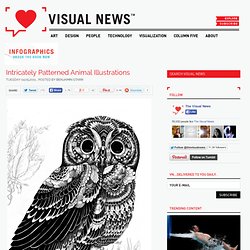 Now he carries his sketchbook on the bus, to the cafe and everywhere else as he includes more realism and in this case pattern in his illustrations. See more of his animals (and even some cartoons) at iainmacarthur.carbonmade.com. See Also INCREDIBLE 3D ILLUSTRATIONS JUMP OUT OF THE SKETCHBOOK. Viktor hertz - official website & portfolio. Client: Ray-BanBrief: Create artworks that somehow depict iconic people and famous characters that have been wearing Ray-Ban Aviators.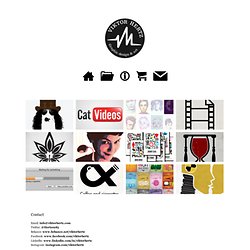 The portraits were to be displayed in the Sunglass Hut store in Covent Garden, London, from March to April 2014. Artworks by Viktor Hertz © 2014 Photos by Ray-Ban © 2014Advertising, Graphic Design, Illustration2014 An idea for a series with honest logos, revealing the actual content of the company, what they really should be called. Some are cheap, some might be a bit funny, some will maybe be brilliant. I don't know.Graphic Design2011 'ICONS' is a series of portraits of people who somehow have achieved iconic status for different reasons. The portraits are composed of a mosaic of small icons, that have been carefully selected and represent different events and themes from the peoples' lives and activities. Jonny Wan Illustration. Irina Vinnik Portfolio. Home. Panic Room - BIGADDICT.
Since 1999 home of design culture, leading independent publication for design, architecture, art, photography and graphics. Funnel Design Group. Industrial Design Served :: Gallery. Visual sundae. Mladen penev. Nick Gentry | Social art from the obsolete. Coke Art Graphic Corner: Free Coca-Cola Vector Art, Images & Graphics « Coca-Cola Art Gallery. Here you can download 10 Coca-Cola Art Illustrations as vector file.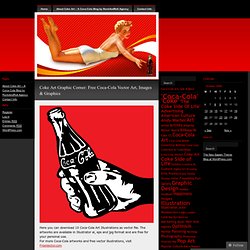 The artworks are available in Illustrator ai, eps and jpg format and are free for your personal use. For more Coca-Cola artworks and free vector illustrations, visit FreeVector.com Please read our Terms of Use berfore you download any vector files from this Coca-Cola Art site. Holtonrower.com. Carved Book Landscapes by Guy Laramee. (click images for detail) For the better part of three decades multidisciplinary artist Guy Laramee has worked as a stage writer, director, composer, a fabricator of musical instruments, a singer, sculptor, painter and writer.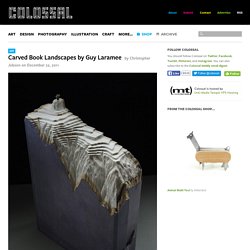 Among his sculptural works are two incredible series of carved book landscapes and structures entitled Biblios and The Great Wall, where the dense pages of old books are excavated to reveal serene mountains, plateaus, and ancient structures. Of these works he says: So I carve landscapes out of books and I paint Romantic landscapes. Book Of Art. Antony Gormley.
Lori Nix. 012.jpg 1,500×750 pixels. Body Painting by Craig Tracy. Article by James Pond I am the owner of Pondly.com / art lover / electrical engineer / software developer / MBA in e-business student.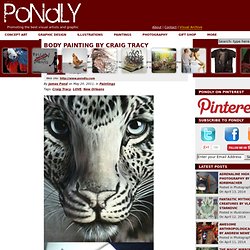 I blog for pleasure and love to share my Internet findings. Web site: Body painting is form of art in which Craig Tracy excels. Shapes of models' bodies are an inspiration for this artist who was born and raised in New Orleans, Louisiana. - StumbleUpon. Otherworldly Macrophotography of Paint and Ice. These abstract images involve more than your average painting tools.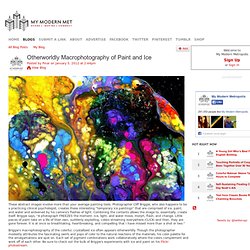 Photographer Cliff Briggie, who also happens to be a practicing clinical psychologist, creates these interesting "temporary ice paintings" that are comprised of ice, paint, and water and enlivened by his camera's flashes of light. Combining the contents allows the image to, essentially, create itself. Briggie says, "A photograph FREEZES the moment. Ice, light, and water move, morph, flash, and change. Little pieces of paint take on a life of their own, suddenly exploding, colors streaming everywhere--CLICK--and then, they are gone forever. :::::: carnovsky :::::: RGB Color est e pluribus unus RGB is a work about the exploration of the "surface's deepness".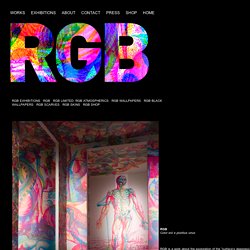 RGB designs create surfaces that mutate and interact with different chromatic stimulus. Carnovsky's RGB is an ongoing project that experiments with the interaction between printed and light colours. MWM Graphics | Matt W. Moore. Instruments from inside. The World's First Vertical Forest: An&8230; | Bit Rebels - StumbleUpon. I'd like to introduce you to the world's first Bosco Verticale (Italian for Vertical Forest), which is being built right now in Milan.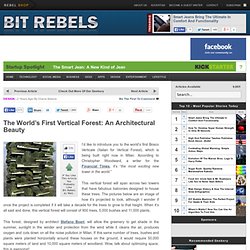 According to Christopher Woodward, a writer for the Financial Times, it's "the most exciting new tower in the world." This vertical forest will span across two towers that have fabulous balconies designed to house these trees. The pictures below are an image of how it's projected to look, although I wonder if once the project is completed if it will take a decade for the trees to grow to that height. When it's all said and done, this vertical forest will consist of 900 trees, 5,000 bushes and 11,000 plants. This forest, designed by architect Stefano Boeri, will allow the greenery to get shade in the summer, sunlight in the winder and protection from the wind while it cleans the air, produces oxygen and cuts down on all the noise pollution in Milan.
THE ARK HOTEL? OR DISASTER RELIEF HOUSING? & - StumbleUpon. Chicago-lights-1191505-xl.jpg (JPEG Image, 1280x1024 pixels) - Scaled (59%) Beautiful Life - design news, beautiful art and luxury lifestyle.
---