Diet tips
Healthy Eating, Food Exchange Lists. You can use the American Dietetic Association food exchange lists to check out serving sizes for each group of foods and to see what other food choices are available for each group of foods.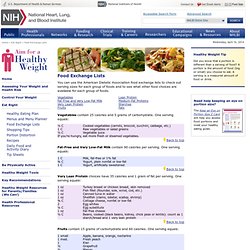 Vegetables contain 25 calories and 5 grams of carbohydrate. One serving equals: Back to top Fat-Free and Very Low-Fat Milk contain 90 calories per serving. One serving equals: Foods to Improve Moods - Healthy Living Tips at WomansDay. While that tub of ice cream in the back of the freezer may be what you crave when you're feeling blue, there is a long list of other (healthier!)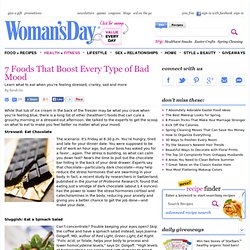 Foods that can cure a grouchy morning or a stressed-out afternoon. We talked to the experts to get the scoop on what to eat to make you feel better no matter what your mood. Stressed: Eat Chocolate The scenario: It's Friday at 6:30 p.m. You're hungry, tired and late for your dinner date. Dinner in 15 Minutes Flat - Make Your Selections. Kitchen Helpers. I found these helpful charts last week and just had to share!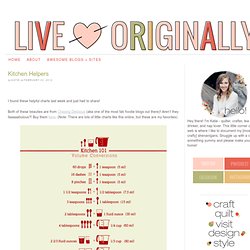 Both of these beauties are from Chasing Delicious (aka one of the most fab foodie blogs out there)! Aren't they faaaaabulous?! Top 10 Things Every Budding Foodie Should Know. You're probably right.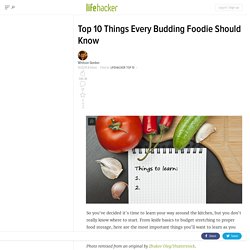 Or you could be like me, a single young male living on his own, never washes hands, cleans kitchen once every other week, ignores best before dates, forgets to throw away old food (and leave it in the fridge until I finally notice), have a cat running around the house. I have never had food poisoning. Guess either I built up a strong enough immune system, or I'm doing just the bare minimum so that I don't get sick.... Maybe I'm lucky, maybe I'm invincible, maybe one day I'll get really sick and it will teach me a lesson :P As for the second part, yeah, I agree that spending money on expensive stuff is kinda pointless when cheap stuff just the job just as good, and lasts just as long. Swole.me - The automatic diet planner. 5 habits of highly successful dieters. Stay clear about the gap between where you want to go and where you are now by monitoring your progress.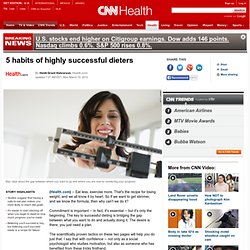 Studies suggest that having a safe-to-eat plan makes you more likely to reach diet goalsIt's easier to start slacking off when you begin to dwell on how much progress you've madeBelieving you'll succeed is key, but believing you'll succeed easily is a recipe for failure (Health.com) -- Eat less, exercise more. That's the recipe for losing weight, and we all know it by heart. So if we want to get slimmer, and we know the formula, then why can't we do it? Commitment is important -- in fact, it's essential -- but it's only the beginning. Small steps toward preventing or reducing childhood obesity. Lots of small steps really do add up when it comes to healthy eating habits.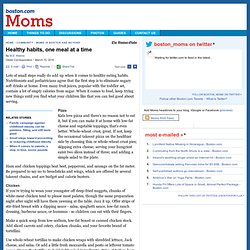 Nutritionists and pediatricians agree that the first step is to eliminate sugary soft drinks at home. Even many fruit juices, popular with the toddler set, contain a lot of empty calories from sugar. When it comes to food, keep trying new things until you find what your children like that you can feel good about serving. Pizza Kids love pizza and there's no reason not to eat it, but if you can make it at home with low-fat cheese and vegetable toppings, that's even better. Foods That Burn Fat - Metabolism Boosting Foods. Drop pounds quickly, safely for spring break. Cut carbohyrdates and increase your vegetable intake to drop pounds quicklySleeping eight hours a night will keep you focused on your goalInterval training makes workouts more effective and aids weight loss Editor's note: Dr.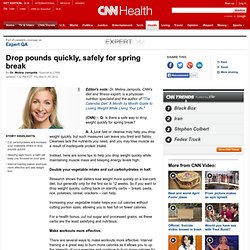 Melina Jampolis, CNN's diet and fitness expert, is a physician nutrition specialist and the author of "The Calendar Diet: A Month by Month Guide to Losing Weight While Living Your Life. "
---