Food
Healthified Monkey Bread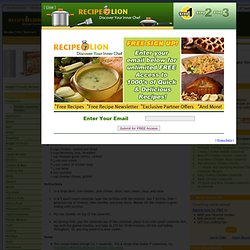 Family-Sized Mexican Chicken Casserole
[ Close Privacy Policy ] Privacy Policy / Your California Privacy Rights Revised and posted as of March 4, 2013. Prime Publishing, LLC ("Company," "we" or "us") reserves the right to revise this Privacy Policy at any time simply by posting such revision, so we encourage you to review it periodically. In order to track any changes to this Privacy Policy, we will include a historical reference at the top of this document. This Privacy Policy will tell you, among other things:
Is it wrong to J-walk into church? …. because I do it just about every Sunday. Is it wrong to curse at people on the road while driving to church?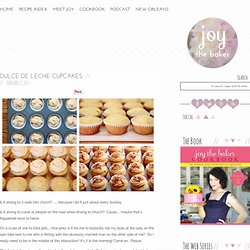 Dulce de Leche Cupcakes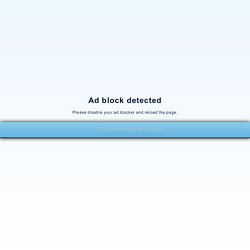 Once Upon a Plate
I may lose a lot of you here, but I love Brussels Sprouts and have been fond of them ever since I was a child. I was enamored with small things then, and they reminded me of tiny cabbage heads. My mom would usually just steam or boil them and we would drizzle apple cider vinegar over them before digging in. But I like them prepared this way even better ~ I parboil (until just barely tender) in salted water, then immediately plunge them into a bowl of ice water to stop the cooking ~ drain well, then cut each in half. No recipe needed for the remainder, just a description: For about 2 cups of Brussels Sprouts ~ snip a slice of two of bacon crosswise into thin strips, cook over medium heat until as crispy as you like.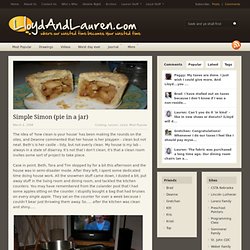 The idea of 'how clean is your house' has been making the rounds on the sites, and Deanne commented that her house is her playpen – clean but not neat. Beth's is her castle – tidy, but not overly clean. My house is my lab – always in a state of disarray. It's not that I don't clean, it's that a clean room invites some sort of project to take place. Case in point.
Simple Simon (pie in a jar) | LloydAndLauren.com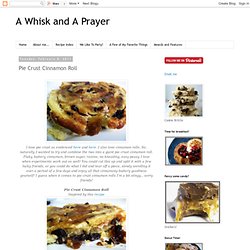 I love pie crust as evidenced here and here. I also love cinnamon rolls. So, naturally, I wanted to try and combine the two into a giant pie crust cinnamon roll. Flaky, buttery, cinnamon, brown sugar, raisins, no kneading, easy peasy. I love when experiments work out so well!
Pie Crust Cinnamon Roll
Make this today. Sorry to be bossy. But this is important. I whipped up this casserole yesterday and loved it. I had a chicken in the fridge, a couple of boxes of mushrooms, and the sheer will to eat a big ol' plate of comfort food.
Creamy Chicken Spaghetti Casserole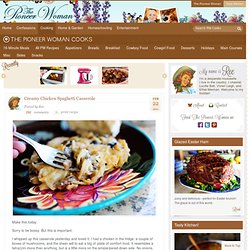 How to Make a Delicious Salad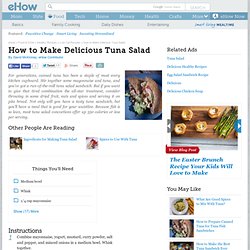 The Fried Chicken to End All Fried Chicken There are, by my count, at least seven levels of fried chicken.
How to Make Chicken Fajitas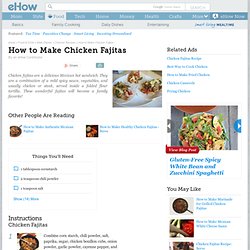 The Fried Chicken to End All Fried Chicken There are, by my count, at least seven levels of fried chicken. The worst of them is good; the best, which I waited forty-four years to find, led to what can only be called an out-of-body experience.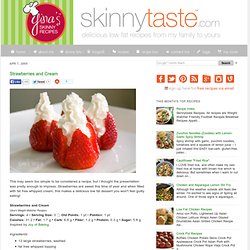 This may seem too simple to be considered a recipe, but I thought the presentation was pretty enough to impress. Strawberries are sweet this time of year and when filled with fat free whipped cream, this makes a delicious low fat dessert you won't feel guilty eating!Strawberries and CreamGina's Weight Watcher RecipesServings: 4 • Serving Size: 3 • Old Points: 1 pt • Points+: 1 ptCalories: 31.2 • Fat: 1.7 g • Carb: 6.8 g • Fiber: 1.2 g • Protein: 0.3 g • Sugar: 5.8 g Inspired by Joy of Baking Ingredients:
Strawberries and Cream - 1 pt | Ginas Skinny Recipes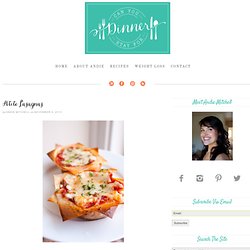 I find there's a fine line between like and obsessed . A whisper-thin, sliver of a line. Take my reverence for Target, for example.
A must have at every large get together: birthdays, football, holidays – this dip always disappears! This is my daughter Karina's favorite dip, which she has nicknamed "the stuff". It's easy to prepare and everyone always wants the recipe when they try it. Serve it at your next party with your favorite baked tortilla chips and play around with the toppings – try jalapeños, scallions or avocados.
One Perfect Bite
From the kitchen of One Perfect Bite...Long before the Reformation split Christian Europe into opposing camps, the Lenten season was marked by a ritual called the Black Fast.
Last night we had dinner with our wonderful neighbours Barb and Clif. Barb is only home one week a month as she works out of town. So when she is home we usually have dinner together at least once or twice. Since it was a work day for me, I decided to make my favourite pasta sauce - Sausage and Rosemary - something I could put on in the morning and then just reheat. For a quick appetizer we had little cocktail toasts topped with warm goat cheese, a toasted walnut half and a drizzle of olive oil.
Thibeault's Table: Italian Garlic Bread with Gorgonzola