Developer resources
A Familiar Tale We've all been there. You are nearly done with a beautiful site design, only to arrive at the task we all dread – form styling. Depending on operating system and browser, default form elements can look okay or horribly disfigured. Cargo cult adherents say that styling form elements is evil, so we live with browser oddities.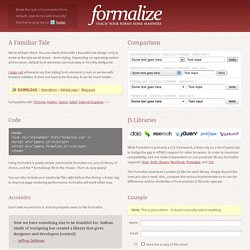 Blueprint is a CSS framework, which aims to cut down on your development time. It gives you a solid foundation to build your project on top of, with an easy-to-use grid, sensible typography, useful plugins, and even a stylesheet for printing. Download Now Latest version: 1.0.1 Last updated May 14, 2011 What does Blueprint have to offer? A CSS reset that eliminates the discrepancies across browsers.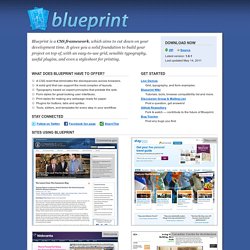 Seriously cross-platform with HTML5 jQuery Mobile framework takes the "write less, do more" mantra to the next level: Instead of writing unique applications for each mobile device or OS, the jQuery mobile framework allows you to design a single highly-branded responsive web site or application that will work on all popular smartphone, tablet, and desktop platforms. Graded Browser Support Theming: Built to be branded We believe that your web site or app should feel like your brand, not any particular OS. To make building highly customized themes easy, we've created ThemeRoller for Mobile to make it easy to drag and drop colors and download a custom theme.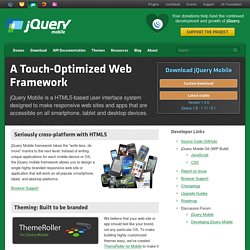 Instantly Better Web Apps Dojo saves you time and scales with your development process, using web standards as its platform. It's the toolkit experienced developers turn to for building high quality desktop and mobile web applications.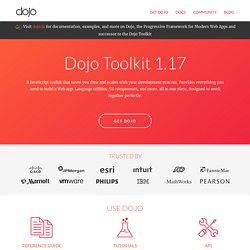 Last week the microformats.org community celebrated its 7th birthday at a gathering hosted by Mozilla in San Francisco and recognized accomplishments, challenges, and opportunities. Humans First: Admin Emeriti & New Admins The microformats tagline "humans first, machines second" forms the basis of many of our principles, and in that regard, we'd like to recognize a few people and thank them for their years of volunteer service as community admins: