Voie Lactée
The helical model - our Galaxy is a vortex
The Helical Model part 2 – Our Galaxy is a Vortex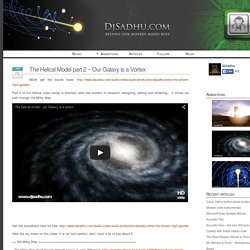 NEW: get the sound track! http://www.djsadhu.com/audio-video/audio-production/djsadhu-enter-the-stream-mp3-goodie/ Part II of the Helical video series is finished, after two months of research, designing, editing and rendering… it shows our path through the Milky Way.
Vortex motion: Viral video showing Sun's motion through galaxy is wrong.
A still frame from DJ Sadhu's video claiming the solar system moves through the galaxy along a vortex. This claim is—to be charitable—incorrect. Image credit: DJ Sadhu, from the video .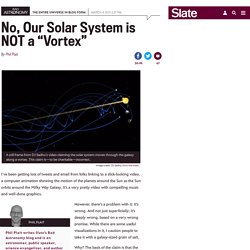 Un pulsar pour sonder le trou noir galactique
Grâce à un pulsar découvert à proximité du trou noir central de la Voie lactée, les astrophysiciens ont pu caractériser le champ magnétique régnant dans cette région. Sean Bailly Le radiotélescope d'Effelsberg, en Allemagne, a permis de mesurer la polarisation du rayonnement émis par un pulsar proche du trou noir supermassif central. MPIfR/Ralph Eatough Pour en savoir plus L'auteur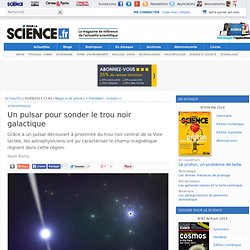 Si l'on en croit une nouvelle estimation, au moins 17 milliards de planètes de taille terrestre se trouveraient dans notre galaxie, la Voie lactée. Toutes ne seraient pas habitables mais elles pourraient présenter des caractéristiques similaires à celles de notre planète. Si de nouvelles planètes sont régulièrement découvertes par les astronomes, on est encore très loin de les avoir toutes identifiées ! Selon une nouvelle estimation basée sur une analyse des données recueillies par le télescope spatial américain Kepler, plus de 17 milliards de planètes de taille terrestre se trouveraient dans la Voie lactée. Avec une telle profusion de potentielles proches parentes, la probabilité de découvrir des planètes habitables augmente considérablement. Vous aimez nos contenus ?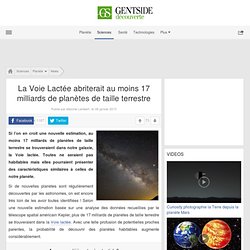 La Voie Lactée abriterait au moins 17 milliards de planètes de taille terrestre - Gentside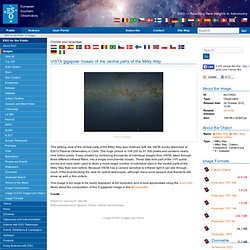 This striking view of the central parts of the Milky Way was obtained with the VISTA survey telescope at ESO's Paranal Observatory in Chile. This huge picture is 108 200 by 81 500 pixels and contains nearly nine billion pixels. It was created by combining thousands of individual images from VISTA, taken through three different infrared filters, into a single monumental mosaic. These data form part of the VVV public survey and have been used to study a much larger number of individual stars in the central parts of the Milky Way than ever before.
1242a - VISTA gigapixel mosaic of the central parts of the Milky Way
Artist's conception of the Milky Way annotated with arms, and galactic longitude and distances from the Solar System
Skymania News and Guide – How our Milky Way grew after Big Bang
Evolution of the Milky Way
Zooming Into The Center Of The Milky Way [720p]
s Hubble Shows Milky Way is Destined for Head-On Collision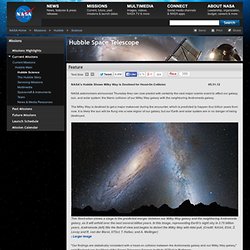 NASA's Hubble Shows Milky Way is Destined for Head-On Collision NASA astronomers announced Thursday they can now predict with certainty the next major cosmic event to affect our galaxy, sun, and solar system: the titanic collision of our Milky Way galaxy with the neighboring Andromeda galaxy. The Milky Way is destined to get a major makeover during the encounter, which is predicted to happen four billion years from now.
La Voie lactée a le bras long
Des observations révèlent que l'un des bras spiraux de notre galaxie est plus étendu qu'on ne le pensait. Stéphane Fay Vue d'artiste de la Voie lactée, qui intègre la découverte du prolongement du bras de l'Écu-Croix. © nasa/jpl-Caltech/R. Benjamin (Univ. du Wisconsin) et R.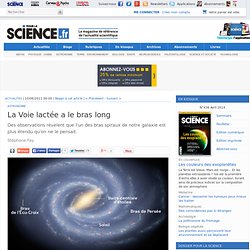 ST - 1982 : première carte gamma de la voie lactée
Mise à jour : 26/09/2011 En 1982, le premier satellite scientifique de l'ESA fournit la première carte de l'émission gamma de la Voie Lactée.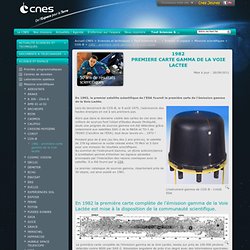 Découverte d'îlots de gaz froid dans notre Galaxie
Paris, le 13 février 2012 Grâce à l'instrument HFI de la mission Planck de l'ESA, une équipe internationale comprenant de nombreux chercheurs du CNRS, du CEA et d'universités françaises, vient de révéler que notre Galaxie contient des îlots de gaz froid jusque-là inconnus. Ce résultat sera présenté cette semaine lors d'une conférence internationale à Bologne (Italie) où des scientifiques du monde entier discuteront ensemble des résultats intermédiaires de la mission Planck. Les nuages froids présents dans les galaxies, en particulier dans notre Voie Lactée, constituent des "réservoirs" à partir desquels se forment les étoiles. Ils se composent essentiellement de molécules d'hydrogène, et dans une moindre mesure de monoxyde de carbone.