LOL / memes
33 Adults Recreate Their Childhood Photos
1 of 33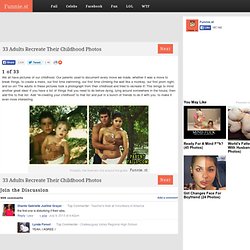 Memes99
L'art du trolling
Vie de Parisien
Chers voisins
Batman Running Away From Shit
Rage Comics - In Real Life
Rage Comics français - Troll Guy, Rage Guy, Trollface, Mème
pillow shirt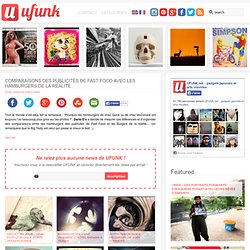 Comparaisons des publicités de Fast Food avec les Hamburgers de la réalité
Comparaisons des publicités de Fast Food avec les Hamburgers de la réalité
WTF
Helmet Experiments by Igor Mitin
reddit: the front page of the internet
Scrolldit.com - Scroll Reddit
Pipotronic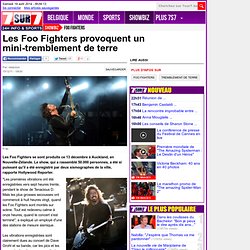 Les Foo Fighters provoquent un mini-tremblement de terre - Musique
Par: rédaction 15/12/11 - 10h30 © ap. Les Foo Fighters se sont produits ce 13 décembre à Auckland, en Nouvelle-Zélande. Le show, qui a rassemblé 50.000 personnes, a été si puissant qu'il a été enregistré par deux sismographes de la ville, rapporte Hollywood Reporter. "Les premières vibrations ont été enregistrées vers sept heures trente, pendant le show de Tenacious D. Mais les plus grosses secousses ont commencé à huit heures vingt, quand les Foo Fighters sont montés sur scène.
Old Spice | Devastating Explosions, at the Touch of a Button
Top 30 des chats à la cool qui se relaxent dans des positions étranges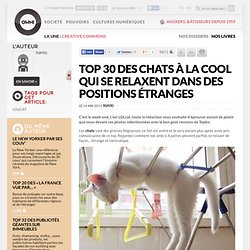 C'est le week-end, c'est LOLcat, toute la rédaction vous souhaite d'éprouver autant de plaisir que nous devant ces photos sélectionnées avec le bon goût reconnu de Topito.
Comment avait-on pu ne pas s'en rendre compte ? Cela se voit pourtant comme le nez au milieu de la figure, et c'est le cas de le dire : l'organe olfactif humain a exactement la même forme qu'une tête de Tortue Ninja. C'est dingue. Exactement la même. C'est le 2 octobre dernier qu'un internaute génial a enfin fait le rapprochement.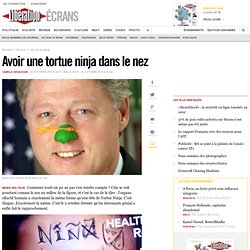 Avoir une tortue ninja dans le nez
Des gens qui ont peur dans une attraction de maison hantée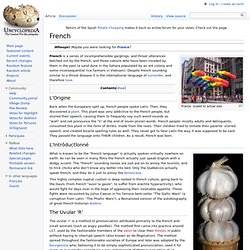 France, scaled to actual size. Whoops! Maybe you were looking for France?
French
Instants! Collection
Le Jet Pack enfin commercialisé
Bienvenue DTC
Doctissimo m'a tuer
The Six Best Billboards Of The Last Six Years
jtwaleson/decrypt
Unusual clock
Violoniste interrompu par une sonnerie
évolution de la télé
We've already showed you how to turn any webpage into a game of Asteroids; now you can add Font Bomb to the list of ways to destroy text of the web. Font Bomb is a fun little JavaScript bookmarklet you can use to plant bombs all around a webpage. Just drag the bookmarklet to your bookmarks bar and then head to a page you want to destroy.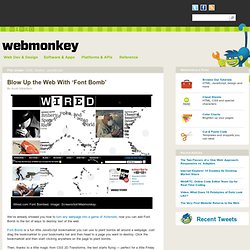 Blow Up the Web With 'Font Bomb'
Flying Horse - Gatorrada (Cat-Toast)
CanCraft: Guy Makes Papercraft Style Superhero/Cartoon/Video Game Characters Out Of Beer And Soda Cans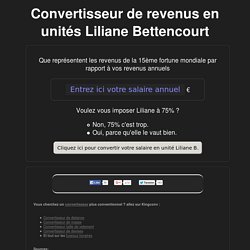 Une fois ses 75% d'impôts payés, Lilliane B. met 65 minute(s) pour gagner votre salaire annuel. Pour vous, l'achat d'une baguette de pain à 1€ est équivalent, pour Liliane, à une dépense de 9300 €. Malgré son imposition. Soit 3 mois de votre salaire. Vous mettrez 7777 année(s) pour atteindre le revenu annuel après impôts de Liliane, soit en l'an 9790.
Convertisseur de revenus en unités Liliane Bettencourt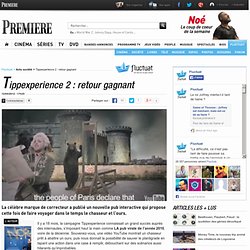 Il y a 18 mois, la campagne Tippexperience connaissait un grand succès auprès des internautes, s'imposant haut la main comme LA pub virale de l'année 2010, voire de la décennie. Souvenez-vous, une vidéo YouTube montrait un chasseur prêt à abattre un ours, puis nous donnait la possibilité de sauver le plantigrade en tapant une action dans une case à remplir, débouchant sur des scénarios aussi hilarants qu'improbables. Vu qu'on ne pond pas d'aussi bonnes idées tous les matins en sirotant son café, l'agence Buzzman a décidé de capitaliser sur celle-là et nous livre la suite de la Tippexperience.
Tippexperience 2 : retour gagnant
Le meilleur du pire des annonces du Bon Coin
Google Type - Write in random Google Images
Magna Arbor Vitae Deku
The Useless Web
Dial Up Sound
Has the Large Hadron Collider destroyed the world yet?
CAT BOUNCE!
The Last Page of the Internet
please like .com by rafaël rozendaal, 2010
collection of jan aman, le duchamp .com by rafaël rozendaal, 2008
Koalas to the Max dot Com