LOL / memes
11 Photos Hilarantes de Chats Mouillés avec des gueules de con • Les Guignols Du Net
33 Adults Recreate Their Childhood Photos
1 of 33 We all have pictures of our childhood. Our parents used to document every move we made, whether it was a move to break things, to create a mess, our first time swimming, our first time climbing the wall like a monkey, our first prom night, and so on! The adults in these pictures took a photograph from their childhood and tried to recreate it! This brings to mind another great idea!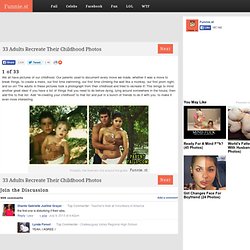 Memes99
L'art du trolling
Vie de Parisien
Chers voisins
Batman Running Away From Shit
Rage Comics - In Real Life
Rage Comics français - Troll Guy, Rage Guy, Trollface, Mème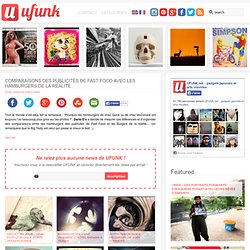 Comparaisons des publicités de Fast Food avec les Hamburgers de la réalité
Comparaisons des publicités de Fast Food avec les Hamburgers de la réalité Tout le monde s'est déjà fait la remarque : "Pourquoi les hamburgers de chez Quick ou de chez McDonald ont toujours l'air beaucoup plus gros sur les photos ?". Dario D's a décidé de mesurer ces différences et d'organiser des comparaisons entre les Hamburgers des publicités de Fast Food et les Burgers de la réalité… (on remarquera que le Big Tasty est celui qui passe le mieux le test…) via / via
WTF
Helmet Experiments by Igor Mitin
reddit: the front page of the internet
reddit gold gives you extra features and helps keep our servers running. We believe the more reddit can be user-supported, the freer we will be to make reddit the best it can be. Buy gold for yourself to gain access to extra features and special benefits. A month of gold pays for 276.46 minutes of reddit server time! Give gold to thank exemplary people and encourage them to post more.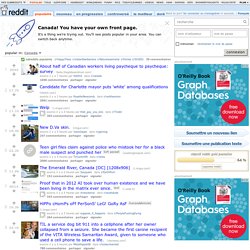 I am Pentagon Papers leaker Daniel Ellsberg. Edward Snowden is my hero. AMA Hi Reddit, I am Daniel Ellsberg, the former State and Defense Department official who leaked 7,000 pages of Top Secret documents on the Vietnam War to the New York Times and 19 other papers in 1971.
Scrolldit.com - Scroll Reddit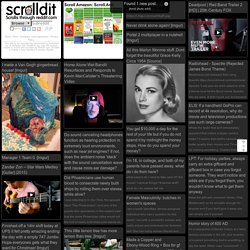 Pipotronic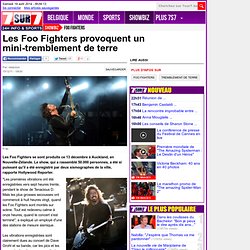 Les Foo Fighters provoquent un mini-tremblement de terre - Musique
Par: rédaction 15/12/11 - 10h30 © ap. Les Foo Fighters se sont produits ce 13 décembre à Auckland, en Nouvelle-Zélande. Le show, qui a rassemblé 50.000 personnes, a été si puissant qu'il a été enregistré par deux sismographes de la ville, rapporte Hollywood Reporter. "Les premières vibrations ont été enregistrées vers sept heures trente, pendant le show de Tenacious D. Mais les plus grosses secousses ont commencé à huit heures vingt, quand les Foo Fighters sont montés sur scène.
Old Spice | Devastating Explosions, at the Touch of a Button
Top 30 des chats à la cool qui se relaxent dans des positions étranges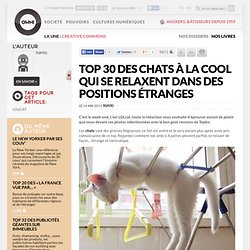 C'est le week-end, c'est LOLcat, toute la rédaction vous souhaite d'éprouver autant de plaisir que nous devant ces photos sélectionnées avec le bon goût reconnu de Topito. Les chats sont des grosses feignasses, ce fait est avéré et le sera encore plus après avoir pris connaissance de ce top. Regardez comment nos amis à 4 pattes peuvent parfois se relaxer de façon… étrange et torticolique. Billet initialement publié sur Topito. Retrouvez d'autres tops "C'est vendredi c'est une connerie".
Comment avait-on pu ne pas s'en rendre compte ? Cela se voit pourtant comme le nez au milieu de la figure, et c'est le cas de le dire : l'organe olfactif humain a exactement la même forme qu'une tête de Tortue Ninja. C'est dingue. Exactement la même. C'est le 2 octobre dernier qu'un internaute génial a enfin fait le rapprochement.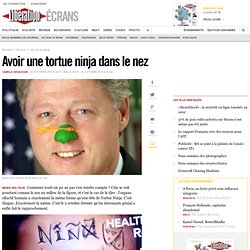 Avoir une tortue ninja dans le nez
Des gens qui ont peur dans une attraction de maison hantée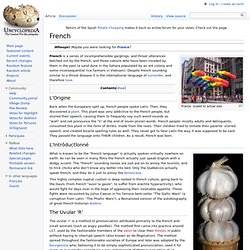 Whoops! Maybe you were looking for France? France, scaled to actual size.
French
Instants! Collection
Le Jet Pack enfin commercialisé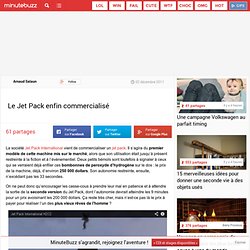 La société Jet Pack International vient de commercialiser un jet pack. Il s'agira du premier modèle de cette machine mis sur le marché, alors que son utilisation était jusqu'à présent restreinte à la fiction et à l'évènementiel. Deux petits bémols sont toutefois à signaler à ceux qui se verraient déjà enfiler ces bombonnes de peroxyde d'hydrogène sur le dos : le prix de la machine, déjà, d'environ 250 000 dollars. Son autonomie restreinte, ensuite, n'excédant pas les 33 secondes.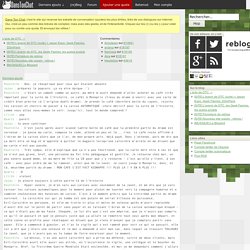 Dans Ton Chat, c'est le site qui recense les extraits de conversation (quotes) les plus drôles, tirés de vos dialogues sur internet. Oui, c'est un peu comme des brèves de comptoir, mais avec des geeks, et de l'interactivité. Cliquez sur les (+) ou les (-) pour voter pour ou contre une quote. Et envoyez les vôtres !
Bienvenue DTC
Doctissimo m'a tuer
The Six Best Billboards Of The Last Six Years
jtwaleson/decrypt
README.md Decrypt This program takes over the screen, prints flickering random characters and slowly makes the piped content (or input file) visible. Effectively, it does what hackers on tv-shows have.
To kolejny wpis z serii "O tym, jak…". Tym razem chciałbym przedstawić wam moją historię z firmą OVH.com. Read more … Czasem przychodzi potrzeba zastąpienia jakiegoś framgentu pliku tekstowego innym wyrażeniem. Z pomocą przychodzi konsolowy program sed. Funkcje wywołujemy komendą:
Unusual clock
Violoniste interrompu par une sonnerie
évolution de la télé
We've already showed you how to turn any webpage into a game of Asteroids; now you can add Font Bomb to the list of ways to destroy text of the web. Font Bomb is a fun little JavaScript bookmarklet you can use to plant bombs all around a webpage. Just drag the bookmarklet to your bookmarks bar and then head to a page you want to destroy.
Blow Up the Web With 'Font Bomb'
Flying Horse - Gatorrada (Cat-Toast)
CanCraft: Guy Makes Papercraft Style Superhero/Cartoon/Video Game Characters Out Of Beer And Soda Cans
Convertisseur de revenus en unités Liliane Bettencourt
Tippexperience 2 : retour gagnant
Le meilleur du pire des annonces du Bon Coin
Google Type - Write in random Google Images
Magna Arbor Vitae Deku
The Useless Web
Dial Up Sound
Has the Large Hadron Collider destroyed the world yet?
CAT BOUNCE!
The Last Page of the Internet
please like .com by rafaël rozendaal, 2010
collection of jan aman, le duchamp .com by rafaël rozendaal, 2008
Koalas to the Max dot Com