Authors
Plass and Lucas on Tour. J. M. Barrie. Sir James Matthew Barrie, 1st Baronet, OM (9 May 1860 – 19 June 1937) was a Scottish author and dramatist, best remembered today as the creator of Peter Pan.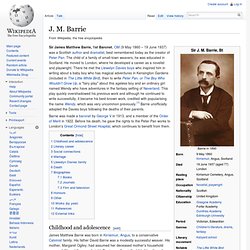 The child of a family of small-town weavers, he was educated in Scotland. He moved to London, where he developed a career as a novelist and playwright. There he met the Llewelyn Davies boys who inspired him in writing about a baby boy who has magical adventures in Kensington Gardens (included in The Little White Bird), then to write Peter Pan, or The Boy Who Wouldn't Grow Up, a "fairy play" about this ageless boy and an ordinary girl named Wendy who have adventures in the fantasy setting of Neverland.
Philip K. Dick. Personal life[edit] The family moved to the San Francisco Bay Area.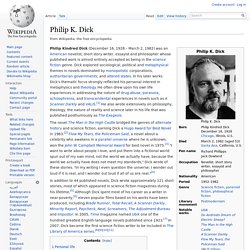 When Philip turned five, his father was transferred to Reno, Nevada. When Dorothy refused to move, she and Joseph divorced. Michael Crichton. Early life and education[edit] John Michael Crichton ("rhymes with frighten"[3]) was born on October 23, 1942 in Chicago, Illinois,[4][5][6][7] to John Henderson Crichton, a journalist, and Zula Miller Crichton.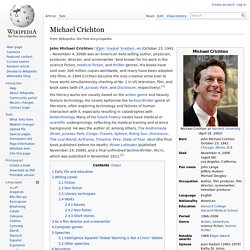 He was raised on Long Island, in Roslyn, New York.[3] Crichton showed a keen interest in writing from a young age and at the age of 14 had a column related to travel published in The New York Times.[1] Crichton had always planned on becoming a writer and began his studies at Harvard College in 1960.[1] During his undergraduate study in literature, he conducted an experiment to expose a professor whom he believed to be giving him abnormally low marks and criticizing his literary style.[8] Informing another professor of his suspicions,[9] Crichton plagiarized a work by George Orwell and submitted it as his own.
Cris rogers - PRACTISING RESURRECTION. Henry Vollam Morton. Henry Canova Vollam Morton FRSL (known as H.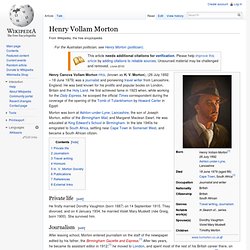 V. Morton), (26 July 1892 – 18 June 1979) was a journalist and pioneering travel writer from Lancashire, England. William Cobbett. Early life and military career: 1763–1791[edit] William Cobbett's birthplace William Cobbett was born in Farnham, Surrey, on 9 March 1763, the third son of George Cobbett (a farmer and publican) and Anne Vincent.[1] He was taught to read and write by his father, and first worked as a farm labourer at Farnham Castle.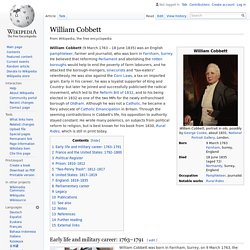 He also worked briefly as a gardener at Kew in the King's garden.[2] John Leland (antiquary) John Leland, also Leyland (13 September, ca. 1503 – 18 April 1552), was an English poet and antiquary.[2][3][4] Leland has been described as "the father of English local history and bibliography".[5] His Itinerary provided a unique source of observations and raw materials for many subsequent antiquaries, and introduced the county as the basic unit for studying the local history of England, an idea that has been influential ever since.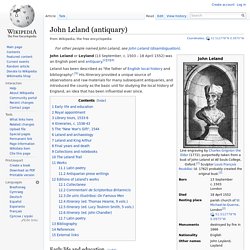 Gerald of Wales. Gerald of Wales (c. 1146 – c. 1223), also known as Gerallt Gymro in Welsh or Giraldus Cambrensis in Latin, archdeacon of Brecon, was a medieval clergyman and chronicler of his times.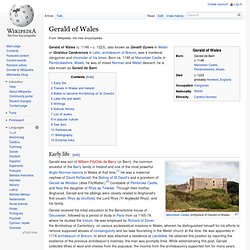 Born ca. 1146 at Manorbier Castle in Pembrokeshire, Wales, he was of mixed Norman and Welsh descent; he is also known as Gerald de Barri. Early life[edit] Gerald was son of William FitzOdo de Barry (or Barri), the common ancestor of the Barry family in Ireland and one of the most powerful Anglo-Norman barons in Wales at that time.[1] He was a maternal nephew of David fitzGerald, the Bishop of St David's and a grandson of Gerald de Windsor (alias FitzWalter),[2] Constable of Pembroke Castle, and Nest the daughter of Rhys ap Tewdwr. Through their mother, Angharad, Gerald and his siblings were closely related to Angharad's first cousin, Rhys ap Gruffydd, the Lord Rhys (Yr Arglwydd Rhys), and his family. William Gilpin (clergyman) William Gilpin (4 June 1724 – 1804) was an English artist, Anglican cleric, schoolmaster and author, best known as one of the originators of the idea of the picturesque.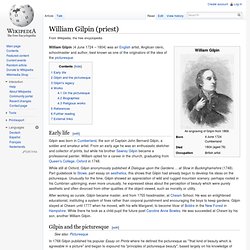 Gilpin was born in Cumberland, the son of Captain John Bernard Gilpin, a soldier and amateur artist. From an early age he was an enthusiastic sketcher and collector of prints, but while his brother Sawrey Gilpin became a professional painter, William opted for a career in the church, graduating from Queen's College, Oxford in 1748. While still at Oxford, Gilpin anonymously published A Dialogue upon the Gardens ... at Stow in Buckinghamshire (1748). Part guidebook to Stowe, part essay on aesthetics, this shows that Gilpin had already begun to develop his ideas on the picturesque.
Celia Fiennes. Claimed to be "the only permanent memorial in the whole country to the memory of Celia Fiennes",[1] this "Waymark" stands in No Man's Heath, Cheshire Pioneering traveller[edit] Fiennes never married.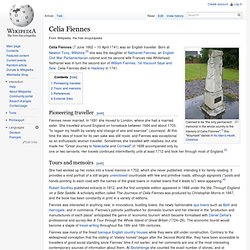 In 1691 she moved to London, where she had a married sister. Thomas Pennant. Thomas Pennant (14 June O.S. 1726 – 16 December 1798) was a Welsh naturalist, traveller, writer and antiquarian.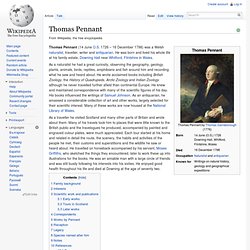 He was born and lived his whole life at his family estate, Downing Hall near Whitford, Flintshire in Wales. As a naturalist he had a great curiosity, observing the geography, geology, plants, animals, birds, reptiles, amphibians and fish around him and recording what he saw and heard about. He wrote acclaimed books including British Zoology, the History of Quadrupeds, Arctic Zoology and Indian Zoology although he never travelled further afield than continental Europe. He knew and maintained correspondence with many of the scientific figures of his day. Daniel Defoe. Daniel Defoe (/ˌdænjəl dɨˈfoʊ/; c. 1660 – 24 April 1731),[1] born Daniel Foe, was an English trader, writer, journalist, pamphleteer, and spy, now most famous for his novel Robinson Crusoe. Defoe is notable for being one of the earliest proponents of the novel, as he helped to popularise the form in Britain, and, along with others such as Samuel Richardson, is among the founders of the English novel.
A prolific and versatile writer, he wrote more than 500 books, pamphlets and journals on various topics (including politics, crime, religion, marriage, psychology and the supernatural). He was also a pioneer of economic journalism.[2] Early life[edit] Daniel Foe (his original name) was probably born in the parish of St. New Testament. The New Testament (Koine Greek: Ἡ Καινὴ Διαθήκη, Hē Kainḕ Diathḗkē) is the second major part of the Christian biblical canon, the first part being the Old Testament. Although Christians hold different views from Jews about the Old Testament, Christians regard both the Old and New Testaments together as sacred scripture. The contents of the New Testament deal explicitly with first-century Christianity.
The Life and Work of John Keats (1795-1821) Into the Wardrobe - a C. S. Lewis web site. Roald Dahl - The Official Web Site.
---