Tech news
Patent Searching and Invention Patenting Information. The Equity Kicker « Nic Brisbourne's view from London on venture capital and exploiting change in technology and mediaThe Equity Kicker. Wayra. 11 Best Web Analytics Tools. When considering the different web analytics tools that your business requires, the plethora of available options can be overwhelming for businesses that may not understand how to use them.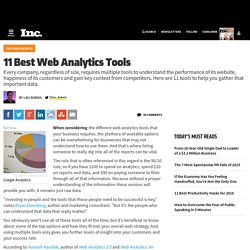 And that's where hiring someone to really dig into all of the reports can be vital. The rule that is often referenced in this regard is the 90/10 rule, so if you have $100 to spend on analytics, spend $10 on reports and data, and $90 on paying someone to filter through all of that information. Richard robinson google. Avinash Kaushik | About. Occam's Razor by Avinash Kaushik - Digital Marketing and Analytics Blog. Technology For Marketing & Advertising 2012. Technology For Marketing & Advertising 2012 - Data & Marketing Analytics. Alexa the Web Information Company. AllThingsD. Peter Thiel To The New Yorker: "I Don't Consider [The iPhone] To Be A Technological Breakthrough" Peter Thiel is a grump, but a special kind of grump.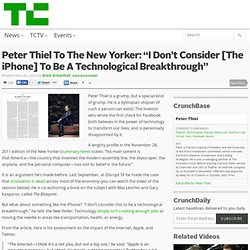 He is a dystopian utopian (if such a person can exist). The investor who wrote the first check for Facebook both believes in the power of technology to transform our lives, and is perennially disappointed by it. A lengthy profile in the November 28, 2011 edition of the New Yorker (summary here) states: "his main lament is that America—the country that invented the modern assembly line, the skyscraper, the airplane, and the personal computer—has lost its belief in the future." It is an argument he's made before. Last September, at Disrupt SF he made the case that innovation is dead across most of the economy (you can watch the video of the session below). Www.newint.org/magazine/ni333-media.pdf. Mac OS X keyboard shortcuts. To use a keyboard shortcut you press a modifier key with a character key.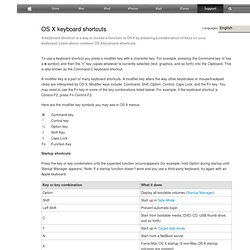 For example, pressing the Command key (it has a symbol) and then the "c" key copies whatever is currently selected (text, graphics, and so forth) into the Clipboard. This is also known as the Command-C keyboard shortcut. A modifier key is a part of many keyboard shortcuts. A modifier key alters the way other keystrokes or mouse/trackpad clicks are interpreted by OS X. Five trends that will dominate the "cloud" in 2012. 2011 has been an exciting year for the cloud.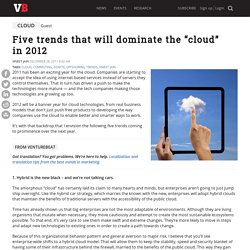 Companies are starting to accept the idea of using internet-based services instead of servers they control themselves. That in turn has driven a push to make the technologies more mature — and the tech companies making those technologies are growing up too. 2012 will be a banner year for cloud technologies, from real business models that don't just push free products to developing the way companies use the cloud to enable better and smarter ways to work. It's with that backdrop that I envision the following five trends coming to prominence over the next year. 1.
Innovative offerings
---