Climate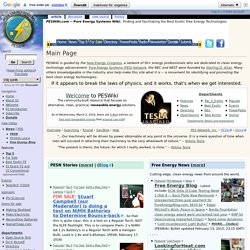 From PESWiki PESWiki is guided by the New Energy Congress, a network of 50+ energy professionals who are dedicated to clean energy technology advancement. More recently, the New Energy Systems Trust (NEST) has been established to help incubate these technologies to market. Pure Energy Systems (PES) Network, the NEC and NEST were founded by Sterling D. Allan. Many others knowledgeable in the industry also help make this site what it is -- a movement for identifying and promoting the best clean energy technologies.
It is good to be turning our attention to the reauthorization of MAP-21. And from discussions with Senator Boxer, we expect this hearing to be the start of another busy year focused on infrastructure, this time working together on polices to address the challenges facing our highway transportation infrastructure. Infrastructure is a critical component of our nation's economy and our quality of life. A first-class infrastructure is fundamental to connect people and communities, and is a critical building block in developing, sustaining, and growing an economy.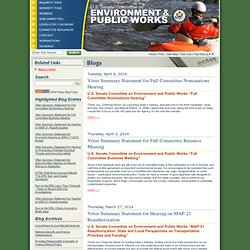 .: U.S. Senate Committee on Environment and Public Works :: Minority Page :.
World Population: has reached 7 billion on October 31, 2011 is projected to reach 8 billion by 2024 has doubled in 40 years from 1959 (3 billion) to 1999 (6 billion) is currently growing at a rate of around 1.14 % per year growth rate reached its peak in the late 1960s, when it was at 2% growth rate is currently declining and is projected to continue to decline in the coming years average annual population change is currently estimated at over 80 million world population will nearly stabilize at just above 10 billion persons after 2062 a tremendous change occurred with the industrial revolution: whereas it had taken all of human history up to the year 1800 for world population to reach 1 billion, the second billion was achieved in only 130 years (1930), the third billion in less than 30 years (1959), the fourth billion in 15 years (1974), the fifth billion in 13 years (1987), the sixth billion in 12 years (1999) and the seventh billion in 12 years (2011).