Food Inspiration
Sprinkle Bakes. Scalloped Potatoes Recipe : Emeril Lagasse. Creme Brulee Recipe : Ina Garten. Directions Preheat the oven to 300 degrees F.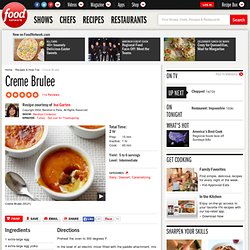 In the bowl of an electric mixer fitted with the paddle attachment, mix the egg, egg yolks, and 1/2 cup of the sugar together on low speed until just combined. From the Kitchen to the Table - Cooking with Raclettes. For a great cooking event, host a Raclette party!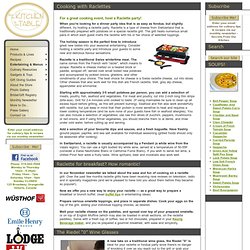 When you're looking for a dinner party idea that is as easy as fondue, but slightly different, try hosting a raclette party. Raclette is a type of cheese from Switzerland that is traditionally prepared with potatoes on a special raclette grill. The grill heats numerous small pans in which each guest melts the raclette with his or her choice of selected toppings. The holiday season is the perfect time to introduce great new tastes into your seasonal entertaining. The CIA in California-The Culinary Institute of America. All the award-winning restaurants at the CIA in St.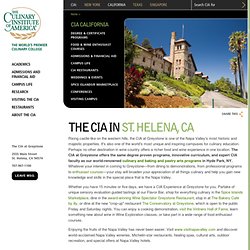 Helena are part of our students' educational experience. Reservations are suggested for all restaurants except The Bakery Café by illy. Whole Foods Market: Natural and Organic Grocery. Bouchon Bakery | Yountville. Long Meadow Ranch - Farmstead - Restaurant. Farmstead at Long Meadow Ranch showcases the seasonal, ingredient-driven American farmhouse cooking of executive chef Stephen Barber.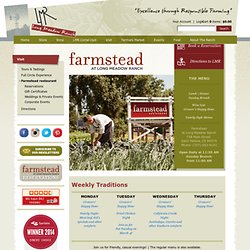 Housed in a former nursery barn, our 110-seat restaurant revolves around a central open kitchen with booth and central seating, community dining, and a full bar. We feature an authentic farm-to-table menu. The ingredients are foraged from local sources and feature Long Meadow Ranch's all natural grass-fed beef, organic and sustainably produced eggs, fruits, vegetables, extra virgin olive oil, vinegar, and honey. Possessing a substantial background in Southern cooking styles, Stephen emphasizes a wood-burning element for select dishes. Stephen's kitchen at Farmstead at Long Meadow Ranch is also outfitted with a plancha, a cast-iron grill ideal for searing Long Meadow Ranch's healthy, tender, and flavorful grass-fed Highland beef.
Foodess. Smitten kitchen. La Tartine Gourmande. Epicurious.com: Recipes, Menus, Cooking Articles & Food Guides. Allrecipes.com - recipes, menus, meal ideas, food, and cooking tips.
Food Network - Easy Recipes, Healthy Eating Ideas and Chef Recipe Videos.