Music
Eliza Doolittle. Eliza is a Cockney flower girl, who comes to Professor Henry Higgins asking for elocution lessons, after a chance encounter at Covent Garden.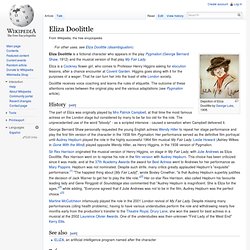 Higgins goes along with it for the purposes of a wager: That he can turn her into the toast of elite London society. History[edit] The part of Eliza was originally played by Mrs Patrick Campbell, at that time the most famous actress on the London stage but considered by many to be far too old for the role. The unprecedented use of the word "bloody" - as a scripted intensive - caused a sensation when Campbell delivered it. Martine McCutcheon infamously played the role in the 2001 London revival of My Fair Lady. AllAboutJazz.com. BLACK CAB SESSIONS. Classic FM - Classical Music Radio. Daytrotter: The source for new music discovery and free MP3 down. Drowned in Sound. Jazz.com | Jazz Music – Jazz Artists – Jazz News. Jazz FM - Listen on DAB Digital Radio, Sky 0202, Freesat 729 and. Mixcloud - Re-think radio. Music news, tickets, concert and tour dates from Gigulate. Sorte. Naxos Web Radio. The Opera Critic :: the World of Opera including Reviews, News a.
Pitchfork: Home. Popjustice. Rock's Backpages: Rock reviews, rock articles & rock interviews. Royal Opera House. Songkick - Concerts, tour dates, and festivals for your favorite. Spinner UK - Free MP3s, Interviews, Music News, Live Performance. Spotify. We7. Music. Gramophonedzie.
---