Historia biblica
Complete Bible Genealogy - Jesus family tree - Kings of Judah and Israel. Online Bible Study Tools - Your Gateway to Bible Resources. A Pictorial explanation of the Bible. Presenting a Historical Chronological Overview of the Bible Click on these Images to study the Bible.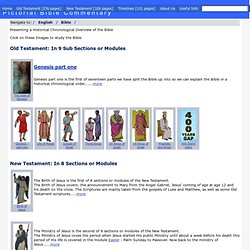 Old Testament: In 9 Sub Sections or Modules. History of Israel and Palestine in VERY Easy To Understand Maps. T he Palestinian Jews were forced to form an organized defense against the Arabs Palestinians.... thus was formed the Hagana , the beginnings of the Israeli Defense Forces [IDF].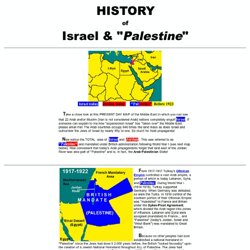 There was also a Jewish underground called the Irgun led by Menachem Begin (who later became Prime Minister of Israel). Besides fighting the Arabs, the Irgun was instrumental in driving out the pro-Arab British. Finally in 1947 the British had enough and turned the Palestine matter over to the United Nations. T he 1947 U.N. Bible Atlas.org: Bible Maps for every OT and NT location. BibleMap.org.
The Early Church. Synopsis ) one of the most famous heretics; b. about 256, in Libya (according to others, in Alexandria); d. 336, at Constantinople.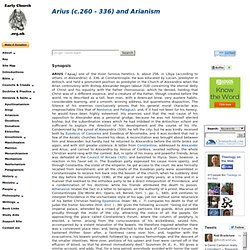 He was educated by Lucian, presbyter in Antioch, and held a prominent position as presbyter in the Church of Alexandria when the Arian controversy with Bishop Alexander began (about 318) concerning the eternal deity of Christ and his equality with the Father (homoousia), which he denied, holding that Christ was of a different essence, and a creature of the Father, though created before the world. He is described as a tall, lean man, with a downcast brow, very austere habits, considerable learning, and a smooth, winning address, but quarrelsome disposition. Bible History Online - Bible Maps. Bible Maps - Biblical Maps and Historical Geography for Bible Study (Printing Instructions: Open the map, right click and print) About Bible Maps Maps are essential for any serious Bible study, they help students of the Scriptures understand the geographical locations and historical backgrounds of the places mentioned in the Bible.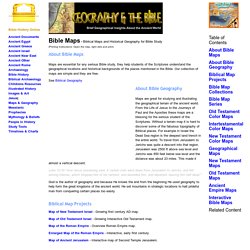 Our collection of maps are simple and they are free. Bible History & Archaeology Published by the Biblical Archaeology Society | Biblical Archaeology Review.
---