Graphs Infographics
Infographic: "How much of the world is online?"
Infographic: "Mad about St. Patrick's Day"
Does Texting Hurt Your Grammar?
Infographic: "If the World were 100 People"
Can Tablets Take the Place of Teachers? (Infographic) | Fluency21 – Committed Sardine Blog
The year in graphics, 2012
How Video Games Are Changing Education
How Students Actually Use their Smartphones
Veterans Day Infographic
Here are 44 Simple Daily Activities To Enjoy Your Work created by OfficeVibe to help keep the motivation high and add some fun back in your work day! You might think it's a truism, but most people tend to forget this crucial fact:You should always make the effort to build good habits that will make you healthier, happier, and more productive over time.Also, when it comes to new habits, it's important to remember that these are things to do for long term changes.This infographic will give you an overview of 44 habits to improve your productivity, your health and the overall quality of your workdays. A fun infographic for Friday! There is some fantastic information included in here. The topic choice will also have a long Online Lifespan, and has the potential to be relevant to readers for years. The design is visually very busy.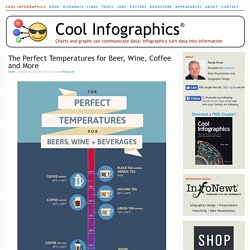 Infographics: Real World Integration of Standards, Design and Informational Text | Expect Success
Let's face it. I have a problem. I've joined the obsessed and need to find some sort of Infographics Geeks Anonymous support group. I am totally fascinated with the amazing world of infographics.
During this year's U.S. election, candidates channeled the power of apps and text messaging to appeal to voters, promote their party platform and fundraise. CallerSmart analyzed how much telephones — smartphones, texts and anonymous phone banks — are bringing democracy to a digital environment. As it turns out, President Barack Obama or Republican presidential candidate Mitt Romney could thank cellphones for being elected on Nov. 6. SEE ALSO: How Are Apps Shaping the 2012 Election?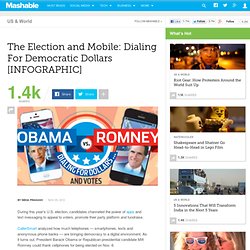 The Election and Mobile: Dialing For Democratic Dollars [INFOGRAPHIC]
Today on All Things Considered, photographer Peter Menzel and his wife, Faith D'Aluisio, discuss their latest book, What I Eat: Around the World in 80 Diets. But 16 years ago, Menzel was working on another project, called Material World: A Global Family Portrait. He and other photographers took portraits of 30 statistically average families with all of their worldly possessions displayed outside their homes.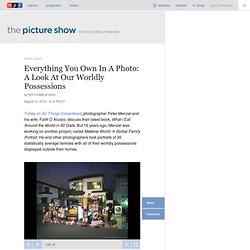 Everything You Own In A Photo: A Look At Our Worldly Possessions : The Picture Show
edtechdigest.com © 2010-2014 EdTech Digest. Skip to content ← Implementing 1-to-1 Computing: Getting Close, But Content Still Falls Short Trends | Infographic: College Degree on Your iPad → Trends | Infographic: Tomorrow's College Will Be Free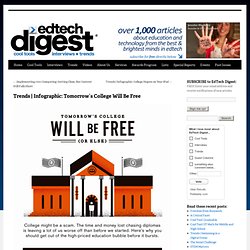 Tomorrow's College Will Be Free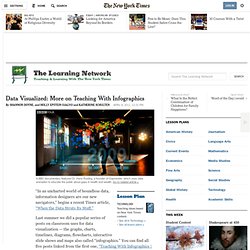 A BBC documentary featured Dr. Hans Rosling, a founder of Gapminder, which uses data animation to educate the public about gaps in health and wealth. Go to related article » "In an uncharted world of boundless data, information designers are our new navigators," begins a recent Times article, "When the Data Struts Its Stuff." Last summer we did a popular series of posts on classroom uses for data visualization — the graphs, charts, timelines, diagrams, flowcharts, interactive slide shows and maps also called "infographics."
What Are Infographics? I found many definitions of what Infographics are as well as explanations of how they are useful in a variety of settings. Here are a couple of the definitions I liked followed by their sources:Information graphics or infographics are graphic visual representations of information, data or knowledge.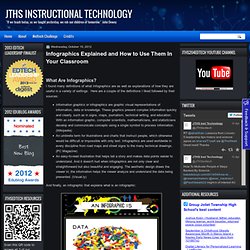 Infographics Explained and How to Use Them In Your Classroom
edtechdigest.com © 2010-2014 EdTech Digest. Skip to content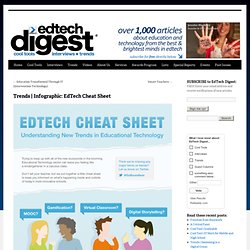 EdTech Cheat Sheet
Presentations and slideshows are great tools in education and learning. They do not only provide information in such a visually appealing way but also help learners remember what they have seen and read. One of the outstanding feature that slidewhows have is their brevity. They provide what is needed in shot sentences and sometimes illustrated with pictures, videos or audio. Throughout my decent experience in teaching in different countries I come to the conclusion that students and teachers too love to have learning materials presented in slideshows.This is why I devoted a whole section in my blog to just sharing with all of you interesting presentations that you can use in your classroom with your students or share with your colleagues. Below is a list of the slideshows I have been shraring in Educational Technology and Mobile Learning.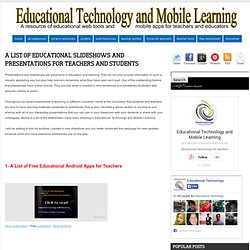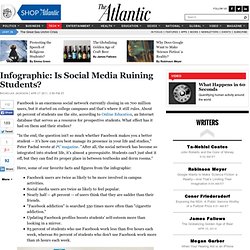 Facebook is an enormous social network currently closing in on 700 million users, but it started on college campuses and that's where it still rules. About 96 percent of students use the site, according to Online Education, an Internet database that serves as a resource for prospective students. What effect has it had on them and their studies? "In the end, the question isn't so much whether Facebook makes you a better student -- it's how can you best manage its presence in your life and studies," Peter Pachal wrote at PC magazine.
Information is very powerful but for the most bit it is bland and unimaginative. Infographics channel information in a visually pleasing, instantly understandable manner, making it not only powerful, but extremely beautiful. Once used predominantly to make maps more approachable, scientific charts less daunting and as key learning tools for children, inforgraphics have now permeated all aspects of the modern world. I designed a couple of infographics back in college, the need arising especially around the time Soccer World Cup fever spiked. It was a fun process representing the different groups, predicting winners in each group at each stage and creating a mock pairing of teams that would clash all the way leading upto the finals.
Infographics are to data what storytelling is to an annual report: a more engaging way to help bring attention and understanding to your nonprofit's cause. Yesterday we looked at an interesting infographic that suggested a new way to view your volunteers. Today, let's look at infographics in general – and resources to help your nonprofit get started on making your own.
In this tutorial you will learn that data doesn't have to be boring, it can be beautiful! Learn how to use various graph tools, illustration techniques and typography to make an accurate and inspiring infographic in Adobe Illustrator. 1. Set Up Your Document Step 1