Various
Videos. What happened in my birth year? Glowing Mushrooms. With the arrival of Japan's rainy season, a glow-in-the-dark mushroom begins to sprout in Wakayama prefecture.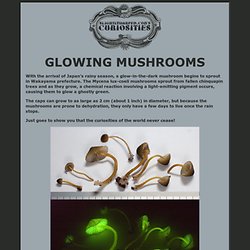 The Mycena lux-coeli mushrooms sprout from fallen chinquapin trees and as they grow, a chemical reaction involving a light-emitting pigment occurs, causing them to glow a ghostly green. The caps can grow to as large as 2 cm (about 1 inch) in diameter, but because the mushrooms are prone to dehydration, they only have a few days to live once the rain stops. Kittenwar! May The Cutest Kitten Win! The biobot. Write Your Name in Elvish in Ten Minutes. Write Your Name in Elvish in Ten Minutes You want to write your name in Elvish, but every place you go seems to make it harder than it ought to be.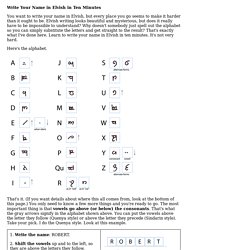 Elvish writing looks beautiful and mysterious, but does it really have to be impossible to understand? Why doesn't somebody just spell out the alphabet so you can simply substitute the letters and get straight to the result? The Usability of Passwords (by @baekdal) #tips. Security companies and IT people constantly tells us that we should use complex and difficult passwords.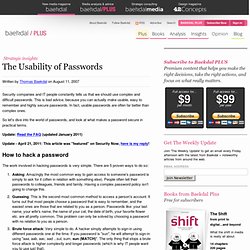 This is bad advice, because you can actually make usable, easy to remember and highly secure passwords. In fact, usable passwords are often far better than complex ones.
---