Webcomics
Monday, December 23 — 3:00 PM Surprise! One last Christmas gift for you guys: Super Carol 64! I wasn't sure if I'd be able to finish this one in time (I'm leaving the state to visit my in-laws in a couple hours), so it doesn't have quite as many songs as I'd like, but I hope you enjoy. The concept is pretty simple–mashing up various Nintendo songs with Christmas carols.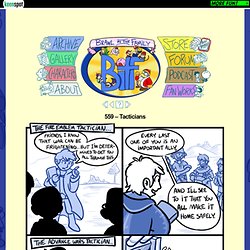 Brawl in the Family - Pale Moon
Collatz Conjecture
Questionable Content: New comics every Monday through Friday
Sinfest: The Webcomic To End all Webcomics
And as my arm is finally unwrapped from its cast, so shall I wrap up this broken arm storyline :) Thanks everyone for your patience and support, but thanks especially to all the rad people who stepped up so you didn't have to go a single week without a funny picture to look at! I hope you've already taken the time to thank them by checking out their respectivelly excellent comics and also Jonathon's new KICKSTARTER campaign to print A Mad Tea Party (linked above). I also want to take the time to once again thank Kory Bing who stepped in to ink my left-handed lines in comics #635, #637, #639, and #642. She did a fantastic job and I can highly recommend her services to anyone who is looking for an inker.
Wasted Talent - a webcomic by Angela Melick
Buttersafe – Updated Tuesdays and Thursdays
Comics
March 5th, 2010
Kawaii Not: the webcomic for cute gone bad!
Pajama Forest! A Family Friendly Webcomic Of Awesomeness!
Glad to be back, the year (which I heard has a fourteen somewhere in there) is new, I have no freelance, and am happy to finally start pumping these out. Hope everyone had an awesome holiday filled with sass Sorry about the art, I've gotten a little rusty/slower Also, Scout Crossing updated. Thank you all for reading, updates are going to be much more frequent. This is a little hard to talk about, but over the past year, things haven't been easy, in a way I've struggled with many things with the comic that I didn't struggle with before.
a Guy and his Monster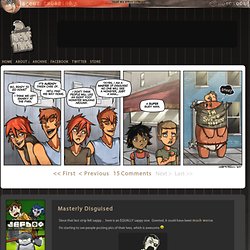 The M files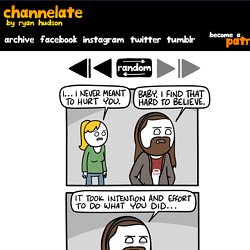 The Store just got some new stuff all up in it! First is the third collection of channelate comics! It's called "You Used to Be Funnier".
channelATE.com Comics and Cartoons by Ryan Hudson
The Mouse Trap - Because we're stuck on our computers!
Hyperbole and a Half
Power is intoxicating. Everyone loves having the ability to make their decisions into reality — to think "this should be something that happens," and then actually be able to make that thing happen. It is also dangerous.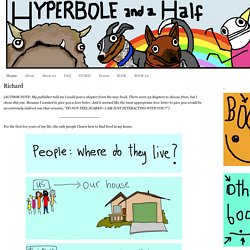 Pale Moon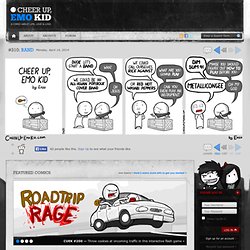 Update 5/15: Added sticker sheets! Hey all, just wanted to let you know two weeks from this Saturday I'll be exhibiting at the Vancouver Comic Arts Festival (VanCAF). If you're in the city you should definitely stop by, the festival runs on Saturday the 25th from 10am-6pm and Sunday the 26th from 11am-5pm.
Cheer Up, Emo Kid - Pale Moon
theWAREHOUSE web comic - Pale Moon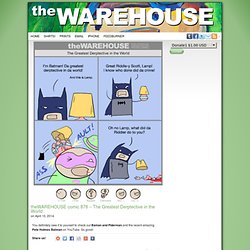 Hi again guys and gals! I need your votes. (link isn't quite right yet, i'll try to update when the design is available, but I wanted to make this post now. Look for the one that's the astronaut on orange, as pictured here) I put together what I think is a super neat illustration of a spaceman jumping off a swing. You can see it over at Threadless.