Architecture + design
Moss carpet for your bathroom. Yorkshire Sculpture Park. Bathroom Design 01 Mixed Media by Benjamin Bullins - Bathroom Design 01 Fine Art Prints and Posters for Sale. This piece has been already sold.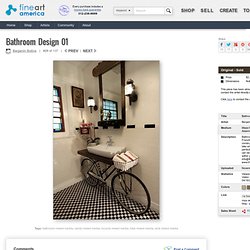 Please feel free to contact the artist directly regarding this or other pieces. Click here to contact the artist. Medium Mixed Media - Found Object Assemblage. Man decorates basement with $10 worth of Sharpie | Heraldleaderphoto.com. MehmetAliUysal.jpg (600×400) Furnibloom.jpg (475×429) Real-moss-tables-by-ayodhya.jpg (537×403) Plant_table_kinokoto_2_X2hFx_24431.jpg (550×522) Glass door with a surprise. Christmas Lights in 8 Bedrooms. Image of the Week: Light Pollution Over Chicago. This is a community post, untouched by our editors.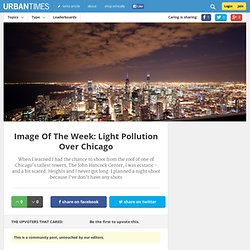 When I learned I had the chance to shoot from the roof of one of Chicago's tallest towers, The John Hancock Center, I was ecstatic – and a bit scared. Heights and I never got long. Good Design is as Little Design as Possible. Dieter Rams garden portrait by Philip Sinden Dieter Rams is not comfortable with fame.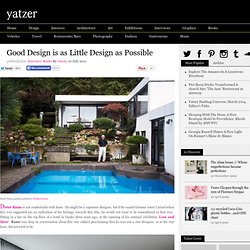 He might be a superstar designer, but if the raised German tones I heard when this was suggested are an indication of his feelings towards this title, he would not want to be remembered in that way. Sitting in a bar on the top floor of a hotel in Osaka three years ago, at the opening of his seminal exhibition 'Less and More', Rams was deep in conversation about this very subject proclaiming that he was not a star designer, or at the very least, did not wish to be. photo by Philip Sinden Braun ET 55 - Design Dieter Rams and Dietrich Lubs.
Rees Roberts + Partners LLC. The Floating House. Built literally on Lake Huron in Ontario, Canada, by MOS Architects, Floating House is a private dwelling produced in such a way that it is unaffected by the lakes' drastically varying water levels.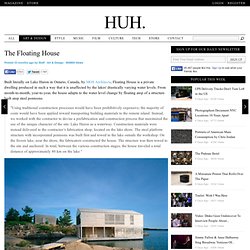 From month-to-month, year-to-year, the house adapts to the water level change by floating atop of a structure built atop steel pontoons. "Using traditional construction processes would have been prohibitively expensive; the majority of costs would have been applied toward transporting building materials to the remote island. Instead, we worked with the contractor to devise a prefabrication and construction process that maximized the use of the unique character of the site: Lake Huron as a waterway. Construction materials were instead delivered to the contractor's fabrication shop, located on the lake shore.
The steel platform structure with incorporated pontoons was built first and towed to the lake outside the workshop. The Weekend Cabin - adventure journal. It's about the longing for a sense of place, for shelter set in a landscape…for something that speaks to refuge and distance from the everyday.
Nostalgic and wistful, it's about how people create structure in ways to consider the earth and sky and their place in them. It's not concerned with ownership or real estate, but what people build to fulfill their dreams of escape. The very time-shortened notion of "weekend" reminds that it's a temporary respite. Weekend Cabin is a new feature to Adventure Journal, appearing on Fridays, and this first one kicks off with a collection of images gathered from the nooks and crannies of Tumblr — classic weekend cabins, set in or near the woods, probably slightly musty, and most definitely stocked with well-used games of Yahtzee and jigsaw puzzles with a few pieces missing. The most interesting man in the room. I'm an Architect.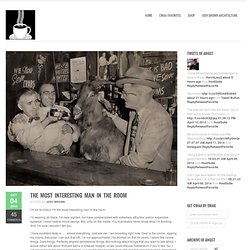 I'm the most interesting man in the room. I'm wearing all black. I'm near sighted, but have compensated with extremely attractive and/or expensive eyewear. I have radical mood swings. But, only on the inside. Natural Pools or Swimming Ponds. Natural Pools or Natural Swimming Ponds (NSPs) Let nature clean the water...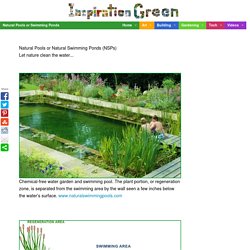 Chemical-free water garden and swimming pool. The plant portion, or regeneration zone, is separated from the swimming area by the wall seen a few inches below the water's surface. www.naturalswimmingpools.com The pools have skimmers and pumps that circulate the water through the regeneration zone and back into the swimming area. The aquatic plants filter out contaminants and use nutrients from the water as food which helps prevent algae.
The Infinity Room. With this immersive installation, French artist Serge Salat invites visitors to take a journey through endless layers of space, decked out with cubic shapes, panels of mirrors, shifting lights and music.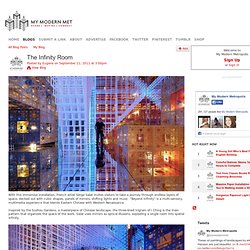 "Beyond Infinity" is a multi-sensory, multimedia experience that blends Eastern Chinese with Western Renaissance. Inspired by the Suzhou Gardens, a masterpiece of Chinese landscape, the three-lined trigram of I Ching is the main pattern that organizes the space of the work. Salat uses mirrors as optical illusions, exploding a single room into spatial infinity. via [Architizer]
Make a Big Splash: Clear Glass Tub Boston Home Magazine | Apartment Therapy Boston. 10 Most Awesome Floors Ever Created | Floorstoyourhome. Posted on January 8, 2010 by Frank A new part 2 of this article is now posted here!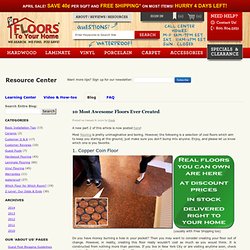 Most flooring is pretty unimaginative and boring. 1315790513-dresscode-sign-687x1000.jpg (687×1000) :::: OutsaPop Trashion recycled style DIY fashion eco sustainable refashion blog ::::: Trashion shelf inspiration. e17_00000014.jpg (991×582) Architecture speak: An essay on the ridiculous way architects talk. - By Witold Rybczynski. Although Ted Mosby, the architect character in How I Met Your Mother, has suitably tousled hair and his (client-less) firm has a trendy name—Mosbuis Designs—he doesn't seem to have mastered the lingo of his trade, for architects, like all professionals, have their own jargon, while Ted speaks like an ordinary guy.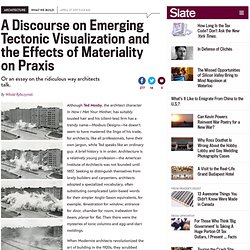 A brief history is in order. Architecture is a relatively young profession—the American Institute of Architects was not founded until 1857. Seeking to distinguish themselves from lowly builders and carpenters, architects adopted a specialized vocabulary, often substituting complicated Latin-based words for their simpler Anglo-Saxon equivalents, for example, fenestration for window, entrance for door, chamber for room, trabeation for beam, planar for flat.
Rune Guneriussen & Escape Into Life. These dream-like installations are assembled, and then photographed by Norwegian artist Rune Guneriussen. Just imagine being out for a walk in Norway's countryside, turning a corner and discovering a magical forest of lamps, a tangle of chairs, or a river of books. Sadly, once the photograph is taken, Rune removes the installation, the only proof of it's existence being these images… sort of like waking up from an amazing dream that you could have sworn was real. As an artist, I believe strongly that art itself should be questioning and bewildering as opposed to patronising and restricting. As opposed to the current fashion I do not want to dictate a way to the understanding of my art, but rather indicate a path to understanding a story. Liquid Wood: Fantastic 100% Organic Bio-Plastic Material.
It looks like wood, feels like wood, is even made of wood – but it shifts shape and solidifies like plastic, bringing together the most powerful material assets of two of the most used materials on the planet. Lingin (an often-discarded element of regular wood) is combined with natural resins, flax and fibers that can be injected into molds and form extremely complex, precision-shaped objects normally made of conventional, non-biodegradable petroleum-based plastics. The result has been dubbed Arboform by its German inventors, and may well revolutionize the worlds of material science and mass production.
Just like wood, it breaks down quickly and organically into eco-safe by-products like water and carbon dioxide. It is also made from a leftover part of trees that is unused during the paper-making process – over 100 million pounds of its main ingredient are created as a simple side-effect of the existing pulp industry. What can be made of Arboform? A Billboard That Advertises Nothing But Clean Air | Co.Design. A provocative new sculpture has opened at the U.S. -Canada border crossing near Vancouver, BC. It's a billboard advertising...well, nothing. Yellow Brick House - Vilnius, Lithuania. Metropol Parasol // The World's Largest Wooden Structure | Yatzer™
Acid Trip. Replenish - A Better Cleaner in a Smarter Bottle™ Soap Flakes : Nathalie Stämpfli. Public Art Concepts - Dan Sternof Beyer 2011. A former Cement Factory is now the workspace and residence of Ricardo Bofill... A Table That Turns Your Kitchen Into Mini Ecosystem [UPDATED] Design Drool: A Green House You'll Actually Want to Live In. He lives in a trailer? ehhhhhh…. WHOA « blah blah blah… Rolling Bridge « Heatherwick Studio.
Luxury LA Property With Stunning Views | Luxury Property, Interior Design, Exclusive Travel & Bespoke Furniture. Temptation. Hardwood Floors Follow Trees' Natural Shape, Getting More From Less | Co.Design. House On The River - wow, it's actually in the river ... New self-assembling photovoltaic technology that repairs itself. 15 Incredible Applications of Biomimicry. Victor - en bildblogg. Strawjet - A Modern Marvel Top 25 Invention of 2006. Another Way To Hide The Bed: Put It In A Box. Who Doesn't Want To Live In This Dream House? Beautiful Student-Built Prefab Office Wins AIA Citation Pre-fabricated Adaptive Auxiliary Volume – Inhabitat - Green Design Will Save the World. JadeMountain28.jpg (1800×900) BIG - Bjarke Ingels Group.
Designers Spin Spidey-Worthy Webs From Packing Tape. Singita, Luxury African Game Reserve | Luxury Property, Interior Design, Exclusive Travel & Bespoke Furniture. 15 Awesome And Inspiring Offices.
---