Sandwiches/wraps etc.
Greek Chicken Salad » Annie's Eats. So the big feasting holiday has come and gone.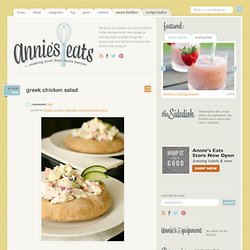 I hope everyone had a wonderful time with friends and loved ones, and enjoyed great food! Our Thanksgiving was a blast and everything went very well. Being together with so many family members makes me so grateful for all the blessings in our life. Of course, in the wake of the holiday I find myself craving lighter, healthier foods. I created this Greek chicken salad recently and was thrilled with the result. Slow-Cooker Brisket Sandwiches Recipe : Directions Heat the vegetable oil in a large skillet over medium-high heat.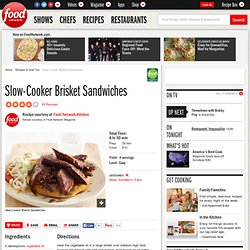 Season the brisket with salt and pepper, then brown on all sides, about 10 minutes, adding the garlic in the last 2 minutes. Transfer the meat and garlic to a 5-to-6-quart slow cooker. Pour the beer into the skillet and simmer 30 seconds, scraping up the browned bits from the pan; add the beer mixture to the slow cooker. Nestle the celery around the meat and add the brown sugar, tomato paste, vinegar, mustard, soy sauce, bay leaves and paprika. Pulled Pork Recipe : Food Network Kitchens.
Directions In a large Dutch oven heat 2 teaspoons of oil over medium heat.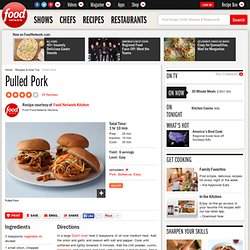 Add the onion and garlic and season with salt and pepper. Cook until softened and lightly browned, 5 minutes. Add the chili powder, cumin, cinnamon, and cayenne and cook until toasted, 1 minute more. Asian Turkey Burgers Recipe : Food Network Kitchens. Directions Put the bulgur in a medium bowl and add the boiling water.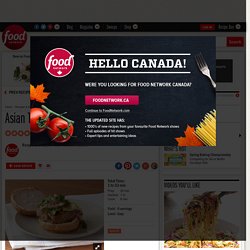 Cover with plastic wrap and let stand until the bulgur is tender, 45 minutes to 1 hour. Meanwhile, in a medium bowl whisk the vinegar and sugar with a generous seasoning of salt and pepper until dissolved. Add the cucumber and onion, toss well and set aside to marinate for about 30 minutes. Chicken and Bean Burrito Verde Recipe : Ellie Krieger. Directions Heat 2 teaspoons of the oil in a medium skillet.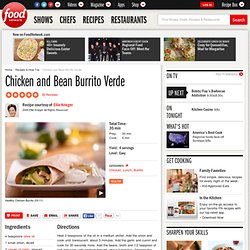 Add the onion and cook until translucent, about 3 minutes. Add the garlic and cumin and cook for 30 seconds more. Easy Chicken-Mushroom Quesadillas Recipe : Ellie Krieger.
---