Sandwiches/wraps etc.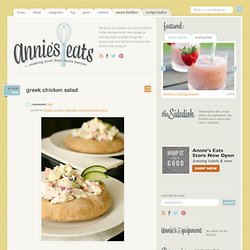 Greek Chicken Salad » Annie's Eats
So the big feasting holiday has come and gone. I hope everyone had a wonderful time with friends and loved ones, and enjoyed great food! Our Thanksgiving was a blast and everything went very well. Being together with so many family members makes me so grateful for all the blessings in our life. Of course, in the wake of the holiday I find myself craving lighter, healthier foods. I created this Greek chicken salad recently and was thrilled with the result.
Ingredients 2 tablespoons vegetable oil 1 5-to-6-pound first-cut or flat-cut brisket, cut into 3 pieces Kosher salt and freshly ground pepper 4 cloves garlic, smashed and peeled 1 12-ounce bottle stout beer 4 stalks celery, cut into large pieces 2/3 cup packed dark brown sugar 1/2 cup tomato paste 1/2 cup red wine vinegar 1/3 cup dijon mustard 1/3 cup soy sauce 2 bay leaves 1 teaspoon paprika 2 brioche or other rolls, split open and toasted Coleslaw, for serving Directions Heat the vegetable oil in a large skillet over medium-high heat.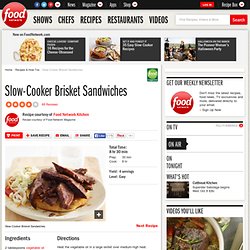 Slow-Cooker Brisket Sandwiches Recipe :
Directions In a large Dutch oven heat 2 teaspoons of oil over medium heat. Add the onion and garlic and season with salt and pepper. Cook until softened and lightly browned, 5 minutes. Add the chili powder, cumin, cinnamon, and cayenne and cook until toasted, 1 minute more.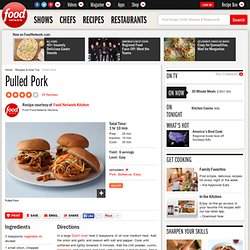 Pulled Pork Recipe : Food Network Kitchens
Asian Turkey Burgers Recipe : Food Network Kitchens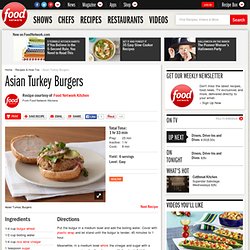 Notes We lightened these burgers by cutting back on the meat and adding some texture with bulgur. Great Asian flavors in the burger, a quick picking of cucumbers and onions and a spicy yogurt sauce tie everything together. Ingredients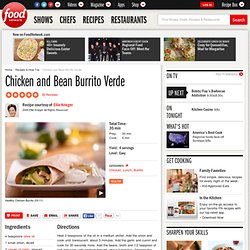 Directions Heat 2 teaspoons of the oil in a medium skillet. Add the onion and cook until translucent, about 3 minutes. Add the garlic and cumin and cook for 30 seconds more.
Chicken and Bean Burrito Verde Recipe : Ellie Krieger
Easy Chicken-Mushroom Quesadillas Recipe : Ellie Krieger