Others
A Cozy Kitchen. Baking & Cooking Blog | Evil Shenanigans. Smells-like-home — A Collection of Favorites from a Kitchen-Savvy New Englander. Gimme some oven. The Hazel Bloom. Seasaltwithfood. Recipes, Menus, Food & Wine | YumSugar. Ming makes ... Former Chef — Cook. Eat. Travel. Grow. Foodpickle - food52 - food community, recipe search and cookbook contests. Delicious Meliscious - a cooking blog by Melissa: Cheesecake Stuffed Strawberries. Not being a fan of chocolate covered strawberries, I was happy to find these CHEESECAKE stuffed strawberries on The Novice Chef.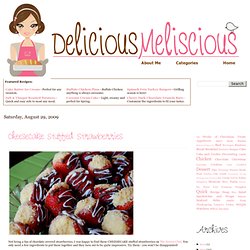 You only need a few ingredients to put these together and they turn out to be quite impressive. Try them - you won't be disappointed! Ingredients:2 quarts of fresh Strawberries1 box Jello No Bake Cheesecake (I used this box mix and it came with the graham cracker crumbs. This was good, but next time I think I'd try making my own filling - just to compare.)Crushed Graham CrackersMilk Chocolate for drizzling (I also used white chocolate because I had some)
Apartment Therapy The Kitchn. Picky Palate.
---