Decor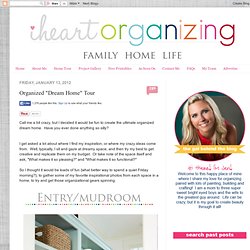 Call me a bit crazy, but I decided it would be fun to create the ultimate organized dream home. Have you ever done anything so silly? I get asked a lot about where I find my inspiration, or where my crazy ideas come from. Well, typically, I sit and gaze at dreamy space, and then try my best to get creative and replicate them on my budget. Or take note of the space itself and ask, "What makes it so pleasing?"
Organized "Dream Home" Tour
diy ikea makeup vanity « msTapioca
Like some of you, I've tried many, many, MANY makeup storage solutions and none of them lasted more than a few months. It would seem like a good idea at first, but when used on a day-to-day basis, it wasn't practical. One storage solution (the common wooden Ikea box) lasted me the longest. It held all of my makeup and had enough drawers to keep everything organized.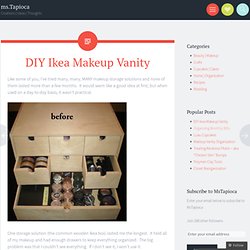 4 Mar I receive dozens of questions on this post thanks to Pinterest! I encourage you to read through the comments to answer your questions! Do you ever see a project that you see that you get a little giddy about doing? Well, this one made me giddy. I have long looked for the right for my house, but they were too big, too little, wrong font or just not right for my house.
Mod Podge Family Monogram – A Little Moore
Sarah's Supremely Stylish West Village Home House Tour
Name: Sarah Location: West Village — NY, NY Size: 650 square feet Years lived in: 2.5 — rented Sarah is one of those enviable people who make the act of creating a very stylish home look effortless. While all of us who work on our homes know how much time, effort and research goes into a space that looks comfortably chic, when it's done with this much panache, all thoughts of hard work fall away... Sarah describes her apartment as classic modern.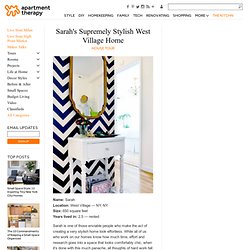 DIY / For all the pictures you have and no frames to put them in. So neat!
DIY / Fold & Roll Magazine Pages, Hot Glue over a Balloon, then Pop Balloon. Ta-daaa: A Basket!
DIY / Tuna can candle holders - such a great idea
DIY / Upcycle your boxes for cute storage bins!!!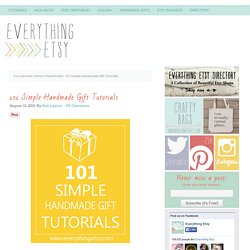 These simple handmade gift tutorials will make any crafty person's heart sing with joy! You don't need special skills or a bunch of time because these can all be done super fast! Simple and cute…that works for me! Oh, and think of all the money you will save making these gifts.
Time and time again, the question that I get asked most frequently by my readers, is "How can I transfer your Graphics on to _____" . Even though I have numerous Transfer Methods on my blogs, and links to others, I have to admit the information is difficult to find since it is spread out in a very unorganized manner! So I thought it was high time I consolidate it all in one place so that you can easily find the method that you want to use for your particular project. Below you will find links to 12 different ways to Transfer onto pretty much any type of material , some are my own Tutorials, some are from friends or readers and a couple of them I found online.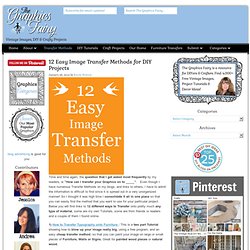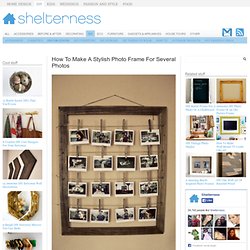 Here is a simple yet stylish photo frame that can accomodate quite many photos at once. The idea is very simple. Fasten twines on the empty frame and hang photos using clothes pins on them. You can use a frame you bought or a frame you made by yourself. To make it you just need to find some wood strips, sand them, paint or stain them and fasten together with the staples and nails.
how to organize jewelry | Fresh Home Blog
My roommate Lindsay writes a fabulous blog with her friend Meredith called Cubicle Chic . Last week I spotted this post on how to organize jewelry and thought it was the perfect fit for . With just two thrift-store frames and a few supplies from the hardware store, Meredith came up with fresh and simple DIY ideas ways to display and organize her jewelry.
I would love, love, love to have the California Closets folks reorganize my wardrobe. First, I'd need to buy a house that had a closet larger than a breadbox, but still! I look at their designs and drool over the elegant, easy, beautifully designed storage solutions. And when I'm rich and famous, I'll hire out their services. In the meantime, I've gotta make do with far less elegant equipment. And although I've already discussed a few great ways to organize clothing , I thought I'd focus on accessory storage today.
Accessory Organization on the Cheap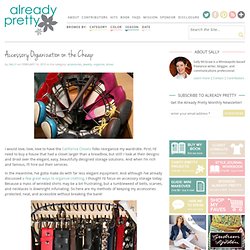 Decorate | Lonnymag.com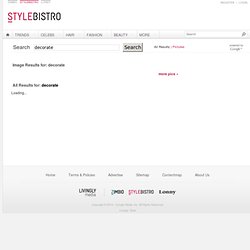 http://www.stylebistro.com/decorate/living_rooms/ Jan 6, 2012 ... It is no secret that we love fun and easy nail art. So when one of our favorite girls over at Lesleykat experimented with Sally Hansen's Gold ... http://www.stylebistro.com/Fashion+Forum/articles/DqNbn Nov 28, 2010 ...