Garden
Plant Hardiness Zone Map. USDA Plant Hardiness Zone Map The 2012 USDA Plant Hardiness Zone Map is the standard by which gardeners and growers can determine which plants are most likely to thrive at a location.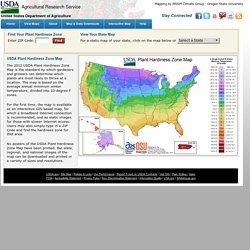 The map is based on the average annual minimum winter temperature, divided into 10-degree F zones. For the first time, the map is available as an interactive GIS-based map, for which a broadband Internet connection is recommended, and as static images for those with slower Internet access. Users may also simply type in a ZIP Code and find the hardiness zone for that area.
Gertens Plant Finder. Spring Gardening on the Cheap. If your thumb is even slightly green, a home garden can go a long way to cutting your grocery bills.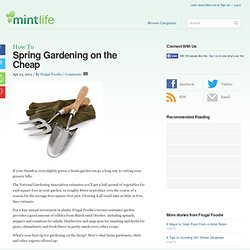 The National Gardening Association estimates you'll get a half-pound of vegetables for each square foot in your garden, or roughly $600 in produce over the course of a season for the average 600-square-foot plot. Growing it all could take as little as $70, they estimate. For a $50 annual investment in plants, Frugal Foodie's terrace container garden provides a good amount of edibles from March until October, including spinach, peppers and tomatoes for salads, blueberries and snap peas for snacking and herbs for pesto, chimichurri, and fresh flavor in pretty much every other recipe. What's your best tip for gardening on the cheap? DIY Succulent Table | Far Out Flora. Matti's Succulent Table Mission DIY succulent table complete.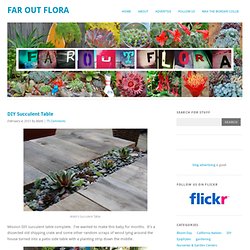 I've wanted to make this baby for months. It's a dissected old shipping crate and some other random scraps of wood lying around the house turned into a patio side table with a planting strip down the middle. Old shipping crate deconstructed. The next couple of pics show a bit of the process. Grow plants from your groceries, like ginger root and pineapple!
Grow your own ginger Ginger is an essential ingredient in Asian cooking.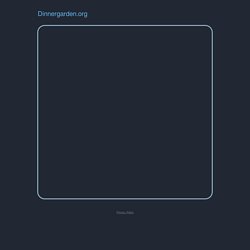 Growing your own is easy and provides an endless supply of ginger for your cooking. You also get an ingredient that is new to most American palates: ginger grass. Create your own Vertical Garden - Living walls and Vertical Gardens. Vertical gardening is a fun, creative way to grow plants in urban spaces!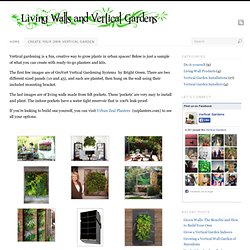 Below is just a sample of what you can create with ready-to-go planters and kits. The first few images are of GroVert Vertical Gardening Systems by Bright Green. There are two different sized panels (10 and 45), and each are planted, then hung on the wall using their included mounting bracket. My Tiny Plot. How to grow a Rainbow Rose, Naturally. In 2004, two dutch companies, River Flowers and F.J.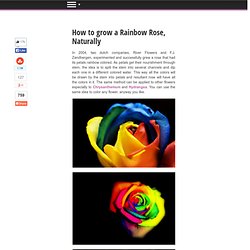 Zandbergen, experimented and successfully grew a rose that had its petals rainbow colored. As petals get their nourishment through stem, the idea is to split the stem into several channels and dip each one in a different colored water. 7 Cheap But Beautiful DIY Garden Decor Ideas. I must be painting a terrible portrait of myself.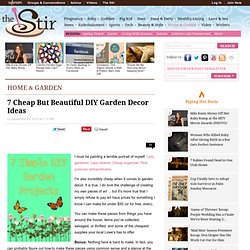 Lazy gardener. Lazy cleaner. Cheap organizer. Pest poisoner extraordinaire. The Lazy Lady's Guide to DIY: Hanging Herb Garden. Companion Planting With Vegetables and Flowers - Organic Gardening. Each spring, I grow legions of onions and shallots from seed, and my biggest challenge is keeping them weeded.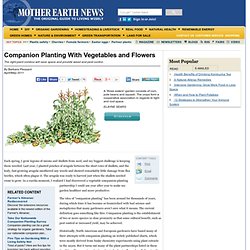 Last year, I planted pinches of arugula between the short rows of shallots, and the leafy, fast-growing arugula smothered any weeds and showed remarkably little damage from flea beetles, which often plague it. The arugula was ready to harvest just when the shallots needed room to grow. In a eureka moment, I realized I had discovered a vegetable companion-planting partnership I could use year after year to make my garden healthier and more productive.
Grow plants from your groceries, like ginger root and pineapple! Companion planting | decisive moments. I am keen to try out companion planting – the practice of planting beneficial plants with each other.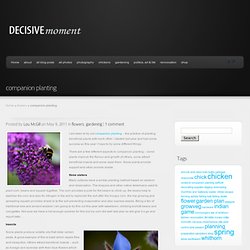 I started last year and had some success so this year I hope to try some different things. There are a few different aspects to companion planting – some plants improve the flavour and growth of others, some attract beneficial insects and some repel them. Some plants provide support and other provide shade. three sistersMany cultures have a similar planting method based on wisdom and observation. Raisedbed.pdf (application/pdf Object) Your fruit, herb and vegetable garden. Growing Herbs - How To Grow Herbs. Harvesting Vegetables Articles-6.
---