HTML5
Get flash to fully experience Pearltrees
Tutorials In this section you will find in-depth how-tos involving common web development and web design techniques. App Showcase with Grid Overlay By Mary Lou 5 Comments A tutorial about creating a simple grid overlay with subtle transitions for an app showcase. ... read more Thumbnail Grid with Expanding Preview
La API Geolocation nos da un método para encontrar la ubicación geográfica exacta de un usuario. Esta información puede ser explotada por nuestras aplicaciones de infinitas maneras. Esta API no fue incluida en la especificación de HTML5 y fue desarrollada de manera separada por el W3C. Pero dada su simpleza de uso y su filosofía en cuanto a la experiencia del usuario, vamos a desarrollar su implementación pudiendo incorporarla a cualquier proyecto HTML5 que tengan. Compatibilidad de navegadores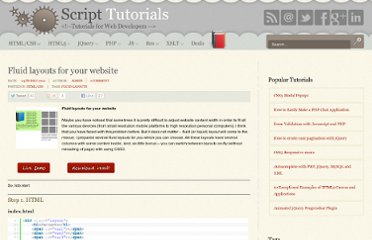 Fluid layouts for your website Maybe you have noticed that sometimes it is pretty difficult to adjust website content width in order to fit all the various devices (from small resolution mobile platforms to high resolution personal computers). I think that you have faced with this problem before. But it does not matter – fluid (or liquid) layout will come to the rescue. I prepared several fluid layouts for you which you can choose.
En esta nota vamos a contarte como construir un blog utilizando las técnicas de la próxima generación , mediante HTML 5 y CSS3, para estar siempre actualizado y listo para recibir a las nuevas tendencias . Paso por paso explicaremos cómo construir cada uno de los sitios una vez que hayan sido finalizadas las especificaciones y todos los navegadores hayan implementado los cambios. Lo que vamos a construir
Easy High DPI Images March 28, 2013 By Boris Smus Opera unsupported IE unsupported Safari unsupported Firefox unsupported Chrome supported mobile css images graphics multimedia nuts_and_bolts This article describes a way to do as little work as possible, yet still serve beautiful images for both high and low DPI screens. Profiling Mobile HTML5 Apps With Chrome DevTools
En Blog — Diseño Web Una de las principales características de HTML5 son sus posibilidades semánticas . Si antes usábamos DIV para dividir las diferentes unidades de información sin importarnos muchos sobre el tipo de contenido que había dentro, HTML5 nos ofrece un abanicio bastante más amplio: NAV, ARTICLE, ASIDE, SECTION, FIGURE y más. La semántica es importantes porque ayuda a definir la naturaleza del contenido que se está mostrando. Si bien visualmente no hay grandes diferencias -podemos usar DIVs y modelarlo con CSS- desde el punto de vista lógico es mucho mejor que un intérprete como el el navegador pueda detrminar si lo que estamos mostrando es un menú para acceder a diferentes secciones, el artículo principal de una nota, una información complementaria o la sección de una monografía. En el futuro, seguramente los diferentes dispositivos harán uso intensivo de la semántica.
In March 1936, an unusual confluence of forces occurred in Santa Clara County. A long cold winter delayed the blossoming of the millions of cherry, apricot, peach, and prune plum trees covering hundreds of square miles of the Valley floor. Then, unlike many years, the rains that followed were light and too early to knock the blossoms from their branches. Instead, by the billions, they all burst open at once.