Creatividad
Los nuevos métodos de reclutamiento June 22nd, 2011 Lo de que hay que ir donde está la gente es una máxima de cualquier anunciante. Pero no sólo para vender. También para reclutar al personal.
RESHACKA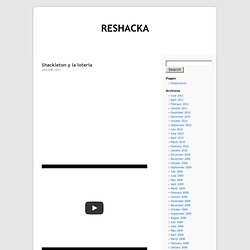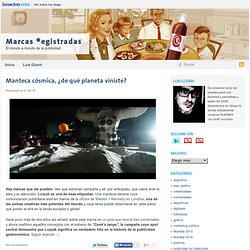 Parece haber pasado el aluvión de noticias papales. Aprovecho entonces para sumar uno de los últimos eslabones de esta cadena que parece interminable y que se seguirá alimentando a cada paso de Francisco. En este caso, se trata del aprovechamiento de una noticia verdaderamente global y su utilización para atraer atención hacia la marca en cuestión, redes sociales mediante . El tuit que encabeza este posteo fue lanzado desde la cuenta oficial de Twitter de Citroën el 12 de marzo, el mismo día que se iniciaba la elección de un nuevo Papa. " We couldn't wait for the white smoke " ("No pudimos esperar que salga el humo blanco") fue la frase que acompañó a este video, que completaba el sentido de la idea: Seguir leyendo
blogs.lanacion.com
No Right Brain Left Behind » The Plan
ihaveanidea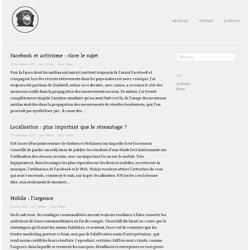 Voir la façon dont les médias ont mis (et mettent toujours) de l'avant Facebook et compagnie lors des récents événements dans les pays arabes est assez comique. J'ai toujours été partisan de Gladwell, même si ce dernier, avec raison, a reconnu le rôle des nouveaux outils dans la propagation des mouvements sociaux. De même, j'ai trouvé complètement stupide l'analyse similaire qu'on avait fait ci et là, de l'usage des nouveaux médias mobiles dans la propagation des mouvements de révoltes londoniens, que l'on pourrait par synthétiser par : À cause des… NM Incite (Une joint venture de Nielsen et McKinsey sur laquelle il est fortement conseillé de garder un oeil) vient de publier les résultats d'une étude fort intéressante sur l'utilisation des réseaux sociaux, avec un important focus sur le mobile. Très logiquement, dans les usages les plus répandus sur les devices mobiles, on retrouve la musique, l'utilisation de Facebook et le Web.