Creatividad
We hope you, like over 110,000 other ad professionals throughout the world, enjoy visiting Bestadsontv.com regularly to check out the very best and latest advertising in all mediums being produced worldwide. Become a BestAdsPRO member NOW BestadsPRO Membership is only US$30 per year (less than US$3 per month) which gives you: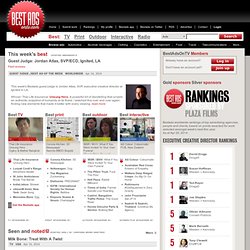 Los nuevos métodos de reclutamiento June 22nd, 2011 Lo de que hay que ir donde está la gente es una máxima de cualquier anunciante. Pero no sólo para vender. También para reclutar al personal.
RESHACKA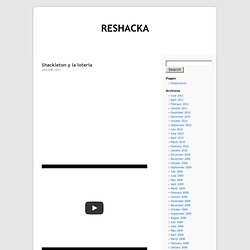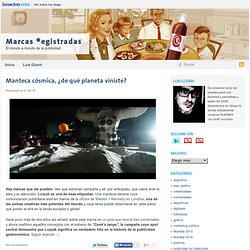 Hay marcas que me pueden. Veo que estrenan campaña y sé, por anticipado, que caeré ante la idea y su ejecución. Lurpak es una de esas etiquetas. Una manteca danesa cuya comunicación publicitaria está en manos de la oficina de Wieden + Kennedy en Londres, una de las usinas creativas más potentes del mundo y cuya tarea puede observarse en cada pieza que ponen al aire en la tanda europea o global.
blogs.lanacion.com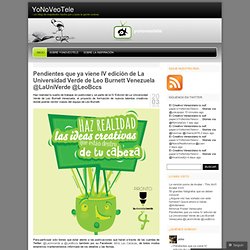 ¿Cómo comunicarse con los hombres? Hace un par de días está en el aire la nueva campaña hecha por Lola Madrid para la revista Líbero, les da una guía sencilla para saber como comunicarse con los hombres y hacer que podamos entender lo que nos quiere decir, basado en una pasión por el deporte rey. Basta con ver el nombre para saber que estará bueno "Si te lo explican con fútbol, lo entiendes": La vida es complicada. Pero el fútbol también. Y lo entendemos.
ihaveanidea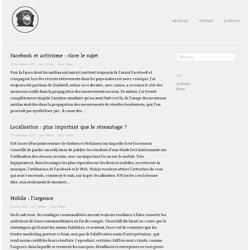 Voir la façon dont les médias ont mis (et mettent toujours) de l'avant Facebook et compagnie lors des récents événements dans les pays arabes est assez comique. J'ai toujours été partisan de Gladwell, même si ce dernier, avec raison, a reconnu le rôle des nouveaux outils dans la propagation des mouvements sociaux. De même, j'ai trouvé complètement stupide l'analyse similaire qu'on avait fait ci et là, de l'usage des nouveaux médias mobiles dans la propagation des mouvements de révoltes londoniens, que l'on pourrait par synthétiser par : À cause des… NM Incite (Une joint venture de Nielsen et McKinsey sur laquelle il est fortement conseillé de garder un oeil) vient de publier les résultats d'une étude fort intéressante sur l'utilisation des réseaux sociaux, avec un important focus sur le mobile. Très logiquement, dans les usages les plus répandus sur les devices mobiles, on retrouve la musique, l'utilisation de Facebook et le Web.
Breathtaking Driftwood Horse Sculptures by James Doran-Webb The raw spirit and freedom that wild horses represent to us have been captured perfectly in sculptor James Doran-Webb's breathtaking driftwood horse pieces. The driftwood's seemingly fluid forms, carved by the waves, lend themselves perfectly to the galloping horses' features. The beautiful and emotional pieces took 1,000-3,000 hours for James and a team of craftsmen to complete. {More»} Self-Taught Artist Creates Fairytale Flora And Fauna From Vintage Fabrics