Recipes
Fusilli with Pancetta and Cremini Mushrooms with Fresh Mint...plus a side of 'moan' and 'groan' After returning from the fresh crisp breezes of Oregon, I must say we have been having a hard time plunging headlong into the heat and humidity that is this deep deep south.Some people fall into doldrums during the long dark days of winter.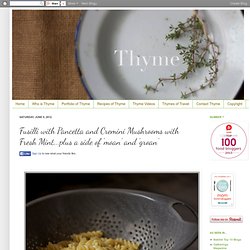 I, on the other hand, tend to feel languid, listless, and despondent during these early hot days of summer. Needless to say (wink), I am not a summer person. Gourmet Sandwiches for Guys: Mens Health Lists: MensHealth.com. Top a piece of crusty bread with a pile of frisée (or other bitter greens).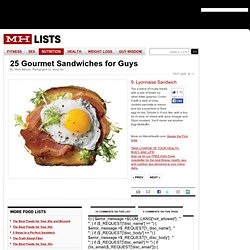 Cover it with a slab of crisp-cooked pancetta or bacon, and lay a poached or fried egg on top. Drizzle it, if you like, with a tiny bit of olive oil mixed with wine vinegar and Dijon mustard. You'll never eat another Egg McMuffin. More on MensHealth.com: Master the First Date TAKE CHARGE OF YOUR HEALTH, BODY, AND LIFE! Most favorited all-time. Thistle Confections | Lovingly Handmade Confections and Gifts. Campbells Kitchen: Buffalo Burgers. Vitamin Coffee? | Yummy Mummy Club | yummymummyclub.ca.
Coffee has long been one of my favourite indulgences.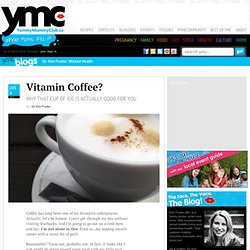 Actually, let's be honest. I can't get through my day without visiting Starbucks. And I'm going to go out on a limb here and say: I'm not alone in this. Even so...my sipping usually comes with a teeny bit of guilt. Reasonable? Kitchen Helpers. I found these helpful charts last week and just had to share!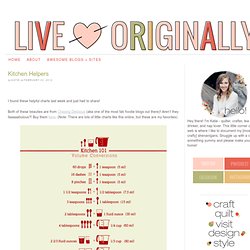 Both of these beauties are from Chasing Delicious (aka one of the most fab foodie blogs out there)! Aren't they faaaaabulous?! Buy them here.
Cooking With Tea. I'm baaaaaaaaaaaack!!!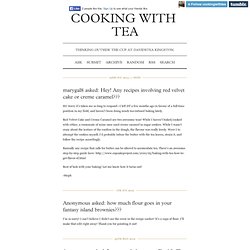 For my first tea-infused recipe of the fall I decided to go a little bananas and try to spice up the classic oatmeal cookie. There are no pictures as of yet due to the tragic demise of my camera. However, these cookies are tested and true having garnered the approval of my beloved DT staff and even a few customers who were kind enough to do a taste test. Without further ado: Copabanana Oatmeal Cookies.
Chicken and Cheese Lasagna Roll-Ups - iVillage. Desserts. 5 Tips for Eating Well on a Budget [infographic] | Pure Bar. Party Food & Cooking Blog - Find the best recipes, cooking and food tips at Our Kitchen.
The Epi-Log on Epicurious.com: 10 Fast and Nutritious Breakfasts. Pasta Pie - StumbleUpon. With the enthusiasm my children showed for this recipe, you would have thought I reinvented the wheel.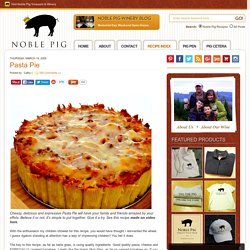 I guess rigatoni standing at attention has a way of impressing children? It is kind of cool.
---