Hand work
Riusuke Fukahori Paints Three-Dimensional Goldfish Embedded in Layers of Resin. First: watch the video.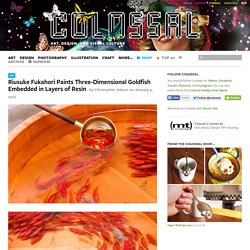 Japanese artist Riusuke Fukahori paints three-dimensional goldfish using a complex process of poured resin. The fish are painted meticulously, layer by layer, the sandwiched slices revealing slightly more about each creature, similar to the function of a 3D printer. I really enjoy the rich depth of the pieces and the optical illusion aspect, it's such an odd process that results in something that's both a painting and sculptural.
Carved Book Landscapes by Guy Laramee. (click images for detail) For the better part of three decades multidisciplinary artist Guy Laramee has worked as a stage writer, director, composer, a fabricator of musical instruments, a singer, sculptor, painter and writer.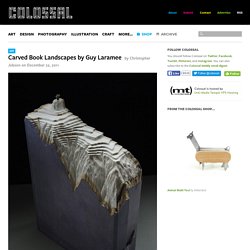 Among his sculptural works are two incredible series of carved book landscapes and structures entitled Biblios and The Great Wall, where the dense pages of old books are excavated to reveal serene mountains, plateaus, and ancient structures. Of these works he says: So I carve landscapes out of books and I paint Romantic landscapes. Top 10 examples of brilliant shadow art. Still life: Bent objects. UPDATE: The Return of Bent Objects Wires transform these objects from inanimate to hilarious works of art.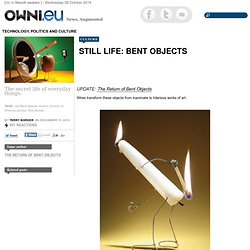 Little polish girl McDonalds as Sculpture Materials Yeah, this is where those come from. Words on Pictures (Part 13) | SadAndUseless.com. Song Lyric Wall Art / D.I.Y. Project. A couple weeks ago, I found a paint-by-number at an unbeatable price.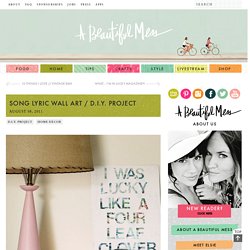 I can't pass these things up even though I already owned this particular design. I thought that I could maybe use it to make a fun D.I.Y., but my new rule is that all thrifts that I purchase with the intent of restyling need to get done right away. I have way too many half finished projects in my life. With that little bit of motivation I came up with a fun D.I.Y. to display some of my favorite song lyrcis in our newlywed home. Enjoy.... Amazing Pencil Carvings.
---