Trucs & Astuces Tricks
Timo - Le Hollandais Volant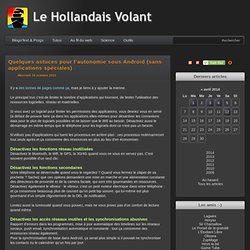 Faire un thème mobile en CSS/HTML qui n'utilise ni sous-domaine (m. ou mobile.) ni détection de navigateur est très avantageux : plus simple à maintenir, moins lourd pour vos visiteurs, et techniquement plus fiable (pas de détection foireuse des navigateurs). L'idée est de cibler des styles CSS en fonction de la taille de l'écran. Ainsi, un petit écran aura du CSS différent d'un grand écran (permettant par exemple de réduire les marges et les espaces de blancs quand l'espace manque sur les petits écrans. Ce mini tutoriel vous donnera les bases pour faire un design utilisant le responsive design, et quelques astuces que je donne en complément : Le responsive design en quelques mots
La fonera est le routeur utilisé par la communauté FON. Le routeur est livré avec un firmware réalisé par FON et basé sur OpenWRT. On peut reflasher un firmware alternatif sur le routeur, comme DD-WRT. Cet article a pour but de vous aider à le faire sur une fonera (version 2100 dans notre cas). On va voir comment le faire et cela sans ouvrir la Fonera (donc sans utiliser un cable série branché sur le port JTAG de la fonera).
Installer le firmware DD-WRT sur une fonera 2100 sous linux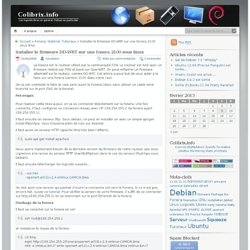 This submini USB scope is based on a Atmel Tiny45 cpu and cost less than 5€ with a homemade pcb It has 2 analog inputs and can supply 5V ont the 4 pins header on the right. One of the inputs can be scaled down with the trim pot. The firmware in the Tiny45 is written in C and compiled with Winavr and usb source code from obdev. As you can see, there is no crystal , the software sync the internal 16.5Mhz pll clock with the USB clock. The cost with a home made pcb is around 5€.
The cheapest dual trace scope in the galaxy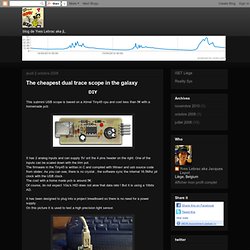 Bricolons.org : La communauté française dédié au bricolage et au Do It Yourself (DIY).
About MAKE Magazine MAKE brings the do-it-yourself mindset to all the technology in your life. MAKE is loaded with exciting projects that help you make the most of your technology at home and away from home.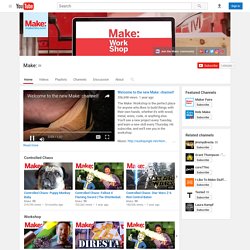 kipkay
Hack Your Wii for Homebrew without Twilight Princess
Bummed because you've got a new Wii and the Twilight Princess hack won't work on it? Have an older Wii but you don't want to buy Twilight Princess just to install Homebrew? Try the free and easy bannerbomb exploit. Update: For those with Wii IOS 4.2, you're going to want to use this new installer, cIOS Installer Xr20b.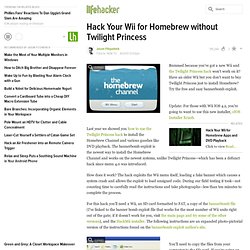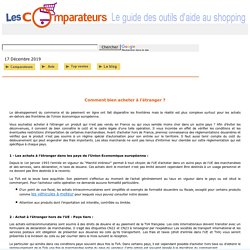 Comment bien acheter à l'étranger ? Le développement du commerce et du paiement en ligne ont fait disparaître les frontières mais la réalité est plus complexe surtout pour les achats en-dehors des frontières de l'Union économique européenne. Vous souhaitez acheter à l'étranger un produit qui n'est pas vendu en France ou qui vous semble moins cher dans un autre pays ? Afin d'éviter les déconvenues, il convient de bien connaître le coût et le cadre légale d'une telle opération. Il vous incombe en effet de vérifier les conditions et les éventuelles restrictions d'importation de certaines marchandises. Avant d'acheter hors de France, prennez connaissance des réglementations douanières et vérifiez que le produit n'est pas soumis à un régime spécial d'autorisation pour son entrée sur le territoire.
Comment faire des achats à l'étranger dans l'UE et hors UE.
Bricolage et travaux Maçonnerie , Travail du bois , Électricité , Plomberie , Isolation , Chauffage et climatisation , Bioconstruction , Fenêtres , Mur , Sol , Toit Travaux manuels Couture, broderie, tricot , Origami , Perles , Création en fils , Création en pâtes , Dessin et peinture , Poterie , Scrapbooking , Mosaïque , Bougies , Autres... Informatique Programmation , Logiciels , Internet , Matériel , Dépannage , Entretien , Utilisation