Pedagogy
Using the TASC system in EYFS Settings. The first five years of a child's life are the most formative.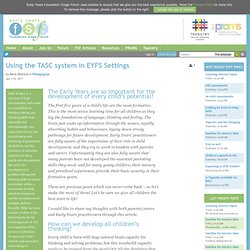 This is the most active learning time for all children as they lay the foundations of language, thinking and feeling. The brain just soaks up information through the senses, rapidly absorbing habits and behaviours, laying down strong pathways for future development. Art Speaks. Philosophy of Thought & Logic -2013 - The Collaboratory. If you want to discuss contents of this page - this is the easiest way to do it.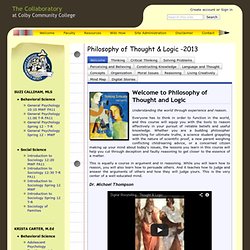 Click here to edit contents of this page. Click here to toggle editing of individual sections of the page (if possible). Watch headings for an "edit" link when available. Append content without editing the whole page source. Critical and Creative Thinking. Assessment Advice. This section contains an assessment definition and purposes of assessment including: assessment for, as and of learning.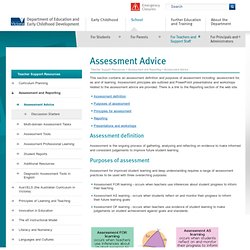 Assessment principles are outlined and PowerPoint presentations and workshops related to the assessment advice are provided. There is a link to the Reporting section of the web site. 25 Design Concepts That Have A Place In Your Classroom. Good design is everywhere: on websites, in objects you use in your home, the car you drive every day.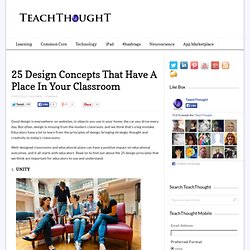 But often, design is missing from the modern classroom, and we think that's a big mistake. Educators have a lot to learn from the principles of design, bringing strategic thought and creativity to today's classrooms. Well-designed classrooms and educational plans can have a positive impact on educational outcomes, and it all starts with educators. Read on to find out about the 25 design principles that we think are important for educators to use and understand.
3 New--And Simple--Ideas For Better Learning. "3 New–And Simple–Ideas For Better Learning" by Sonia Jackson was originally published on Getting Smart.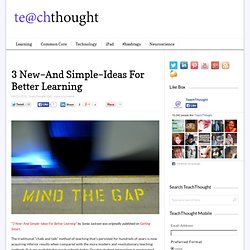 The traditional "chalk and talk" method of teaching that's persisted for hundreds of years is now acquiring inferior results when compared with the more modern and revolutionary teaching methods that are available for use in schools today. Greater student interaction is encouraged, the boundaries of authority are being broken down, and a focus on enjoyment over grades is emphasised. As teachers, it's necessary to be able to teach and remain engaging. 5 Simple Ideas That Can Transform Your Teaching. Teaching is impossibly complex.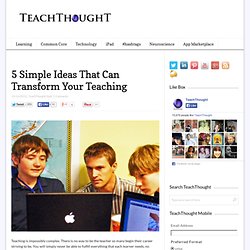 There is no way to be the teacher so many begin their career striving to be. You will simply never be able to fulfill everything that each learner needs, no matter how hard you work, how much you read, and how persistently you collaborate. That's not meant to be discouraging, but empowering. Start with what's important, what is in your reach, and what you can do, and begin your Sisyphean push from there. What Exactly Is Understanding--And How Do We Assess It? How They Get It: A New, Simple Taxonomy For Understanding. How They Get It: A New, Simple Taxonomy For Understanding by Terry Heick How can you tell if a student really understands something?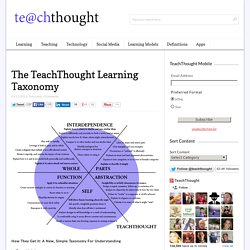 They learn early on to fake understanding exceptionally well, and even the best assessment leaves something on the table. (In truth, a big portion of the time students simply don't know what they don't know.) 26 Sentence Stems For Higher-Level Discussion In The Classroom. 26 Sentence Stems For Higher-Level Conversation In The Classroom Meaningful conversation can make learning more personal, immediate, and emotional.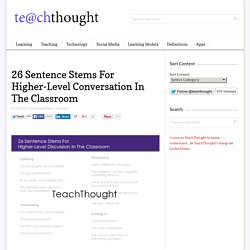 During meaningful conversations, students are forced to be accountable for their positions, to listen, to analyze opposing perspectives, and to adapt their thinking on the fly. There are many popular strategies for these kinds of conversations, each with slightly unique rules and applications. Among them are Socrative Discussions, Accountable Talks, Debate, and Literature Circles. Whichever strategy you employ, students need support. Www.sde.ct.gov/sde/lib/sde/pdf/curriculum/gifted_and_talented/light05152008.
Why Assessment? › Assessment › University of Connecticut. "Assessment is essential not only to guide the development of individual students but also to monitor and continuously improve the quality of programs, inform prospective students and their parents, and provide evidence of accountability to those who pay our way." -- Redesigning Higher Education: Producing Dramatic Gains in Student Learning by Lion F.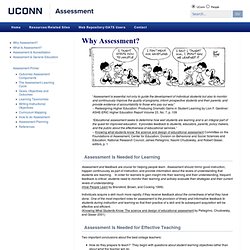 Gardiner; ASHE-ERIC Higher Education Report Volume 23, No. 7, p. 109 "Educational assessment seeks to determine how well students are learning and is an integral part of the quest for improved education. It provides feedback to students, educators, parents, policy makers, and the public about the effectiveness of educational services." -- Knowing what students know: the science and design of educational assessment Committee on the Foundations of Assessment, Center for Education, Division on Behavioral and Social Sciences and Education, National Research Council; James Pellegrino, Naomi Chudowsky, and Robert Glaser, editors, p. 1.
Assessment › University of Connecticut. Curriculum planning framework with programming support :: Curriculum Planning, Programming, Assessing & Reporting to parents K-12. Principles of Assessment and Reporting in NSW Schools To further support policy advice and in keeping with Board of Studies advice on assessment and reporting to support syllabus reviews, an updated Principles statement on assessing and reporting has been released.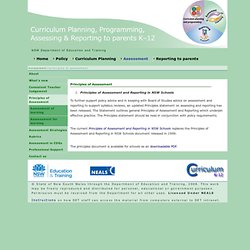 The Statement outlines general Principles of Assessment and Reporting which underpin effective practice. The Principles statement should be read in conjunction with policy requirements. The current Principles of Assessment and Reporting in NSW Schools replaces the Principles of Assessment and Reporting in NSW Schools document released in 1996. The principles document is available for schools as an downloadable PDF. The Future of Learning.
Born to Learn ~ Home. Born to Learn. The Learning Brain. Five buzzwords you're likely to hear in education this school year. By Donna Krache, CNN (CNN) Education, like any other profession, has a language all its own. We've compiled a short list of some of the words and phrases you are likely to come across this academic year. It's by no means all-inclusive, and some of these terms are not new, but it gives you a sense of some of education's priorities as we start a new school year.
Common Core State Standards, or CCSS or Common Core – a set of educational expectations, or benchmarks that was created by state leaders in education and government. According to the Common Core website: "These standards define the knowledge and skills students should have within their K-12 education careers so that they will graduate high school able to succeed in entry-level, credit-bearing academic college courses and in workforce training programs." The Emergent 21st Century Teacher, Mark Treadwell. The Early Years Learning Framework: Getting started - ECA Catalogue. Home Catalogue Early Childhood Australia Online Shop - Safe and secure. Self-reflection | Counseling Care Specialties - Margie Freeman LCSW. We have just entered the new year (5774) in the Jewish calendar.
For many, it is also the beginning of a new school year. According to Jewish tradition, the 10 days between Rosh Hashanah (the New Year) and Yom Kippur (the Day of Atonement), should be used to self-reflect and to find ways to improve oneself. Self-reflection serves a very important function: to help us better ourselves, which affects all aspects of our lives. Elements of self-reflection include self-awareness, self-exploration, and self-acceptance. Self-acceptance is actually the first step toward self-improvement. Articles - Reflections on the School Year. By Heather Skipworth Craven "The reflections on a day well spent furnish us with joys more pleasing than ten thousand triumphs.
" - Thomas Kempis It is hard to fathom that the end of the school year is in sight. The group of students that we've come to know as a community, spent eight hours a day with for the past ten months will be moving on. Teaching In The 21st Century. The Essence of Connected Learning. We are living in a historical moment of transformation and realignment in the creation and sharing of knowledge, in social, political and economic life, and in global connectedness. There is wide agreement that we need new models of education suited to this historic moment, and not simply new models of schooling, but entirely new visions of learning better suited to the increasing complexity, connectivity, and velocity of our new knowledge society.
Fortunately, we are also able to harness the same technologies and social processes that have powered these transformations in order to provide the next generation with learning experiences that open doors to academic achievement, economic opportunity, and civic engagement. 21st Century Learning. The (Apparently) Irrelevant Question. The NoTime Slam Dunk Digital Lesson. Prodigy Artist Akiane Kramarik - The Indigo Child of an Atheist. Articles. Using Blooms Taxonomy Lesson Plans Reviewed by Teachers. Bloom's, The 21st Century Version. Blooms Taxonomy for the Web. 25 Question Stems Framed Around Bloom's Taxonomy.
Bloom's Taxonomy According To Jerry Seinfeld. How They Get It: A New, Simple Taxonomy For Understanding. Five Best Practices for the Flipped Classroom. Welcome to the real world | We are the people. We Are The People. Creative/Fun Comps for Kids | YourKidsEd.com.au.
Great Teaching Inspired Learning Responses. Bulletin Board: text, images, music, video | Glogster EDU - 21st century multimedia tool for educators, teachers and students. Big Thinkers: Judy Willis on the Science of Learning. EduTecher.net - explore. share. contribute. Digital Differentiation. Bloom's, The 21st Century Version. Broadcast Yourself.
---