Pedagogy
The Essence of Connected Learning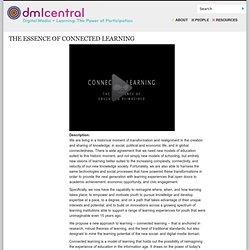 We are living in a historical moment of transformation and realignment in the creation and sharing of knowledge, in social, political and economic life, and in global connectedness. There is wide agreement that we need new models of education suited to this historic moment, and not simply new models of schooling, but entirely new visions of learning better suited to the increasing complexity, connectivity, and velocity of our new knowledge society. Fortunately, we are also able to harness the same technologies and social processes that have powered these transformations in order to provide the next generation with learning experiences that open doors to academic achievement, economic opportunity, and civic engagement.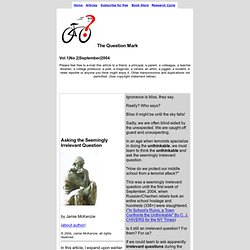 Truth rarely appears where we might look logically. The creation of new knowledge almost always requires some wandering off course. The more we cling to coastline, the less apt we are to find the New World.
The (Apparently) Irrelevant Question
The NoTime Slam Dunk Digital Lesson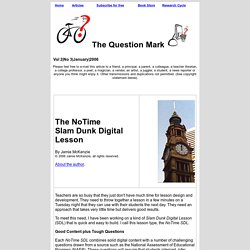 Teachers are so busy that they just don't have much time for lesson design and development. They need to throw together a lesson in a few minutes on a Tuesday night that they can use with their students the next day. They need an approach that takes very little time but delivers good results. To meet this need, I have been working on a kind of Slam Dunk Digital Lesson (SDL) that is quick and easy to build. I call this lesson type, the NoTime SDL .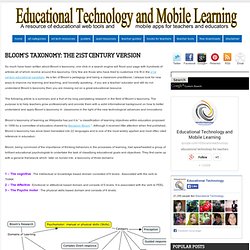 So much have been written about Bloom's taxonomy; one click in a search engine will flood your page with hundreds of articles all of which revolve around this taxonomy. Only few are those who have tried to customize it to fit in the 21st century educational paradigm . As a fan of Bloom's pedagogy and being a classroom practitioner, I always look for new ways to improve my learning and teaching, and honestly speaking , if you are a teacher/ educator and still do not understand Bloom's taxonomy then you are missing out on a great educational resource. The following article is a summary and a fruit of my long painstaking research in the field of Bloom's taxonomy. The purpose is to help teachers grow professionally and provide them with a solid informational background on how to better understand and apply Bloom's taxonomy in classrooms in the light of the new technological advances and innovations.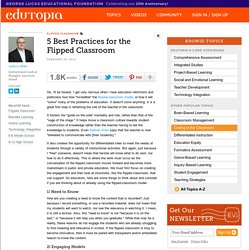 Dear Dr. Keller: You can have whatever opinion you want, just don't take my words out of context. You got the "long reply" because I believe in accuracy and details, which you only pretended to. You confirmed that in your long response. Your first mistake was in your initial comment about me.
Welcome to the real world | We are the people
We Are The People
Creative/Fun Comps for Kids | YourKidsEd.com.au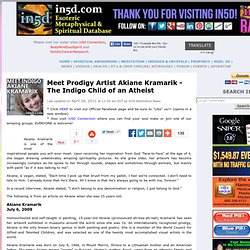 Click HERE to visit our Official Facebook page and be sure to "Like" us!!! Also visit in5D Connection where you can find your soul mate or join one of our amazing groups. EVERYONE is welcome! Last updated on April 26, 2011 at 12:00 am EDT by in5d Alternative News Akiane Kramarik is one of the most inspirational people you will ever meet. Upon receiving her inspiration from God "face-to-face" at the age of 4, she began drawing unbelievably amazing spirituality pictures.
Prodigy Artist Akiane Kramarik - The Indigo Child of an Atheist | in5d.com |
Cooperative Learning in the Block Block scheduling will lead to better learning only if teachers can provide an improved instructional environment that engages students. In this article, the author describe one such change — the use of cooperative learning to actively engage students during the block. The focus of this article is a schedule and detailed description of how to actively engage learners by implement cooperative learning for block scheduling. I Was Ready to Quit A beginning teacher writes about their difficulties: I recently read an article that attempted to describe the rollercoaster of emotions experienced by a teacher during his/her first year.
Articles
Using Blooms Taxonomy Lesson Plans Reviewed by Teachers
Five buzzwords you're likely to hear in education this school year
by Donna Krache , CNN (CNN) Education, like any other profession, has a language all its own. We've compiled a short list of some of the words and phrases you are likely to come across this academic year. It's by no means all-inclusive, and some of these terms are not new, but it gives you a sense of some of education's priorities as we start a new school year. Common Core State Standards, or CCSS or Common Core – a set of educational expectations, or benchmarks that was created by state leaders in education and government. According to the Common Core website: "These standards define the knowledge and skills students should have within their K-12 education careers so that they will graduate high school able to succeed in entry-level, credit-bearing academic college courses and in workforce training programs."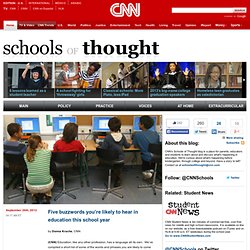 The Emergent 21st Century Teacher, Mark Treadwell
Only About Children
Curriculum refers to everything that happens during the day at our Campuses that promote your child's learning and development. This includes interactions with other children and adults and the planned and spontaneous experiences, routines and events that make up your child's day. Our curriculum is based on the principles of the Early Years Learning Framework (EYLF), and the concept of 'emergent curriculum'.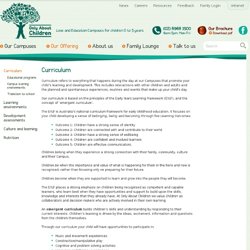 The Early Years Learning Framework: Getting started - ECA Catalogue
Great Teaching Inspired Learning Responses
Great Teaching, Inspired Learning Discussion Paper July 2012 The Minister for Education Adrian Piccoli MP, has asked for "your best ideas so that together we can build an even greater teaching profession for our children." You are invited to take part in responding to the discussion paper 'Great Teaching, Inspired Learning.'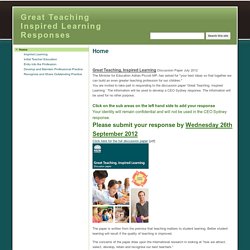 Bulletin Board: text, images, music, video | Glogster EDU - 21st century multimedia tool for educators, teachers and students
Technology is a tool that can be used to help teachers facilitate learning experiences that address the diverse learning needs of all students and help them develop 21st Century Skills. At it's most basic level, digital tools can be used to help students find, understand and use information. When combined with student-driven learning experiences fueled by Essential Questions offering flexible learning paths, it can be the ticket to success.
Broadcast Yourself